The Marriage of True Minds is not, I think, their best album but it is several leagues higher than…well, I would say opposition, but I'm not sure that there is anyone quite like Matmos

The Marriage of True Minds is not, I think, their best album but it is several leagues higher than…well, I would say opposition, but I'm not sure that there is anyone quite like Matmos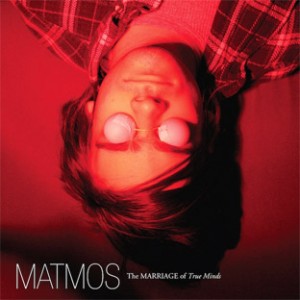 (Thrill Jockey) http://www.konkurrent.nl
Every time a Matmos album comes around one cannot help but wonder what the guiding concept behind it will it be. No one sets themselves challenges quite like Matmos. Past albums have seen them base songs around the sounds of plastic surgery, olde English instruments, the entrails of animals…just about anything, really. One presumes that there is an Oulipian sense of deliberate constraint about the challenges they set themselves: restricting the sources stimulates the imagination. (Mind you, there is a bit of a difference between written restrictions and oral restrictions – with the latter you can limit the inputs all you like but with computers and samplers you can still craft pretty much what you want.) Of course the upshot is that every album review has to take into account the conceptual basis behind the album. And the ideas are often fascinating. But ideas cannot, in themselves, sound great. Thankfully Matmos albums usually do.
So what is it this time? Well, it's a right old bit of hokum, truth be told. They conducted a series of experiments on a bunch of students and tried to telepathically imprint their ideas for the record onto the minds of their subjects. The subjects of the experiments would report any images they saw, or sounds they heard, and these responses form parts of the record.
It turns out that they heard a lot of triangles.
This is most obviously apparent on the track In Search of A Lost Faculty where we hear several of the participants in the experiments telling us how they saw and heard triangles various. All to the sound of…triangles. Triangles also feature, believe it or not, on the track Very Large GREEN Triangles. This is a bobby dazzler of a track and soundcases Matmos at their most muscular. The track features pounding electronica, a choir, lots of triangles, beats and is as catchy as hell.
Elsewhere, Mental Radio sounds like a disco in a North African market, complete with sirens and…triangles. Teen Paranormal Romance is a laid back electronic track with an Orb-esque vibe. Tunnel, on the other hand, is absolutely banging, the meatiest thing Matmos have done (and I'm sure they've done all sorts with meat of various descriptions). Aesthetic Vehicle has a twinkly antique electronic sound and could have come from the Supreme Balloon album. Album closer E.S.P. is officially a Buzzcocks song but you wouldn't know it: it kicks off with throaty growling, doomy synths, metallic scrapings and gradually gets going with drums and more shouty growls. Then after about four and a half minutes it fades away and in its place is three minutes of great electronic pop replete with the riff from the Buzzcocks song. It's an ecstatic ending for another great Matmos album.
It is hard to believe it has been 5 years since the last Matmos album proper. The Marriage of True Minds is not, I think, their best album but it is several leagues higher than…well, I would say opposition, but I'm not sure that there is anyone quite like Matmos. Intellectually rigorous, electronically adventurous, funky and fun.
Please come back soon.