I'm strolling down to the Melkweg. I see a huge queue of teens clad in black and the darker shades of purple and grey… hordes of gawky teens; liberally daubed with purple lipstick and violently, aggressively shiny black hair, wearing trousers that are wider than a turnoffon the A4. Eh? Where are the Subbacultcha butterflies?

I'm strolling down to the Melkweg. I see a huge queue of teens clad in black and the darker shades of purple and grey… hordes of gawky teens; liberally daubed with purple lipstick and violently, aggressively shiny black hair, wearing trousers that are wider than a turnoffon the A4. Eh? Where are the Subbacultcha butterflies?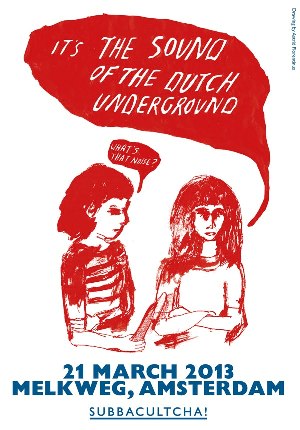 Picture this. I'm strolling down to the Melkweg. I'm off to see a whole heap of my favourite Dutch bands. And I'm suddenly confronted with a huge queue of teens clad in black and the darker shades of purple and grey… hordes of gawky teens; liberally daubed with purple lipstick and violently, aggressively shiny black hair, wearing trousers that are wider than a turn off on the A4. I'm thinking, is this crowd for the Sound of the Dutch Underground?? Eh? Where are the Subbacultcha butterflies? All was revealed on inspecting the poster: the queue was for Welsh Metalheadz, Bullet for My Valentine, (remember in the wilds of pastoral Holland, tote bags, vegan recipes and Converse trainers are seen as mere Randstad Bourgeois frippery, and Metal is still the Law). Relief at not being overcome by patchouli or any other joss stick trickery / hairspray odour throughout the night left a further question unanswered: this show has been long in coming and Subbacultcha have been busy planning this for ages. A sort of acknowledgement that Dutch music has something to offer and is currently undergoing a remarkable* flowering came accompanied this gig in the Subbacultcha zine editorial, (fair play, they had the guts and grace to be open about the fact they'd not been obsessively covering it). Shite, they even made tote bags which, (like the twelve inch remix single from the late 80s), signifies "importance" of a sort… So where the fuck were people?
On entering the Oude Zaal it remained to be seen just what power – outside Subba's formidable mailing list operation – this kind of spirit and music could attract outside of its natural boltholes, (Lepel, Vrankrijk, Nieuwe Anita, SUB071). And was this night reinforcing the fact that this was a true beginning of sorts or the natural full stop to the previous few years. Given the patronising, dismissive and sometimes inaccurate reporting that preceded this gig from more mainstream outlets; you would have been forgiven in thinking that the last thing Holland wanted (remember, the ultimate nation in taking pride in its own self-sufficiency), was Dutch bands doing it on their own terms, DIY style. And there's me thinking music had no passport. Ho hum.
Anyway musings of this and other banal sorts were dismissed as we popped up the stairs to the theatre to see April kick off matters. April have changed irrevocably this last twelvemonth. Less gawky, less prone to knocking things over, or wildly overstating matters, or bunny hopping through their sets, they are gradually mutating into a very, very smart and multifaceted pop band, a band that can probably make the most pleasing, acceptable non-conventional mainstream pop you can imagine. Albeit (to nab a quote from Talking Heads), pop with the right amount of sand in the Vaseline. I have said this a thousand times and I will say it again: they are incredibly reminiscent in this of Roddy Frame's work, or say Propaganda's. On the night's evidence, Jorn's voice has become smoother, controlled, it's gone up an octave and has become a much more effective counterpoint to Julia's formidable singing. A word for their drummer, Tarek, should be given too; as he has brought a sinuous and smart element to their sound, these songs can be stretched and finely tuned, according to the occasion. Reading back, this all sounds very considered: I'd hate you to think this chin strolling on my part is faint praise, or meant they weren't a band to bother with; they are not a band to go mental to but one to listen to. And a fair number of people found themselves rooted to the spot, suddenly realising that these strange, unique songs were a hell of a lot more complex and interesting than maybe they'd first imagined.
By now the Melkweg is filling up, and we enter a fairly healthily packed Oude Zaal to see Herrek woo people with the tracks off their latest EP, the excellent and menacing Waktu Dulu. An EP that is a beguiling listen in the confines of your own house, and a band that can really come across brilliantly in a small setting (such as their gig at the Subbacultcha/Samling/Snowstar gallery-shop-show-whatever at Eurosonic), does not mean a natural transition in a larger setting; and as such, the show in the Oude Zaal was a set that needed a little patience. After a while the combination of sultry, repetitive and slightly sinister music and the sense that a big sound was being kept on a leash (there would be a freak out at some stage, you knew it) meant that you got sucked into this groovy and understated set. And in any case in Gerrit the band have a man who's seen and done it all. The music and his brooding stage presence ensured I ended up watching them for quite a while, staring at the loop of Indonesian images on the walls, maybe I was supposed to… It was a good set, a groovy and understated way to start the evening downstairs.
Up the stairs again to watch Spilt Milk, Subbacultcha's very own darlings. I've seen Spilt Milk evolve through a number of line ups and ideas and whilst they've always had bags of charm and – through Marc Van der Holst's take on music – good ideas aplenty, they've only really fully blossomed for me this last year or so; especially with Brenda on board. Tonight they are absolutely brilliant, exploiting the Theatre's dreamy atmosphere to the full. The crisp, slightly constrained sound upstairs is a godsend to them too; allowing the audience a full and unreserved appreciation of the tension that is built up between their groovy rhythm section and the quiet, cod- suggestive playoffs between Marc and Brenda. A wide stage also allows Marc full remit to play the Loki figure to Brenda's soothing Julie Andrews manner: it's like some giddy late 60's hippy TV show for kids, albeit with amps and guitars and things, all magically transported into your living room. The set, mainly taken from their splendid 10" EP Carnet de Voyage is brilliant, the best cuts being And the Grass Grows and The Wind Blows and the hypnotic The Cytherean Glade. Of course, Marc found time to roll around the floor, at one point wrapping his head (somehow) in the smoke from the dry ice machine, (a side note; this is possibly the most incongruous gig ever to let dry ice off at), enveloping him, making him look, for all the world, like Cheech smoking a mailbag full of cockroaches. Or Withnail dying on the effects of a Camberwell Carrot. Enough! Narnia get behind me!
Down we trot to catch Bismuth make a hell of a noise. I'd caught a quick word with Yuri Landman during Herrek's set, with Yuri nervously guarding what looked like a giant carpenter's work bench. Of course this contraption was no such thing, being one of Mr L's splendid musical instruments. Bismuth (a duo made up of Arnold from Neon Rainbows and Yuri) were fabulous, their music – if you want a quick digest – being a sort of organic take on stuff from "The Two Connies": (sorry couldn't help myself there, I of course mean the works of Messrs Schnitzler and Plank). No matter, think Zug, think Material, think an organic, richer and earthier take on Der Ost Ist Rot or Electric Garden and you're there. A truly interesting and innovative band and one you can cut some rug to too; (surprising in a way given what they play on what looks – from a distance – like a set of wargaming tables). The only parallel I could think of in the "weird set up but great & groovy & playful live act" was another Deutsch enigma, Mr Hauschka and his treated piano. Take note, if there's a hall big enough to fit their stuff in, you need to see them.
Then an interlude to watch Harry Merry slaughter any sense of decorum in the record fayre in the Gallery. Although brisk business was done by some, in reality it was a glorified drop in centre for those who wanted to be there but didn't really want to hear anything. Harry sorted all that out. Merry's a genuine one-off; his style and demeanour not really suited to any form of gezelschap… His tracks are glossy, tinny surreal odes that demand your total and utter devotion: there is NO point questioning what he does, that would be disastrous, akin to listening to a tooth drill. No, you have to dive in to his world and get down. The room showed a mix of bewilderment and ridicule, albeit with pockets of frenzied support. Sadly we couldn't stay long to witness further emotional carnage as we had to get to Space Siren…. Choices, choices…
At this point the building was packed, as well as virtually everyone I knew in this scene being present as yelling various things into my ear, I was surrounded by Day-Glo-moulded nymphs, replete with non-wipe off smiles and Subbacultcha booklets. Elsewhere, gawky, carefully hirsute youths sneered out of the building's corners, seeing who could possibly look more urban-Boho than them. And worse, far worse, people were coming down the stairs unable to get into Space Siren. Bugger that, this was a matter of urgency. I needed to get to see Space Siren before turning into some low rent Hunter Thompson. And anyway Incendiary have grown to love this band, their earlier brittle textures and slightly unsure demeanour evolving into this great groovy monster of suggestive sound. Forcing our way through to the front, we allowed ourselves to be dragged under by their incredible textures and rhythms. If any band are powerful it's this one; their rhythm section being the seductive and deadly undercurrent to the foaming crashing guitar wave that initially catches you full square. Tonight the sound was superb and allowed the band to bathe their Muse in all its tessellate, peacock finery, which they did with some aplomb; Gwen's vocals sparking the notion that if the Pre Raphs had been into rock, (as doubtless DG Rossetti would have been if he could have got his mits on their vinyl) they've have got their wig on to this kind of music. Think Ophelia floating downstream to tracks like Girlfriends Who Don't Love their Boyfriends or Who Makes Me Try, or the brilliant It's Your Party, motherfucker…. There was also a new song which just oozed sex and possibilities – one that even usurped the disappointment that they didn't trot out their DAF cover (normally the highlight for me). Jesus Harry Arnold Christ Junior, they were good tonight. A real, heroic, epic band, in every sense of those words.
Running downstairs, we take in Vox Von Braun's last 3 or so numbers and almost collapse with the sheer sonic force they are transmitting from the main stage. The menacing lesson that is Dig A Hole was coming on like All Tomorrows Parties, it was shattering. Normally I'm used to seeing Vox in a warm, friendly environment, a stone's throw away from their pedals, sharing the same cramped and badly amplified space and wishing, (like them, maybe), that they could give it more oomph… if the circumstances would allow. Now, with them striding a real stage, and the PA giving full unrestrained justice to their classic rock and roll music, it was noticeable that the band had suddenly decided to unmask their hero selves, Ben in particular striding the stage like some Viking leader watching his long boat's heavy rollers astern…. It was incredibly simple and natural for them to do so, but, because it's been so long coming, it was utterly shattering and ENERVATING to see the band strut the stage like this, confident, magisterial, deadly – like Eno-era Roxy, or even the bloody fucking Doors… The last noisy, scuzzy, pedal drenched segue into Pitch Black Heart saw the audience leap up in recognition – the place getting down, whooping the band on, never wanting that daft riff to give up. I was nearly in tears.
Drink: that's what you need after seeing your pals become rawhide rawk stars, a drink to man up. Somehow agreeing to host a film festival at 4am in the near future, and spewing out ridiculous nonsense into the ears of others didn't really matter at that point: drink in hand we caught a bit of Earth MK II which I liked but couldn't get a hang on as yet (further notes needed, I will investigate further). In any case I found myself (and quite how I don't remember) preparing a spoken word introduction to WOLVON, who, (as befits True Men of the Scene), had decided to play in front of the stage, thus allowing Ike the chance to launch his usual forays into the crowd. A rant of sorts by yours truly successfully negotiated, WOLVON proceeded to batter all into submission. They have just got better and better, their freewheeling vibe having become more confident, urgent, laced with a bit more danger and edge. Somehow they've allowed the rasping punk nature of their sound to take hold more, to infiltrate areas where it had been not allowed to play in before. They have got heavier, tougher, sharper… allowing the Math rock elements less breathing space – but this only helps. Unbalance is what their Muse craves, the fractured shards of sound need to be taken to the edged and caressed back, they are a sensual band and can't allow too many glib distractions. Playing off the hip, and allowing the audience to participate in this thick, full and gestural suggestive punk, WOLVON allowed their brilliant noise to caper dementedly round the room like some giddy animal off the leash. It's hard to work out why such a simple premise works so well, they really have something elemental and special. This could be utter tripe but with them it's like mercury.
Journo duties called me upstairs to take in a (sadly) tiny bit of Those Foreign Kids who were as rapacious and strutting as ever (by this point things were badly overlapping) and downstairs quickly to take in a bit of zZz. zZz were setting up a big uncomplicated fun show for everyone to bounce along to; Lover was rapturous, ridiculous, played at a manic pace, the sort of gin fuelled, closing time screamathon that you always knew this band could deliver: and guess what, the hall went nuts for them. Great stuff. Upstairs again and this time we stuck around for Nouveau Vélo to charm us. And they did just that; playing a high octane set drenched in reverb and longing and charm. Nouveau Vélo can summon at will all that bittersweet candyfloss stuff: add this to some deadly songs, (songs that are adept at turning on a sixpence, skipping past you just as you think you've worked it all out) and you can see why they are the band du jour. But analysis should be cast aside for a moment: it's TOTAL FUN when they unlock all of that Buddy Holly thing, that early REM chiming, those sky-scraping guitar lines allied to a wistful, open and very refreshing sound: you know you are dealing with something that is killer, and you should just bloody well enjoy it. Yes, things were a touch too loud and high, and the set started to be one long extended jam, but so what? They just have it and it's damned hard to explain precisely what it is or why they have it. So what?
After this the mind was in bits: Eklin, Body II Body and the after party would need to be sacrificed on the funeral pyre of work commitment and an inevitable Febo-stop . But No matter. A magnificent night. Fair play Subbacultcha. Don't give up on this sort of thing, hear me?
*remarkable in the sense that these acts (including late lamented, and loved bands like dNV, NewYX, Wooden Constructions) had to do everything pretty much off their own bats. And kept at it.