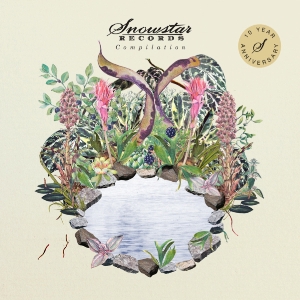 A very nice record, this one. Very nice indeed. Utrecht's Snowstar have been putting out some quality releases, especially over the last 2 years and this 10th anniversary compilation is as good a place to start an investigation of their roster as any. In fact it's both a good introduction of what has gone before and a totally new record, as all the bands have contributed a new, or previously unreleased track, which gives everything a fresh, clean feel.
Snowstar's modus operandi is very much in step with the city they are based in: Utrecht has a villagey feel to it, a laid back, folksy side and a love of the simple things in life that often manifests itself in the plethora of craft and wholefood shops that hug the Oudegracht. It's brim full of middle class, artisan places, slightly hippy, slightly refined. And Snowstar have sound tracked this, their own city very well; acts like Bart van der Lee, I Am Oak and Secret Love Parade mirror the gentle, maybe genteel feelings of their generation perfectly. The music is quiet, unfussy, and often driven by exploring spaces and silences between sounds, thoughtfully cataloguing personal, unspoken emotions and feelings.
And that's not the only reason to appraciate thsi compilation; as there are some belting tracks on here: I'm not that big a fan of Kim Janssen or Town of Saints normally, but Janssen's opener City of The Dead is a great reflective song, redolent of Sufjan Stevens at his most winsome. And Town of Saints' The Endless Unknown is a sprightly conceit, enlivened by a crisp fiddle part.
The Secret Love Parade make great girl pop, and here their moody offering, Street With Nothing, is an absolute belter, full of the sweet turns of melody and those charming vocals that give the band such an edge over similar combo's. That it all goes a bit Arnold Lane by the end is no bad thing either. Herrek and Lost Bear are big Incendiary favourites too; Herrek's track Sight having a tough menacing side that works very well with their current sparse, devotional sound and Lost Bear's Jack Bottleneck is a confident, surefooted swagger that shows off their soulboy side very well indeed. The Subhuman's the Great Fall is a marvellously cheesy MOR plod (it's got a certain hint of Michael Karoli's guitar sound too, of course, always good in our books) and LUIK's Pollen of the Plains is a classic, über-typical Snowstar song: a simple and quiet observation with a melody line that jogs pleasantly along and allows the listener to lap up the subject matter in their own time.
Things are rounded up by Clouds Looming from (I suppose) the label's flagship band, I am Oak: a great and very devotional camp-fire pop song, and one blessed with a subtle melodic descend and a very tuned arrangement.
Good label, they do great things, and here's to another 10 years. Proost!