If the sound offered by Graveyard Tapes really is 'their wound', then it's an oozy, self-inflicted gash reeking of antiseptic and self-loathing. Let's hope it doesn't heal

If the sound offered by Graveyard Tapes really is 'their wound', then it's an oozy, self-inflicted gash reeking of antiseptic and self-loathing. Let's hope it doesn't heal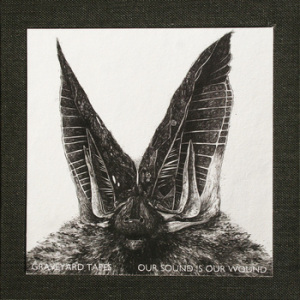 Graveyard Tapes have created eight tracks of complete unease and trembling despair. Our Sound is Our Wound was born is an artful moan, a rare blend of inquisitive dark pop complimenting obscure ambient rattles and fuzzy electronics. Created through bereavement and homesickness (and with the Scottish weather beating at Euan McMeeken's and Matthew Collings' windows), it's no wonder a certain darkness eeked out of their instruments and onto the record.
Gravebell is an intense opener, an accumulation of vibrations, high pitched squeaks and hums. It's an introduction of things to come, and, if you can handle the dirty drones and high frequency here, you're ready for more. Yet scattered through the album are tender tracks full of McMeeken's echoing vocals and hovering ambient sounds. Bloodbridge's otherworldly buzzes and bleats add grit to the trembling tender pleas of McMeeken and his desolate piano, a striking arrangement of darkness and light. And Memorials is a five-minute wallow in weary vocals, heavy beats and distant-spounding samples. On the title track Collings whips up his own brand of aural fodder: synthetic snaps, crackles and digital pops.
All this heartfelt atmosphere and empathy is snatched away in the severe Gravebat, sung through clenched teeth and a mesh of complex electronics, before turning into jumpy horns and isolated twangs. And then you have the intricate Insomniac Dawn which is a bit like Radiohead. But it's not all doom, Graveyard Tapes' peculiar, off-beat percussion and aching lyrics are brightened with autoharp and handclaps, Thom Yorke might even try a smile.
Our Sound is Our Wound is a collection of tracks teetering on the edge of pity, but it's the awkward, ambient extras that talk Graveyard Tapes down from jumping headfirst into all the heartache. The pair has managed to create music of intense feeling and digital complexity without completely enveloping themselves in a blanket of noise. Instead we're all invited under the covers.
If the sound offered by Graveyard Tapes really is 'their wound', then it's an oozy, self-inflicted gash reeking of antiseptic and self-loathing. Let's hope it doesn't heal anytime soon.