Anyway, what the bloody hell do you need a smoke machine for at 7pm on a sunny evening in a field in the Nieder Rein? No, me neither.

Anyway, what the bloody hell do you need a smoke machine for at 7pm on a sunny evening in a field in the Nieder Rein? No, me neither.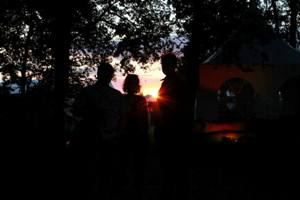 This year was Haldern Pop's 30th anniversary and it still feels weird to realize that Incendiary have, in one physical form or another, witnessed more than a third of them.
Damian: For me personally, I've been lucky enough to be at the past 10 so this year's visit felt like a double celebration of sorts. Our annual pilgrimage to the Niederrhein began as it always does, with a heavily laden car, a generous supply of beer and sugary treats
(and singing – don't forget the singing- Richard) and an hour or two trying to manufacture a couple of tents. Every year it's the same idea and, as is always the case, every year it's slightly different.
Richard: There's one bit of Haldern festival I always hate. That is setting up tent on the Thursday afternoon. I make no bones about it, I'm shit at putting up tents and I can't stand blowing up the airbeds. Hate it. Loathe it. It's not rock and roll in my books. I'll return to this (by way of introducing another point later)
Damian: This year, the festival kicked off slightly earlier than normal, with a selection of bands appearing in the village itself but due to the distance between the village and the main festival area, the placement of the press kiosk and an intense desire to 'get our shit together, build up Camp Incendiary and start drinking', we made a group discussion to just concentrate our efforts on the Mirror tent/Beer garden area for the Thursday night. Therefore, we must disappoint fans of Luke Sital-Singh, Lubomyr Melnyk, Helmet, Jherek Bischoff, Ásgeir Trausti, Stargaze/André de Ridder and guests and last but certainly not least Rival Consoles, because we simply weren't in their vicinity and feel it would be unwise and indeed plainly false to review them in any sort of way. We're convinced that they were all brilliant though. Undoubtedly. Especially Rival Consoles, as he's ace.
Richard: Speaking personally I've never dug gigs in churches, but then that's never been an issue for me at Haldern as I've never actually got into the bloody church to judge. Erased Tape's Lubomyr Melnyk was certainly worth watching, and I was interested in seeing Luke Sital-Singh too, but these madly early stage times (they get earlier each year) meant we had no chance in registering, erecting tents and then bombing back down to stand in a queue outside the packed church. Oh well.
Damian: Still, we managed to find a clear space in the back camping field that was big enough to build our polythene fort and managed, somehow, to get all our papers in order in time to catch This Is The Kit in the spiegel tent; which was a shame really as they did very little for us indeed. To be fair to them, we probably weren't in the best frame of mind at that point but they did little to hold our attention and so we found ourselves drifting outside relatively quickly.
Richard: Ach, they were pleasant enough. The band looked to create a folksy, psychedelic vibe: the vocals heavy with a reflective, "whither My Lady?" air, and the band coming out of their trance now and again to break into a sort of raga that nodded (however ploddingly) to Richard Thompson & co. It was a nice if unremarkable way to kick things off.
Damian: Thanks heavens then for Mikal Cronin and his friends, who got our party started in the right way. Cronin's jingly jangly, Byrds cum Doobie Brothers style rock and roll felt like the right kind of thing to kick off an evening's entertainment. We especially liked the heavy use of smoke machines. The reason being that there was so much of a crosswind none of the dry ice made it onto the stage but instead enveloped Team Incendiary, who were stood just off stage left, in a cloud of sweet smelling mist. We couldn't see a bloody thing, but they sounded great. These little Spinal Tap style moments always impress us, as did the female drummer and we had to give them special bonus points for closing their excellent set with a sprightly cover of Wreckless Eric's Whole Wide World. Hurrah for them!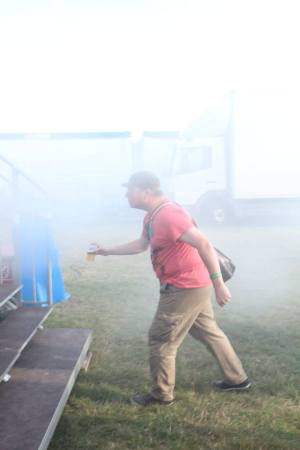 Wo ist das band?
Richard: I'm not the person to ask about Mr Cronin and co. as I was never a fan of that many jangly American bands, and certainly never got the enthusiasm for bands like The Lemonheads whose vibe (I think) Cronin definitely taps into. Still we enjoyed it when we saw them at Le Guess Who and they do boast some nice songs. And whilst Cronin rocked his thing well enough and put on a good, crowd pleasing gig, the set was – as Damian says – mainly remarkable for a smoke machine which blatantly refused to do anything but blow its produce over the backstage/press area. Specifically us. Anyway, what the bloody hell do you need a smoke machine for at 7pm on a sunny evening in a field in the Nieder Rein? No, me neither. Cronin plugged away regardless, knocking out some raggle-taggle rock, high on crowd pleasing shapes and melodies. And that cover of Wreckless Eric was really great too. Good fun.
Damian: Back in the tent, Florian Ostertag took to the stage and proceeded to whine for about half an hour. Or at least, that's what it sounded like to me.
Richard: It sounded pleasant and charming and not much else it has to be said.
Damian: We took time to chat with old friends and acquaintances, something that's always a pleasure at Haldern, before We Were Promised Jetpacks took to the Beer Garden stage and, although we've been fairly dismissive of them in the past – not maliciously, you must understand, we simply overlooked them – they pretty much blew us away. Jumpy, spiky, shouty indie rock of a high caliber we pretty much loved them and the crowd – which was swelling by the minute, applauded them like heroes. They were absolutely brilliant. A perfect festival band. Never mind the jetpacks, they fulfilled their promise. Great set. Great songs. Great little band. We shall ignore them no more.
Richard: I might. Oh, sorry, claws in paws, Richard…. be fair man.We Were Promised Jetpacks did give it some hell in the Biergarten, finding boundless energy and showing a lot of gusto in carrying out the sort of "we're happy and we show it" crowd-pleasing mission normally entrusted to holiday camp Ents officers on a wet day in Skegness. And fair do's, though I've never got their manic and shouty pop, they "did the job" here; and people did bop along and groove wildly.
Damian: The Haldern line up is always a crazy amalgamation of styles, genres and tastes. The planning – such as it is – always feels like a line up on shuffle and as such you never quite know what's going to come next and after the energetic WWPJetpacks, stepping into a tent with Julia Holter felt like I'd just entered into an A level physics exam I hadn't prepared for. Things suddenly became very serious. The room was filled with many a scratched head and stroked chin and the applause was delicate and polite. In the end, I have to say I found myself thoroughly impressed by what I heard and yet I have absolutely no idea as to whether I actually enjoyed it or not.
Intricate, powerful and quite stunningly performed at times there's no denying the level of craft on show, but what the hell it all means and what I'm supposed to actually feel about it all I simply can't say. It all just seemed to be a little bit too much for me, too distant. But that's just me I'm sure.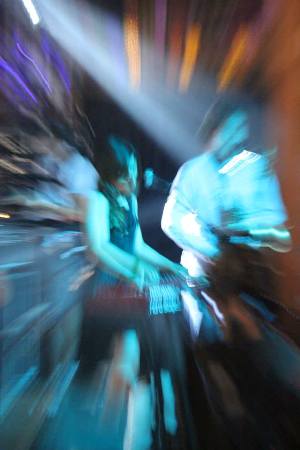 Fuzzed up in an ethereal world with Julia
Richard: I've never seen Julia Holter live; her LPs are a source of frustration to me in that although I really, really like the bloody minded approach she takes vis her musical ideas, (not to mention the guts and, well, utter conceit she shows in appropriating Bach, Eurypides et al to her Muse) her LPs, especially Ekstasis, always seem to sound slightly laboured or at least lost in a world of unrealised possibilities. But hey, as I said, I really like her. I'm glad she does what she does and I'm glad she's about. In the flesh, Holter was as I'd imagined her to be; gauche going on preppy, but never uneasy or too prim, and she seemed relaxed in giving off a sort of school mistress vibe (especially when she carefully praised Haldern in a soi distant manner). In short, the sort of person you'd be uneasy about taking on. Her band were obviously under orders to get the sound just so; but that was totally fine, as the set they delivered slaughtered her recorded sound; if she got this puckish sharp, confident take on her work down on LP, we'd be in for a real treat. An occasionally great gig (especially when she did Celebration – she did do that didn't she? I wasn't dreaming?), and one of those surprising, illuminating Haldern moments. A nice finish with Goddess Eyes and she was whisked off to whatever realm of faerie she resides in.
And now, we turn from the ethereal to matters more corporeal, do we not, Damian?
Damian: SUUNS, on the other hand, were a blast. Quite literally. They were bloody LOUD, if nothing else and the subtleties of their show take a while to find because, for the most part, they simply drown you in noise. Good noise, if there is such a thing. Their mix of rhythms, strangled guitars, rhythmic drones and wispy vocals make each song seem to come at you from three or four angles at once. They're not a direct band – except in volume – but instead they seem to form certain fragments of songs that flirt around with each other, coalescing after a while into something quite hypnotic. It would be quite easy to dismiss their sound as a bit of a mess – and the queue for the beer wagons implied some had certainly grown tired of them very quickly, but if you give them your attention you can be rewarded quite dramatically. Any band that makes you want to dance, fight and cry all within the space of twenty seconds deserves your attention.
Richard: Now, I've become a bigger and bigger fan of SUUNS this last year or so, especially after the release of their brilliant last record, Images Du Futur, which takes their sound to a whole new level of possibility. Seeing them live at Haldern a few years back was great too; that was a tough and unrelenting set as I recall, and one that saw a lot of our pals slightly out there, to the extent that a piggy back race started off at the back of the Spiegel Zelt. This time the set was less manic, more measured, and much darker too; it was still thumpingly loud, and uncompromising, and the groove confidently pounding out a "third way" between those thumping stentorian beats Depeche Mode and New Order had patented back in the day. But the great thing for me about SUUNS is the way they carry their music with confidence and (yes, whisper it) taste, they are masters at knowing when to add elements into this sensual whirl of beats and sweeping layers of white noise. The gig, which had started off as a crashing declaration of their power (and had seen the audience bop along happily) morphed into an exploration of pure molten white noise, getting as close to Steve Reich or Glen Branca as you'll ever get at a pop festival. Now that freaked some out, but my word, it was magic for those who stuck it out. At moments the sound they created must have been that of the crashes and hisses made by all the refinement and smelting factories in places like Essen or Oberhausen in the 1880s; a sort of weird psycho-geographical call and response. A brilliant and brave gig, no doubt.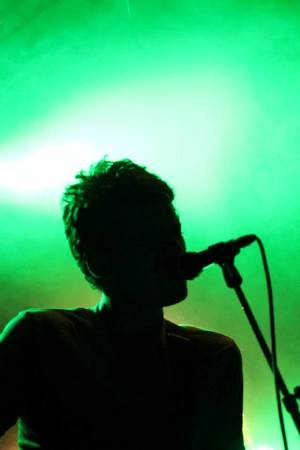 Nuff said.
Damian: After that, John Grant. Anyone who managed to squeeze into the Spiegel tent, which by now was as hot as the fires of Hades, will have been glad to have endured the heat because, almost from the moment he started, it became abundantly clear that the quality threshold just got a lot – and I mean a lot – higher. Grant was incredible. He simply made everything else that came before him seem amateurish. I was transfixed. It was a powerful, strong, intense and surprisingly dramatic show. Sure, the band looked like almost every other band in the world, the instruments all looked familiar and the blueprint of the songs is as old as the hills but his songs are so strong, they seem impenetrable. I just felt that I was witnessing something truly special, a master at work and I'm sure I wasn't the only one. Stunning.
Richard: Were we drinking diffferent ales? You know, I didn't get John Grant's set AT ALL, though the crowd did (and you did), and their appreciation was obviously spurred on by the fact that his German was astonishing. The fact I remember more about his brilliance in speaking German than his set maybe says that I'm not really going to be digging his vibe anytime soon. Tens of thousands do, though, and that says more about me than them. By the time Gold Panda came on, Incendiary were bushwhacked, so apologies to them for missing out. We heard they were great though.
Damian: Gold Panda closed the night off on the beer garden stage, but we missed them. We'd honestly been looking forward to them too but the lure of a back stage area, a table to sit at and a chance to converse with old friends about topics as diverse as window dressing, antique farming equipment and the development of Western Germanic dialects proved too tempting for all of us
I'm afraid to say. And so, we apologise to Gold Panda, but we're glad we did what we did.
Richard: Indeed. How did we get onto tractors? Anyway I'm coming back to that point I hinted at at the beginning of the piece. Ready? Remember if you can that I was blowing up airbeds and hating every minute of it.
Now, just as I forced that last wheezing, groaning influx of air into the bed, I chanced upon two Haldern chums* wandering about taking in the gently pastoral, quietly spiritual vibe that this festy always seems to conjure up.
Leaving bed blowing activities to my wonderful girlfriend to finish, we fell into chatting about past glories and what this year holds in store. And for the first time I heard a line I get accustomed to over the next 3 days. "It's not that great a line up is it? It's their 30 year anniversary and I can't see a big name I really fancy seeing. I'm surprised that (xyz) wasn't included…" etc. etc. etc.
OK… Initially I'm in two minds on this.
I see my pals' points, and initial reasoning would point to Haldern's organisers looking to celebrate with a splash, or at least a modest wave. And whilst understanding their appeal, I'm not a fan of (this year's big names) Regina Spector, say, or Tom Odell, or James really. I can see that you may not want to fork out hard earned to see the above (or indeed cult bands like Die Goldenen Zitronen)in a field in Germany. But a decade's worth of visits to Haldern has taught me one thing; don't worry about the line up.
So, let's not ver worry about the line up at Haldern, got that?
*People who – due to the festival's size – you bump into every year and strike up great, once yearly friendships with. It's a ridiculous thing, catching up a year to the day and carrying on a chat as if the other 51 weeks hadn't happened.