I mean everything's cool and, (to quote Wymer from Vox von Braun), there are no problems, but… why on earth do the cars have to levitate above the tarmac tonight?
I mean everything's cool and, (to quote Wymer from Vox von Braun), there are no problems, but… why on earth do the cars have to levitate above the tarmac tonight?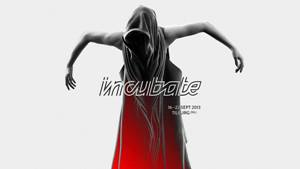 Saturday 21/9/13
Breakfast at Vroom and Dressman is different in every town. In Leiden we have a predilection for finding cheesy melted things that are baked in the shape of your gran's slippers, whilst here in Tilburg we discover that the locals like nothing better than stuffing more mushrooms than soup in your mushroom soup. Yowsa.
Feeling like I've eaten the contents of a greenhouse, we mosey on down to see the Subroutine showcase at Studio. Subroutine are a generous bunch but they're not daft either; they know it's better to stick on a united front when it comes to promoting the "pop underground" here, so we have a showcase of bands from a whole host of labels; Geertruida, Smikklebaard, Samling, Blowpipe, Snowstar, Narrominded… even Excelsior have got off that tatty old "Gooise mattrass" and show their face, in the form of Earth Mk II. The last mentioned are first up, their pop coming on like it's 1985 all over again, with the main guy (who's also the drummer) flanked by two girls (one from the mighty Secret Love Parade). The music's a virtual carbon copy of what bands like 14 Iced Bears or Heavenly, or The Field Mice, or St Christopher or even Girls at Our Best did back in the day. Maybe a clean Dutch take on Sarah Records is the best way to describe it. Somehow it's enjoyable and oddly compelling – especially when the drummer sings – and perfect for the time of day. Time passes, chums turn up, and British and Dutch journos who are hip to the great Dutch scene prattle idly in the sun. It's nice, and in some ways a perfect setting for the slightly unsettling but lush sounds of Hunter Complex.
Now this lad has released some record in Heat, one of our faves of the year if truth be told, and we are happy to see him; even if it's only in a small room in a pub. No matter, the confined space adds something to his beautiful, paranoid slabs of synth pop; think New Gold Dream in a head on collision with Rush's synth stuff and 1-A Düsseldorf and you can rest easy. The visuals are a treat too; they somehow blend brilliantly with the set. The small room is mesmerized, nothing really kicks off in terms of beat or sound but it doesn't need to; it's content to snarl at you from a distance, dirty neon, grease stained chrome and scuzzed plastic in feel. It's a fabulous gig and this artist and his work demands your attention. NOW.
Now for something different; we deejayed at AC Berkheimer's release party and whilst it was great, (how could it not be, especially with the fab, zebradelic, Black Midgets from The Future in a support role), it just didn't seem right to review on that night. No such constraints here. We're up for listening in and forming our impressions. We know what they can do, they're great songwriters and formidable musicians but in the cavernous main room of Studio, their crystalline dreamy rock comes up trumps. Grumbling and rumbling New Order bass lines clash with Cocteau style guitar shimmers, Gwen's cooing, crystal clear voice soothes the most ardent breast, the tracks are thoughtful, stately and serene. Dagmar holds it all together despite looking like she's going to pop at any moment and the drums crash and add something really powerful to their sound. It's like being driven around a local beauty spot in the back of a stately old Merc. Fabbo. Then upstairs to catch I Am Oak do his sixth show of this Incubate including two old age folk's homes; a hero and a wizard no less. It's just "the Oak" and his guitar in this small, candlelit room, and we manage to catch four songs before being whisked away by pressing band needs. Still four of his songs can make the same impact that a set of someone else's work can. His music is just so calming, and so thought provoking. I am no fan of singer songwriter stuff, but I Am Oak are dammed special, his way with delivering a melody line is without parallel.
But oh fuck; we're late for a gig we promised to be early for. Running downstairs we catch a smidgeon of Spilt Milk who on the half song we see are on tremendous form, and we run off to our call to catch the tail end of the Electro Cha3bi Wedding Party. The room is fast emptying but there's a giddy, celebratory and slightly bewildered atmosphere. The last song is wild, and various attempts are made to get a good rapport going on the live visual link up between Tilburg and Cairo. In one unintentionally funny moment we get, "Hello, hello Holland, hello! Yes! Goodbye!" Truly gutted we miss this.
Ey up! You can't beat a bit of Alexander Tucker and Daniel O'Sullivan I say, kid. Skates on for Grumbling Fur at Paradox it is then; and a quick pint of something daft at Kandinsky's. Top do, we arrive in time and prepare for a mighty show. O'Sullivan sits behind a table boasting a plethora of daft wibbly electronic gadgets; a big, sanguine presence, looking like some renegade headmaster who would (if it was 1970 and in deepest Wiltshire) have started a cult based round William Morris's wife or some such. I'm slightly scared of him despite wanting to shake his hand for his work, which I love. The other wizard, Tucker, (he who created the most mighty Third Mouth) is a more genial presence, balancing his guitars and cello, the Bill Oddie to O'Sullivan's Tim Brooke Taylor. Thus balanced, The 'Fur kick off with some hot cello-based droning. We are getting deep into the British pastoral psyche; their tracks that could wake up the ghost of Cecil Sharp or even Mr Toad. We also get the brilliant Ballad of Roy Batty which is just off its fucking head anyway, but here it sounds like the groover's anthem beyond all groover anthems. Where to turn? It's only 5pm and things are getting loose. I need to come down a bit, but there's no time. Poltergeist are on. I saw Poltergeist just before Incubate at the Paradiso; a great clattering show in that sweaty little downstairs basement, but there's no doubt this is the best place to see them. NWE Vorst is a massive venue with a bloody massive backdrop. I'm also a bit nervous. Last year in a demonstration of high spirits at the BSP show here, I somehow helped destroy a large plastic cow statue to a state beyond repair. I might not get in… they may say, fuck you, and uncool stuff like that.
Luckily, Ton the cow is now buried in the garden between two firm young saplings, and all is forgiven. Poltergeist can be seen. Intro music Dem Bones strikes up, and Will, Les and Nick saunter on. I'm not going to bore you now I hope, but you must know that Echo & the Bunnymen are my first love, the band that, through that weird raga intro on The Cutter, led me away from a life of passively listening to Radio 1 and exploring other stuff. I blame them for making me the man I am today. Without them, no Kraut, no dub, no weirdo electronica. Nothing. I owe them a lot and I will be biased in my affections. I'm a bit nervous too, because Poltergeist live is a step into relatively unknown territory for them as well as me. But then I'm stupid thinking that. Their debut record is boss. And they were great in Amsterdam, even if the sound was compromised by the setting. Come on, let's get this on then…. Three minutes later and I'm not worrying, rather I'm thinking, why in fuck's name isn't this crashing, glorious sound being piped into classrooms around the world, indoctrinating kids into the Righteousness of underground, weirdo rock? Imagine Poltergeist leading the world's young to the sunlit uplands.
They start with a fabulous groove in Cathedral. It's a blasting noise, a brave one too; yes, yes I know it's a set of instrumentals but then, what the fuck was Neu!, or T Dream doing? Or what is bloody Telstar for that matter? This is supremely confident music, happy in its own space and with muscle to flex. The way that the tracks like Dawn Visits the Garden of Evil or Dreamer Dream of Spectrums are set up is superb; there are these beautiful dips in tempo which create a considerable backspace for the audience to wander into. No two dimensional run through this. And that sound… Why oh why don't the Bunnymen make records like this now? If they did they'd be utterly epic still. To cap it all, hearing Les hold those bass lines, Mein Gott… his long absence has certainly led me to forget just how much of a presence he had back in the day; physicality and charm and a hand steady on the tiller, creating a middle ground which allows the guitars and powerful drums to battle it out. And of course Sergeant's hawk-like guitar runs shimmer and strike; they pounce unawares and pierce the atmosphere.
This isn't prog mind, I dig why people see it as such but this is a sort of massive, armour plated Morricone soundtrack, blasting and belching out fire and brimstone. It's widescreen music. And psyche as hell. There is a bit in Dreamer Dream of Spectrums which takes off and lays waste to all in the way, coming on like the fucking Nazz. Yeah. You heard me. Like The Nazz. And talking of Morricone or Daumer, the great visuals somehow remind me that at their height Echo were a funny band; happy to play the goat, not afraid to be laughed at because they knew they could do things others couldn't. There's a bit where this goofy, Thunderbirds-style dinosaur puppet walks onto the screen, somehow linking into Sergeant's acidic guitar line and the roof comes off the venue. People, who would normally wander off to see something else after 20 minutes stay, people dance… It's a stunning show. Ok, I get I'm a total fanboy but this is superb music, this is music that everyone should tune into, a.s.a.p. Lay down thy hang-ups and groove.
Quite what to do now is difficult. We'll go and check out Gang of Four, that's what. I walk in and the room is emptying fast. They were late on, and there's also the fact that there's just Andy Gill left nowadays and the band looks well, too young… yes it sounds ok, but I just can't get into it. There's no way into their set. It's a bitch putting them on this stage too; 013's main stage is remote and there's a palpable feeling in the room that both parties (audience and band) don't want to be there. We catch a bit of Place to Bury Strangers. It's really great, and I want to see more. Then the mighty Les Pattinson grabs me and takes me upstairs to show me a room full of kinky dudes watching a young American woman, who looks like she's escaped from a Mötley Crüe fan convention, throw blow up dollies round a room. She is called Geneva Jacuzzi and she lightens the post-GO4 gloom considerably with a splash of neon and a sort of whiny bratsqueal that's all about taking clothes off. Yours, hers, anyone's. One fan gets this message big style. Keks off and unafraid he wants to be Geneva's dog. He gets a photo for his trouble.
Pubs are great aren't they? We've been in the pub an hour, and I know in my heart that it's time to see A Guy Called Gerald at 013. But we have just done something daft which leads to considerable difficulties in crossing the tiny road that is between our hotel and the street with the pubs and venues. It's frustrating, I mean everything's cool and, (to quote Wymer from Vox von Braun), there are no problems, but… why on earth do the cars have to levitate above the tarmac tonight? Stay on the surface you pesky vehicles. I consider lying down to gauge the exact distance between rubber and tarmacadam but realise that this may freak out my fellow earthlings at the lights. I know, I'll hold someone's hand to cross the road. Yes she may be pushing 70, but intergenerational understanding is where it's at. We're over.
013 is thumping and swaying to A Guy Called Gerald's cheeky sinuous grooves. He's in fantastic, visceral form. My, oh my I could listen to him all night. But get this, it's acid house night at Incubate, and there's hours to go, and hours are going past like flies whacking your windscreen ….and now we get my all-time fave raver, DJ Pierre. I've loved his simple, fun-drenched music for years, there's always something cheeky and uplifting about the way he put his beats together, there was always, (always was? Still is!) this beautiful way with counter melody and then this fab shake down into no nonsense passages too. His set is mesmerizing. It's impossible not to move along to this bravura display. Man, he still shows up how cack-handed most deejays are. Acid house was such a free form thing, closer in my eyes to Sun Ra and trickster stuff like the Coldcut or the Orb than what morphed into the 90s club scene; its raw and ragged textures were always looking to escape down the path less travelled. I miss that personal freedom, the space it gave… I miss it because I'm hearing it in DJ Pierre's set; yes it's all inclusive stuff but the beautiful dichotomy of being on your own and totally safe in a massive crowd or in a group of happy loons in a bus refitting shed outside Blackburn, that feeling got lost along the way somehow. I blame football and Fat Boy Slim. And, oh I dunno, the BBC and Janet Street Porter. Why not?
Before I know it he's off and 808 State batters the room senseless. "Turn it up turn it up!" Cubik? Yeah Cubik early doors, with more riches to come. They are some band, quite brilliant at making loud festival music; quite why they get seen as a rave act is beyond me. They always sat to guzzle at every sonic table; and their sound is incredibly expressive and inclusive, Manc/Gothic urchindom grown patriarchal and wise. The crowd below is like a swaying terrace, or bier keller… it's a freeform muck about.
Wow… Pressure's rising.
I end up with Ian from Mojo in a small room which is quite nice because there's only me and him there. Oh yeah, and a groover with a spangly top on who's a dead ringer for Sly Stone. Wow… we escape. To Mantra who is brilliant. He's mixing Severed Heads' Dead Eyes Open into his set. I decide to give him a big friendly grin. This takes about 30 minutes or so, and I start to think he's not really digging that. Ian and I decide that standing outside may be a cool place to hang out and come down. We briefly catch a glimpse of Peasy and Will from Poltergeist standing in some sort of weird light, surrounded by happy people who seem to have trouble standing up.
Actually, the foyer downstairs unveils a scene of CARNAGE. It's like the after party after they filmed Caligula.
We go outside, and narrowly miss standing on some sleeping dudes. There's a film showing outside. There's a giant cat on the screen, and I have to take cover. John Robb turns up and chats on to me,calming me down, and also calming the by now nervous teen who I'd started to bore with tales about the difficulty of defining political culture in historiography. Deep. Ian's having trouble rolling his fags. It would help if he didn't do it on the box office windows too. The girls are icy.
Wow.
The lads from the marvellous Those Foreign Kids turn up and ask what's up. Bed's up. It's been a fabulous, loose, happy day.