Adi's grumbling through his vocals like Alberich the dwarf… "Ceaseless I toil"… you said it, love…

Adi's grumbling through his vocals like Alberich the dwarf… "Ceaseless I toil"… you said it, love…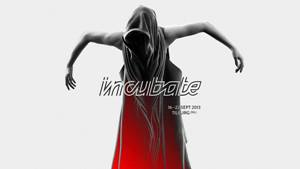 Sunday 22/9/13
The bed is very nice in the hotel. We got upgraded, we don't know why but upgrading means things like slippers and "rain showers". It's all new to us and we're not complaining. But there's one thing that is freaking me out. There's a big TV at the foot of the bed, (actually part of the bed, get that), that insists on turning itself on around 8am. I think it's an inbuilt alarm system, or else Mariska's been pressing buttons and activated something. This, (and the fact you need a maths degree to work the coffee maker which in turn means I need to get a brew downstairs in the restaurant) means I'm up and about before I should be. The drowsiness will wear off, surely?
After all today is the day of the Incubate after party.
Today is a bitch too. It's the last day of the festy, always a sad thing. We will say our goodbyes later though, and get sorted in time to see Unhappybirthday at Sounds record shop. After one song that sounds like a nice, poppy track that owes something to 17 Seconds era Cure, everything breaks. And sadly things take a long time to fix, and we have to see Terror Bird at Cul de Sac, who's LP has really caught our ear recently. I'm not a big fan of gigs at Cul de Sac, as the sound (and front of house sound bloke) is usually tom tit and the bogs are behind the stage meaning that any dedicated beer drinker has an issue with the place. Still there aren't that many here to hear this glam waif knock out the angsty torch songs that make her latest record such a belter. It's a gutsy gig, and she's definitely a trooper, but I'm wondering whether this is actually the best time to play the gig, no-one's with it yet. Yeah there are people enjoying it, but it does feel sort of weird. I could transport myself back to Accrington circa 1986 and find myself facing a similar act in the back room of my local, belting out songs of love, hate and despair to a bunch of unwitting dudes who've just had pie & chips and want the comic. The whole thing gets strained by the end, but hey, it's just one of those things. Check her record out mind.
We saunter off towards NWE Vorst to see T.A.G.C. (aka the Anti Group in common parlance). There's a golden autumn sunlight bathing the Vorst's garden. It's incredibly restful and kicking off all sorts of Psychicke connections; in fact when we walk through the garden towards the venue door, it's as if everything comes together to create the feeling that we are about to enter some Neolithic ante chamber. We step towards this Bellas Knap for highbrows. There's big beardy fella standing at the entrance. He looks at us sideways, his glasses glinting "Take care when you enter". Why? "It's an experience. Have you seen them?" Yes. The beardy fella bends forward and, with voice lowered he says, "have you seen… have you seen… Clock DVA? (DVA is pronounced Dvvvaaaaahhhhh)" No, I haven't. I like them a lot though; I know their work very well. "Aha" He stands up to his full height and smiles to himself. "Aha. Be back for Clock Dvvvaaaaahhhhh."
Oh heck. A chance meeting with the Radagast the Brown of far out electro is all a bit much.
We go in. It is PITCH BLACK. I hold a hand hoping against hope it's Mariska's and not Ian from Mojo's. There's a huge throbbing, glowering cube in the middle of the room. When my eyes adapt to the gloaming, I note that there are a whole bunch of people sat down on the floor, some prone. The reason they are doing this is probably twofold. Firstly the visuals. It's as if we're looking at a huge womb, the images are very suggestive of this… are these globular forms foetuses? Or some form of alien succubae? It's difficult to say what on earth is being projected, but the colours, (rich reds and blues for the most part), lend a drowsy, sensual feel to the whole thing, meaning any discomfort is dissolved into a feeling of calm remove. Not a lot matters and frankly we could stay here all day. Then, there's the matter of the pulsating beauty of the music; which adds a level to make this a truly wonderful event. It's manifestly apparent that there's an incredibly inspiring, ever evolving balance being played out; between the high passages of sound, which are satiny and mercurial, (almost cheeky at times), and the incredibly rich tonal modulations in the lower register. This sound is incredible, wrapping itself round the audience like some soft mist off a moor whilst somehow serving a regenerative process. People are drinking deep from this well, and if we stay here too long we could turn into trees or some weird shit.
I get the feeling that today is the day where we float free from the Mothership. This feeling is exacerbated by White Manna at the wonderful Café Extase. White Manna are brain crunchingly GOOD. They're from LA or somewhere similar, and that shows. These American bands, bands like White Hills and Citay have really run with that Kraut/Pinkwind groove of late, they've taken it other places for sure, infused it with fresh vigour and a clean and multifaceted outlook. Simply put, it never feels as if you are listening to a tribute band, because (like a lot of Japanese bands) they really push the whole mythos as far as possible. And, look at this why dontcha? There are more hairies on the small stage than is feasible really, but no matter, there's an absolutely killer sound being worked up; part Hawkwind, (especially with those whistling synths, coming on, like a souped up Silver Machine), part Stooges; part Ash Ra Tempel at their most crazy and dosed. It's an unbelievable sound here in Extase, huge, pounding stuff that just does NOT relent. There are a fair number of glazed expressions in the room, lots of swaying and nodding to this onslaught. Normally listening to one chord over and over again can get tedious, but White Manna are adept at adding tiny propulsions to their sound, they show off small twists that just mean the listener gets more and more wrapped up in this maelstrom. It's magnificent and I'm DAMNED tempted to buy all of their vinyl as of now.
We wander out back towards Paradox to see Nohome, but first, hey there's an UNHOLY noise emanating from that building; is this the synagogue? It is… never been in here. We therefore spend 10 minutes listening into Nick Millevoi. One minute inside, (because it's incredibly loud), and the rest of the time soaking up his shuddering, enervating racket in the small park next to the venue. We partake of the beautiful atmosphere in this small park, and Millevoi's fabulous, stentorian racket. It sounds amazing and reminds me of the time I once hung out in the Paradiso bogs when Sunn O))) were on in the main hall, preferring to listen to their incredibly inspiring and complex music at a level my ears could handle. And no, grooving round pissing gentlemen wasn't on my agenda. OK, time for Nohome! But no! Nohome are on later and we stumble into Regression's set. Some dude wearing dark glasses and a check shirt, who incidentally looks like he's escaped from daytime TV, is making a mighty racket courtesy of some extremely low pressure drones and bleeps. All in all it sounds like a fridge dying in slow motion and we love it lots. It's nigh on perfect for the day, and people stand around mesmerized. I can assure you; this man would know if his toaster was actually sentient. His set is stopped just when he's really, really getting into it. The look on his face is a picture. "Uh, like now??"
It must be Nohome now… and it is. These cats who have just walked onstage evidently listen to no-one. One's having a cheeky fag onstage too whilst tuning up his (inevitably) left handed upside down guitar. But hey, anything perverse is the order of the day right now, for we are dealing with Nohome who boast Massaker's Caspar Brötzmann so no cheeky shit from us. Got that? After an age mucking about with guitars, the trio start off and play what has to be one of this festival's greatest ever shows. The level of performances so far has been astonishing today, but this is sublime. Huge slabs of noise intertwine with incredible polyrhythms, (we must note here that the drumming is just indescribable in its brilliance), and the weirdest jazz rock and free rock shapes are thrown; but it's all right, it's all right! No-one gets lefts out, no-one feels this is something you have to "appreciate", this is no education trip (though it's some education, for sure), it's safe to get down totally. People are doing just that; one Head is haranguing the band to keep going, consciously timing his gestures to the beat. Another girl is attempting some form of meltdown, a real life hippy shake happening amongst these blown out chinstrokers and metal heads.
There are people discussing the gig in the jakes, prattling on about the incredible bass rumble that nearly shook down Paradox's remaining pillars. This is the sign that minds have been blown. Where to go from here? Oh my sweet lord, the WORST three car collision is looming; Las Kellies, Carlton Melton or (remember) Clock Dvvvaaaaahhhhh??!?!?! If I don't "dü the Dvvvaaaaahhhhh" I will, undoubtedly get turned into a garden gnome so I'd better head there. Mariska's off to see Las Kellies.
Clock DVA is packed. I'd guessed this would be so, because the last time I'd seen any DVA-style action was a Coil gig 10 years ago, which was also rammed to the rafters, and the Dutch really dig this kind of sound. But this is going to be something else; we've negotiated the big gatekeeper who winks at me when I go in and now we're standing with Luke and Rory from the Quietus and Will from East India Youth, wanting the thing to kick off. On Adi and Tez come, and proceed to shake down the fucking walls with the BEST antidote to all that hippy stuff we've been grazing on today. This is clean, powerful, incredibly rich and thumpingly weird dance music. On one level this pounding beat and bubbling synth sound is a very simple concept – I mean some impressionistic type would say it's not far off sounding like Kraftwerk or Depeche Merde, but it's not really. More in tune with Chris and Cosey, it's also somewhere else entirely in terms of content: Adi's grumbling through his vocals like Alberich the dwarf… "Ceaseless I toil"… you said it, love…
So yes, it's an alien sound, but also wrapped up in a very earth bound arcana; I said simple and clean just now, and there's the rub, this is also music hinting at anything but. It also feels like a sermon; Joost from Incubate was telling me earlier about the Kurtis Blow Hip Hop Sermon that started the day. Well, this must be the shadowy cousin to Blow's positivity. Like Satan asking the Sun the way to Eden in Paradise Lost, this is a q&a of high magicke and no little force.
The place starts to dip and sway to this relentless rhythmic proposal. All the while blinded, mesmerized by the big screen. Did I mention the visuals (courtesy of Panagiotis Tomaras)? Unbelieveable. We all know that Adi Newton's lifework is finding some sort of sonic/visual synthesis but the visuals here top Kraftwerk's paltry efforts (sic!, sic!) by many a mile. They are incredible. The sound is outstanding too, almost taking corporeal form at times, looking to stand next to us then dashing off somewhere else. Textures, sonic interplays, huge, crunching beats… the place is shaking down. And fuck me we get an encore.
In bits, staggering out, we see a whole jumble of texts from Mariska saying how brilliant Las Kellies are in Cul de Sac despite average sound and half full venue. Apparently they are on a groovy, krauty trip, content to leave the pop for another day. We catch one track of Front 242 in 013 but to be honest my head is (yes, you guessed it) Dvvvaaaaahhhhhed. No more synths. We repair to Cul de Sac to see Fat White Family, who we've heard a lot about and see a lad who looks like Mick Finkler from the Teardrop with a monk's tonsure shaved into his scalp. He's also got a hole in his keks. This is the lead singer from Fat White Family. All is grooving, and we older types are regaling the lad with stories about the Monks when there's commotion. The rhythm guitar's fucking bust and they can't go on. I offer to help. In my state. At my age. Me & the keyboard lad run to the production office to ask help and amazingly there's a spare guitar. The rest of the band has beaten us to it though, and we get an earful for being late. Fine, all sorted the band start up and I get a pint.
Fucking hell I hate the soundman in Cul de Sac. He's got a stupid "don't look at me" expression on his face… I know this sort of Dutch lad, he's right, everyone else is wrong, he's not emotionally involved, he's no real interest in what's going on except to coyly, mutely suggest he's better than anyone else in the room. Normally lads like this are commuting to Den Haag to run the government here, but this one's been sent down some wormhole to mix the sound at Cul de Sac and it's all going to shit. The vocals are constantly underpowered, repeated attempts to sort the sound come to shit through a mix of dodgy mics and sheer bloody minded ineptitude. Now Fat White Family's sound isn't what we Docktors would call difficult; but there's a lot of it, and a lot of it has to be loud as well, the idea is to create one of those hedonistic stews of sound that shock and enervate at the same time, akin to jumping into the sea. We could throw names of other shaman punks like the Fall and the Monks and a whole host of half-forgotten garage or punk or psych bands about, and that's all well and dandy, but I wonder… on record Fat White Family's probably never ever going to capture this something that has all of us going bonkers for them right at this moment. Hope I'm wrong.
But forget that; tonight, tonight, they really are the feral pipers at the gates of dawn. Maybe it's the bucket loads of charisma they have, the sheer messiness of their demeanour, allied to their total commitment; I don't know. It's like a bedroom gig and a stadium gig at the same time, the ultimate dream fulfillment, standing in front of the mirror with the hairbrush stuff. Ach… Writing about gigs like this always seems to miss the point, always misses what the essence is. It's impossible to say why everyone is going nuts to this bunch of lads. Maybe it's just the fact that we all know that they are the current ambassadors of the human spirit in all its youthful, messy, potential. Unwitting, careless holders of the chalice, this band are the moment. You are mad to ignore them.
After that we reel out of the venue and go to the after party in Little Devil. It's utter chaos. Beautiful chaos; naïve, trusting, wild; and a reminder why I love living in Holland, why I love the Dutch when they party like this. I come home dripping with sweat reeking like a dog that's been rolling about in a sump pit. Oh God, I need home but I don't want home. I need a withdrawal. 11 months and 20 odd days and counting.