Now if that sounds like some sort of incantational nonsense on my behalf, then all I say to you is, run with it, motherfuckers! This review of The Ex can be nothing if NOT fucking mystical and magical

Now if that sounds like some sort of incantational nonsense on my behalf, then all I say to you is, run with it, motherfuckers! This review of The Ex can be nothing if NOT fucking mystical and magical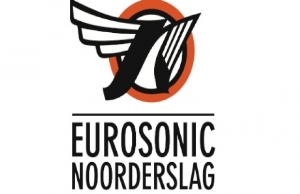 I'm a wreck. I've lost three socks on a train and contact with a carpet of evidently high toxicity after the Cairo Liberation Front show in Kult has resulted in the most peculiar stain on my jacket. One that glows. Talking of the Cairo Liberation Front, walking to my temporary Grunnen lodging wearing their gas mask (yes they have gas masks, don't you know; that kind of band, you see) and, (far worse), dozing off in one – however momentarilly – is not to be recommended. They aren't pleasant things. And I think I've offended about 10 people too. Bugger.
So I'm a wreck, but somewhere in the current, unshriven but fairly shrivelled husk that constitutes Corpus Foster, there is a demonic glow that is peculiarly Groningen. I love coming up to Eurosonic/Noorderslag. Even though I never really go the main festy. I'm sorry Eurosonic/Noorderslag, I'm hijacking your name in this review. Just see it as a sort of way to involve you in my goodwill, though I enjoy seeing gigs in bars and shops and pubs here more than anywhere else in NL, and that's your doing so fair play; and the way you are happy for unofficial dudes to do their own thing alongside your festy wins my hearty approval, so fair play again.
Nope, I love coming every year because, being a comforts-loving beast, I like to go to one pub and stay there; reveling in the womb-like atmosphere it provides. That pub is O'Ceallaighs and it just so happens to be the "home" of Subroutine records who've been hosting their own festy here for years. I sit there, and soak up the bands and Guinness before staggering round the corner to Kult to see the weirder and more unhinged part of the label's showcase. Piece of piss, n'est-ce pas?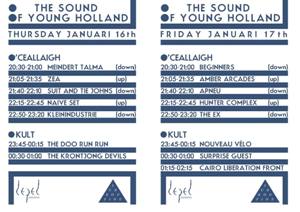 Thursday 16/1/14
This year we saw a right mixed bag of stuff, in true "suck it and see" fashion; the Thursday night programme starting with Meindert Talma on the miniscule stage at the front of the pub. Now, I'm sure I've seen this lad play a living room show Leiden where (if memory serves me correct) he berated someone for eating a packet of crisps loudly. And so would I, so should you all. Talma's strange and intense vibe enveloped the pub; he's a sort of Dutch John Shuttleworth but without any of the Sheffield Bard's gentle (if misguided) bonhomie. In fact there's a hint of menace. We got some strange songs about the obsessions in Talma's life, including a very funny denunciation of German footballers. I think. Heads duly shaken, we trudged up the stairs to the small bar to take in Zea. Arnold de Boer's vibe is more open and encompassing that Meindert's (ahem) "deadpan Gnosticism". No; Zea looked to ensnare us with clear, groovy and often quietly provoking songs. And something new for long term Zea watchers; this gig upstairs was deliberately laid back; the guitar wasn't getting its usual thrashing, and there was no jumping about, rather Arnold hit us with a set of quiet, rhythmic numbers that utilized a lot of brinkmanship (just how few notes and how quietly). It worked a treat and we really appreciated this. He's really really great; we say "own his records". That's an order.
Then we popped down to take in The Suit and Tie Johns groove through a whole host of Pink Fairy-isms. It was good, much better than we expected and we grooved quietly, but happily. They have a classic gonzo/bonzo rawk sound, albeit one that's not in any way sorted out despite their "on the one" obsession. Imagine Pink Fairies trying out a Grateful Dead (or a Dr John) vibe, but keeping that sort of urban, griminess of them Notting Hill loons. Young people will probably dig the Wooden Shijps sonic implant, too.
No rest for the wicked, playmates; barely had we drawn a pull on a new pint than we were ferried upstairs, for Naïve Set. They were great, knocking out winnable pop tunes with a snap and aplomb. Their music sort of flirts with that clean, brisk, post-Postcard sound that Aztec or Paul Haig ran with back in the day; our favorite shirts, but a little less starched for success, you ken? Industry types were here* to see (between their bouts of tablet bothering) whether their type of "winability" could be translated into the medium of camp, spray-tanned slap and tickle that Hilversum provides to an armchair nation. In this context the band's playing a Dan Treacy number in tune was a sort of quiet rebellion; against the human units of production who control the nation's airwaves as well as TVP's themselves. I mean, in tune? Fuck.
We sadly missed Kleinindustrie and we're genuinely sorry, but we were meant to deejay in Kult, so we had to go and set up; but that went to ratshit as a CD player was bust; and well, a whole host of other things, human and electrical, conspired to mean we couldn't give the Kids any sonic wonder from the Incendiary vaults. Now Kult's a strange place, it's the sort of bar where people turn into werewolves if they're not careful with the Vedett. Somehow this potential to shape shift affects the bands here, they always push it that little bit harder, and the audience seems to be more into kicking off in consequence. We had Roy Santiago, Holland's true king of pop playing. I always like watching Roy, he's a real showman and an old fashioned groover to boot. After a brief and wholly inappropriate introduction, the band cracked on with their set; and damned feisty it was too. Roy, do more floor shows, it's like you're the ultimate host at an Ann Summers party, welcoming all types and opinions to the table in the spirit of friendship and fun. On the night the band were razor sharp, spiky, tough, and easily able to deal with Kult's latent wildness, riding the sparky atmosphere with the seasoned skills of top entertainers. Kenn Dodd telling the Beatles where to get off. Sassy. Winnable. They are a lot like Morton Valence; like the Valence they have enough toughness and tension to ensure that the most sugar coated number can stand up and walk the walk without the aid of a Kleenex. But this wasn't a night for ballads, the gleemen rather than the poets were on show, and that suited Kult's psychicke sensibilities. Yowzah!
Then it was time for some real noise courtesy of the mighty Krontjong Devils. Dudes, I've gotta tell you now in this review, I'd never seen them before, but all day Grunnen types were whispering about the gig to me in hushed tones, how I would see God and walls would melt, all that. What we got – when flesh encased and revealed the legend – was a fucking loud and wild surf band, one that kicked out some thumping, shuddering riffs and one that looked collectively annoyed they couldn't be louder, though we were in ear bleed territory throughout. They played their hits and people went wild for them. A cool gig indeed; and something of an eye opener in "how to do it".
Friday 17/1/14
Ah Lidl! When did you start baking your own bread? Not that I'm begrudging this service as it saved my bacon. Duly full of white bread we sought out black beer (geddit?) back at O'Ceallaighs for day two. Not before we sauntered down to Plato to check out Denmark's Shiny Darkly, who came on like the Pale Saints at their most sullen and gauche, and (Belgium's?) The Hypnotic Eye, who spat out some classic RnB. The guitarist has a Jeff Beck/Yardbirds fixation, of that there's no doubt. Book 'em for weddings. Oh yeah, we went to Elpee and bought some vinyl, and hung out with Bromingen legend Harm Weirda, but then that's the sort of thing you do without thinking, like cleaning your teeth. Innit…
Once ensconced at O'Ceallaighs we found there was another showcase going on; that of Rooie Neger. Now ok, it's not the name I'd pick for a label, in fact I couldn't imagine anything less (ahem) appealing but then it's a free country. Make your own minds up. The showcase had a set of things I wanted to see in any case; the main being the much vaunted Afterpartees, who (and for the fucking life of me I wonder why, but hey, it's a free country) Young Types in NL have compared to such luminaries as (the massively rubbish) Parma Violets and The Libertines. Afterpartees should have a word. Personally, I'm more comfortable saying the band give off this very early Boomtown Rats / Adverts vibe. Scruffy types who are reviving that weird and often derided intersection of the fag end of punk and the power pop/ pubrock thing that Glen Matlock tried to run with; the sort of "Kilburn High Road" soapbox attitudes the Stranglers & Dury recalibrated in other, more exciting ways. Oh yeah, before I forget; the singer is a SPIT of Wilko Johnson; he had the movements, the head shaking with gob open thang happening, he even rocked the two badges on the jacket with black shirt look. It was uncanny. All of these reflections shouldn't be seen as patronizing, not one bit; their music was great, lots of choruses got chucked our way, lots of vim and vigour got served up, they are adept at creating songs that roll over the audience like waves; just when you've ridden one hook, you've got to deal with another… And they do have good songs, and the singer is an absolute star, or could be, if he does what he thinks right, and keeps his shaman / showman vibe together. Just don't wash son. And start mining Harry Merry's record collection, then you'll be fine. But you can ignore my advice, it's a free country.
Following all the Afterpartees froth was a set of utter lunacy from Traumahelikopter, who played about 7 early Ramones songs in what felt like an hour but probably lasted about 20 minutes at tops. It was just that, with all the chaos that ensued (flags destroyed, footprints on the ceiling, mirrors knocked over, specs lost, suede/skinhead stomping) time seemed to stand still and be speeded up at the same time. Yup, our psychicke shit got shaken; the furniture that constitutes our rock sensibilities underwent a little re-arrangement. Now, playing Ramones covers in the afternoon to a room full of provincial punks/skins could be construed as wank (wank squared if you think about it, and dig Adorno and other existential "shit") but it wasn't wank at all. Oh no. It was great, enervating for sure and a bit harebrained at times, but Traumahelikopter pulled off a really fine show. In retrospect I'm fucking glad they didn't do Beat on the Brat as that could have signalled a descent into total chaos, but only in hindsight.
Things then switched back to Subroutine's set up; and a total change in style and content, in the form of Beginners, who played a brilliant set downstairs, full of catchy, speedy and incredibly affirming pop tracks. Beginners is the new vehicle for Susanne Linssen from Hospital Bombers to show her talents (that's where we know her from anyway) and frankly if NL is looking for a brand of folksy pop music with a surefire sense of melody then NL need look no further. Fuck me I sound like I'm selling something – facking disgahstin' behaviour. Now, on this evidence Linssen's grabbed the flightiness of the Bombers and added a winning – timeless – twist to the sound as well as incorporating a brilliantly easy stage personality into the package; one that is comfortable with taking on any audience. (Oh no! I sound like I'm selling something – facking disgahstin' behavior). Seriously; if you need a sonic compass, then the points on said instrument will be directing you to Camper Van / Jenny Lewis territory. A nice, heady mix of it too; think of CVB's asperity mixed with the reassuring finger-licking groove Ms Lewis has. Top drawer stuff. Really!
More black velvet was smuggled south, in preparation for Amber Arcades. We'd seen the singer Annelotte de Graaf do an acoustic set in Vrijplaats in Leiden and that was really, really good, but here, the full band brought another side to her strange, ghostly sense of melody. I think it would be fair to say that some Young God Records / 4AD-isms inform their DNA; the way the vox were delivered sometimes brought Mazzy Star and Lisa Germano to mind, or maybe it was their fuzzed up take on a Victorialand or a Deep Sleep for Stephen sound. If that means fuck to you think dreamy, more "courtly" takes on Atlas Sound. There's something about the song structures that are slightly disorientating too; not sure why but the songs seem to drift into some pretty strange places. Regadrless, it's a fucking smart band and I do like the way they can hold attention over some long and fairly slow paced material. I was intrigued.
I was also pretty pissed. And trying to get downstairs to take in Apneu wasn't easy. I blame the amount of dudes who now hang out at Subroutine shindigs. In fact it was so packed that a lot of the people watching Amber Arcades had to secure a vantage point on the stairs. What a change a few years make… Anyway, Apneu whacked out their gauche ditties. Their LP is a truly splendid pop record – packed with bratsqueal college kidology and a sub-Jeffrey Lewis drawl. It's fun, I kid ye not. But tonight they didn't really do it for me; possibly because their songs sit in this buzzy midrange that somehow blends in with that chattering hum you get with big crowds in bars. On the night these factors conspired to create a sort of atonal and slightly irritating sound that got in the way of anything else. Given all their songs are mid paced, from the back it just sounded like a never-ending buzz in 4/4 time. And Apneu's strengths – their wry humour and slight musical asides – need a fair bit of concentration to pick up on. Oh well, a shame, but then I was pissed.
Now it was time for something more cerebral. Hunter Complex was upstairs playing a stripped down, quietly throbbing show to a room full of thoughtful men. Shorn of the film projections as a backdrop (which works so well for him) Lars concentrated on making a restful scene for all of us chinstrokers. Modulations of sound and echoes of rhythm built up a layered, womb-like atmosphere and the dudes all stood and stared at Lars twiddling nobs and pressing keys. As you do. (In fact, what is it about men staring at keyboards? We loves it, the girls just don't dig it in that "let's fix the carburetor/ make that 1/25th model of a King Tiger tank" kinda way). Duly sated and rested we forced our way downstairs and took up position near the front for The Ex, steeling ourselves for a battering sonically, mentally and physically. The pub was heaving, and some heavy types (Peter Bruyn, Ian from MOJO, Oscar Schmit, that bunch) were arraigned in front of the band. Yup this was important.
Now The Ex. Where to start? Well, let's cut to the chase and say that this was an incredible gig, more than brilliant; a show where the band grabbed the charged atmosphere in the room and moulded it into a sort of sonic weapon with which to beat up the audience with their own expectation. Something that caught everyone unawares, even long term Ex watchers. Now if that sounds like some sort of incantational nonsense on my behalf, then all I say to you is, run with it, motherfuckers! This review of The Ex can be nothing if NOT fucking mystical and magical, I will do the band a grave disservice if I do not wholly give myself up to an orgy of spluttering hype. There's enough anal in being an analyst as it is. So, notebooks out of the window!
Mein Gott, how the band came on; subtly applying pressure in that no-nonsense, methodical manner they have, tracks like Last Famous Words and Every Sixth Is Cracked adding slight ratchets of sound and groove. Rhythms and textures were added incrementally, almost cruelly, with tracks like Maybe I Was The Pilot there was a distinct feeling that we, the crowd, were getting pushed further and further towards a cliff we'd just have to fall off. Fucking deal with it, motherfuckers!! Andy's hands were bleeding, Arnold's interjections sounding like orders from another planet, Terrie looking like some wired, smiling assassin, and Kat drumming the band on towards a certain home win. Suddenly, with Theme from Konono No. 2, the room totally surrendered and got its groove on, to such an extent that you were wondering if a sense of normality could return, or whether getting out of the Punk Pixieland the Ex live in was actually an option still open to us. Quite possibly the greatest band Holland's ever produced, The Ex are a brilliantly clear, clean and concise representation of all that's good – and should be celebrated – about this country. Accept no imitators! Resistance is futile.
Feeling like we'd been kicked in the sonic knackers (and felt up at the same time) we staggered to Kult for further brain frying. Quite how Subroutine managed to follow The Ex's sermon from the mount with three BRAIN FRYING shows from Repetitor, Nouveau Vélo and Cairo Liberation Front is a mystery. But happen it did; and given the quality of the shows, hanging in Kult watching the bands felt like one distinct and "ringfenced" passage of time, a weird subterranean wormhole with three aural/visual moods on offer, each complimenting the other. What transpired was a veritable symphony with three distinct movements. Actually I'm going to run with that.
We started with 'the Vélo showing off their new stuff; a stately Adagio that sometimes blossomed out into a gentle Allegretto. On this showing it's fair to say they've managed to evolve their sound and somehow build on all these things we've loved them for; their pop, their groovy Feellies stylings, their beautiful winsome vibe. They've added a thick layer of sound to the in the form of a 16 track, something that really, really helps Rolf on drums, as he seems to have a stronger, snappier backdrop to project against. Somehow it has allowed him to relax AND allowed Bart to add a more punchy quality to his bass playing. Finally that beautiful whisper of possibility that always hug around them (and at one point threatened to overwhelm them) could just be about to break out into something concrete. After that we got the sturm und drang of Repetitor, whose set was Furioso, motherfuckers, Molto Furioso; squared in fact. They HOWLED through their set, smashing through their LP tracks as if it was the end of the world and they were the dark messengers come to give tidings of Ragnarok and Fenris's unchaining. Jesus Harry Christ what a noise! The sound of ships being broken up, of a grenade in a gas tower, a rumbling mass of hooves trampling you down, they were in danger of tearing down the walls and enveloping us in the blackest Sea of Sound imaginable. And the crowd went berserk, almost fighting the wall of sound with a set of increasingly manic gestures. Incredible.
As if that wasn't enough the last show from Cairo Liberation Front sent most people loopy; an ever changing, NONSENSICAL thing of multicoloured beauty and battiness. And their electro cha3bi music's bubbling, rumbling, mercurial qualities creating the perfect backdrop for some carnavalesque shapes – and gasmasked heroics thrown by The Colonel. Incendiary's love for The CLF grows hourly; they've pulled off the difficult trick of avoiding coming across as plastic, or opportunists whilst utilizing props and attitudes that could have seen them branded as, erm plastics. You see, they are mining something of a spiritual seam if you cut away the fun; their stuff, is affirming, positive, brazen and something that doesn't have to worry about opinion. We dig! The room became increasingly bug eyed, walls melted somewhat and tea towels were thrown about in abandon. Class! Molto Trippo!
After that it was an encounter with a carpet a fight with a glitterball and some dada badminton. Cigars in pockets and gasmasks worn during the eating of kebabs, you know there are times where can't beat your brain for entertainment!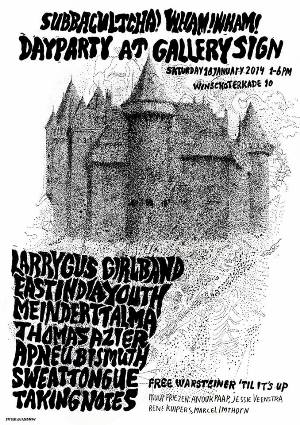 Saturday 18/1/14
Saturday dawned desperately, unforgivingly, cruelly. Only one thing for it, the Subbacultcha free beer show at Gallery Sign. What better precursor to the ride of hell back to Leiden on the NS? This showcase is a great way to come down after the excesses of two days; highly recommended in fact. There's always something thought provoking on; as Subba seem to enjoy High Art and Low Entertainment in this Tardis-like gallery space. This time, Bismuth were playing their mad, DIY Cluster-Clangers ur-rumble in the space below our very feet, whilst Meindert Talma came back to lay down his unique worldview in the back room. We saw Apneu play a miles better set than the one at O'Ceallaighs, their pithy pop suiting the silences and revealing an increased bass sound too; we'd not heard Joeri's "Jean Jacques" rumble before but there it was, and it helped big style!
We were mainly here to see Larry Gus and East India Youth and neither disappointed; both showing different refractions of light from the post-post-modern prism that is single bloke with a laptop, keyboard and loads of pedals. Let's deal with Larry Gus first. This lad rocked. As in ROCKED. Knocking out a whole host of crunchy, punchy and inspiring sounds, Larry Gus caught up the easy going atmosphere in the gallery and kicked it up a level, cooking up a dizzy, messy, celebratory hoe down. No more careful grooving! People got down and soaked up the ever unfolding possibilities of a perfect Saturday afternoon. A bundle of energy throughout, and not ashamed to pull shapes that suggested one who has abandoned all hope at his local disco, Larry Gus gave it all, and more. And people dug his commitment to the cause. He cared, and we saw that; mostly through some facial contortions that suggested some deep shamanic wisdom, or a man in the throes of a never ending battle with his zip fly. For one brief, sublime moment I thought he was going to crawl under the stage and bark out instructions from there. Oh, that he had. But what he did was more than enough. A triumph!
Thence to East India Youth. Starting with a couple of his reflective soulful numbers (that eventually, and unsurprisingly melted down into a pot of white noise that he sees to love to dip into) East India Youth built up a sound in the gallery that simultaneously got a groove on and had people dreamily losing it in a dippy way. The man has a voice that is utterly trustworthy, the real secret of pop success. Basically he could read the time table for the Burnley to Accrington bus and I'd believe him, and take his utterances as gospel. You see there's this hard/soft thing at the core of his work that creates tension as well as a sort of dumb trust. You can add a considerable slice of La Düsseldorf's utopianism in the long trip outs; a sort of soulboy take on Cha Cha 2000, or the attitude of a bedroom raver with dreams too big for his street, effectively the way Marc Almond projected himself. But with none of the bombast; rather we sense a steely determination that keeps itself under wraps and only comes out to snarl when it feels like it. All this contradiction creates tension and gives more to the music.
Anyway; enough cerebral musing. Things heated up when the "short track" turned out to be a 15 minute raver that saw dreadlocked types dance on stage, locked into the ever building beat. And suddenly everything collapsed in fizz of white noise. Brilliant!
Sadly we had to run after that, so apologies to all other acts we missed, but fun was had. What a weekend. You couldn't imagine a festival working with the same mystic and slapdash, Gonzo bonhomie anywhere else in Holland. Every town here has its own peculiar essence, and Groningen's (for me at least) is a mix of uncomprehending, shoulder-shrugging normality (on behalf of those citizens who go about their sober business during the daytime) and the hours of darkness where the bats take human form. There's something about this provincial, modest – and often dour – town that is pure rock and roll. It accepts no fakers; and you know what, neither should you.