Some people came in from the main hall to catch Karadreuffe. Why, I don't know. Maybe they thought their deodorant & Lush product scene was also happening in the café… well more fool they!
Some people came in from the main hall to catch Karadreuffe. Why, I don't know. Maybe they thought their deodorant & Lush product scene was also happening in the café… well more fool they!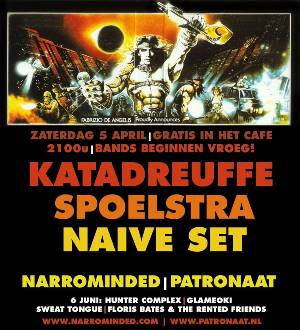 It had been a bruising day, running from Leiden to Utrecht and then to Haarlem. Music is a fickle mistress, sometimes demanding. Still, it was worth being at the Patronaat for the lineup; Naive Set, Katadreuffe and Spoelstra; another collaboration between those two porcupines in Holland's musical garden of Eden, Narrominded and Subroutine. This was billed as a Narrominded night, not that anyone minded… ho hum.
Actually the turn out wasn't as big as I'd thought; the Patronnaat's growing popularity seems to rest a lot on booking chart bound sounds for the main hall; and the few scruff bags in the café were noticeable by their hirsute /crumpled demeanour apropos the queue of scrubbed and shiny teens who were seeking ingress by the box office. Still, Fuck them.
First up were Naive Set who – quite brilliantly – started off with a sort of pretend shambolic warm up, that – outside of Incendiary (whose collection of Orange Juice bootlegs remains second to none) no-one got. Fuckssakes these kids are trying to bring a bit of post-modern playfulness into this art scene, you dig? It wasn't a real beginning, honest! No matter, despite a sort of mistrustful fug settling round the band, they played on, relying on their fabulous harmonies and strong melodic instincts to guide them through. And the fact that Naive Set were a lot quieter than I've seen them before, was – weirdly enough – a plus; even though on the night it did play against the band. Big style. People were looking to be reassured, not given more reason to feel anxious. People wandered off to the bar or outside with that faint, disappointed smile on their faces which spells maximum embarrassment. But as I say, fuck them. This is the trick Jonny Richman used to pull; feel the silence, feel the tension, counterbalance any aggression or apathy with fragile and positive songs. Sometimes the toughest thing is to be honest and open, and that's what Naive Set did.
OK so you want a sonic hotrod to sort out your fucking feyness? Then cop a load of Spoelstra! Spoelstra's new LP is a thing of wonder and something that still, after 3 months, I really don't know how to properly review. It's like some weird Amazonian insect that's yet to be discovered by us humans; a sort of self-reliant, nuclear-resistant cockroach type thing; one that can carry 50 times its own bodyweight in bat shit. As ever, Jeroen Warntjes has created a noise that is baffling, charming and out-there in equal measure. And on the night this music (sounding like a gloopy, thick, syrupy heap of dislocated squeaks and blurts and blares) was incredibly, bracingly, enlightening. Somehow. In a way I can't explain. I think the best thing is to throw a metaphor at you. I'd wager; if this guy starts building mainframes on which the world's food production relies, then believe me, we're all fucked. Further, I'll throw a sonic reference at you. Imagine a glitchcore, spazzcore take on what Louis Andriessen used to do in the early 70s; done by the bloke who, in his infant years, would have eaten all of the play dough at school – without flinching. Shit, we stood in awe, retreated to the bar as various whale noises and distorted vox washed over the café, interspersed with the sort of twanging guitar that is doubtless on Dolly Parton's ringtone. A few cod-false endings made matters even more baffling for those brave enough to stick it out to the end. A true hero. The lad should have statues made of him throughout the Randstad.
Some people came in from the main hall to catch Karadreuffe. Why, I don't know. Maybe they thought their deodorant & Lush product scene was also happening in the café… well more fool they! Just to rub sand into the Vaseline, Katadreuffe laid down a supreme set full of snarling and splintering riffs; duly smeared with a smorgasbord of hot, shapely bass rhythms and clattering beats. Motherfucker; I've said this before and I will say this again, this lot could be massive if (by some weird magical process of industry goodness and ever giving benevolence) some radio play – or compulsory school injection – got all those 14 year old Goth-Emo kids from back of beyond places like Nieuw Vennep into them; you know, weaned the little fuckers off Within Temptation. I may start the process and take my copy of their LP down to that Games Workshop place in Leiden and lock every little kid in there until – after numerous plays – they swear fealty to the band. When they play tracks like False Alarms or Mutatis Mutandis they are like some slow moving komodo dragon flopping around a remote volcanic island looking for a fight, or a place to crash out; it matters not. And, Caliban-like, they've leant a language, but they only know how to curse, fellow dudes… But they don't half do it well. On this night they were supreme, the best I've seen them, hard, unflinching, and aware that regardless of what happens in the future, right now they are operating in a sort of magic bubble. Actually a fair number of people by us were digging it too; not the normal head shakers you see at their gigs, rather the "special beer" brigade, out for some cheap Saturday fun. Maybe they've got it in them to be a cross over band par excellence. I still think they should cover the Nolan Sisters mind.
After a few more scoops it was time to hit that night train. I do love Haarlem, it's a great place, and with more nights like this it could be toppermost of the poppermost.