One minute bone splintering noise, the next a Spanish loon wearing boxing gloves miming to Beyoncé.
One minute bone splintering noise, the next a Spanish loon wearing boxing gloves miming to Beyoncé.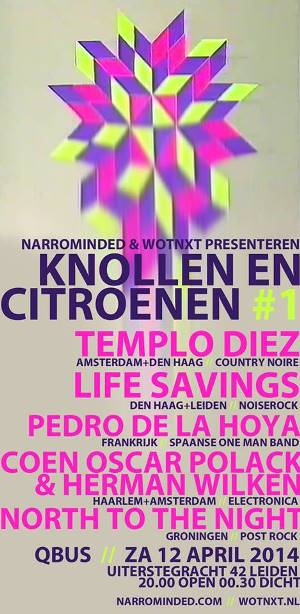 Too many bands! Honest, too many! It's not a bad thing to have so much variety and quality on one night – especially for 7 euros and especially in Leiden – but at times it felt we were undergoing a sort of sonic assault course, and by eleven o clock I was a spent force. So apologies to Templo Diez who sounded fine on what little we heard, and rocked their earnest alt-country/dark folk well enough, I'd just had all I could take. I was still deaf after Life Savings. Still, there was plenty to get excited about in this first WOTNXT/Narrominded collaboration. And it was good to see both CAB03 and Qbus stages being used for the whole event meaning a quick turnaround; even if this did leave you slightly disorientated; one minute bone splintering noise, the next a Spanish loon wearing boxing gloves miming to Beyoncé. But more of that later.
Incendiary turned up in time to catch Groningen's North To The Night whack out a solid and very tuneful set of slowcore / post rock shapes; a set that owed something to that first Godspeed! LP. NTTN look the part; lads in their middle thirties or a tad older, to a man sporting beards, truckers caps, and those downbeat teeshirts advertising burger joints in Illinois or somewhere no-one in the room's actually been to. This was dedicated stuff and their songs reflected this dedication; you were pretty sure they weren't going to start running through You Can't Hide Your Love Forever anytime soon. Still, regardless of the jaded way reviewers pick up on material signifiers (and consequently start to pre-judge) we should give the band some leeway. The songs were powerful, crunching, and pretty well balanced – at times, especially in the slow melodic descends – reminding this reviewer of the stuff Sophia do. There was a nice richness to them, a rounded, whole and very pleasing sound that carried incredibly well. Plus the sound snippets and snatches of samples fitted snugly and convincingly into the material; which isn't always the case. Pleasantly surprised!
After this we trotted over to CAB to take in the collaboration between Coen Oscar Polack and Herman Wilken. This was a completely different thing; the sort of sounds you associate with Narrominded. You know, serious lads, making noises with laptops. In the gloaming of CAB we got slabs of white noise in the mid-range, roughly divided into three or four "movements"; a sort of "cement mixer's mix" of glitchcore, musique concrète and Terry Riley/Dream Academy style musings. Certainly the Riley-esque melancholy was pretty apparent – strong and streaming in fact – when the guitar and sax melodies were strung haplessly across the void, letting things get primaeval. At times the opaqueness of the sound led to a certain disorientation, one or two mid passages seemed pretty rudderless, but hey, with this sort of music you need patience, and an approach that isn't linear; and things slowly things evolve in these huge sound-forms that can make some sort of sense, and, whisper it, even be pleasing. Top stuff.
Then back to Qbus for Pedro De La Hoya, who gave a gig full of what could be described as wanton and shameless cabaret, or thirty minutes of good clean fun. It's all a matter of taste, as Kenny Everett used to lisp. De La Hoya's muse drives him on to wear boxing gloves, chide his audience into forming a sort of tambourine orchestra to accompany him, and to play trombone along to awful radio hits like Survivor's Eye of the Tiger. It's shameless, frenetic and daft. Whilst difficult to describe without resorting to sarcasm or hyperbole, the gig was enjoyable in a pantomime way. He just kept doing the same thing over and over, and it seemed to work; mainly because, like one of those jugglers on the street he knew that if there was any slip in concentration or determination from him, it would mean that we'd be off. And balanced against that ruthless side was a sort of messy rawk charm; obviously well-schooled in the pretensions of the genre, De La Hoya kept imitating those private, pent up moments of release in front of the bedroom mirror. Air guitar with trombone. Miming to Beyoncé and (as an encore of sorts) Nirvana's Smells Like Teen Spirit. Somehow it worked; we clapped and shook our tambourines. We laughed at the (honestly) funny/tragic "last lad at the disco" tomfoolery and were quietly impressed by his antics on trombone, drums and guitar. An impressive gig, no doubt. That's his life mapped out.
CAB was waiting; and this time it held something that I'd normally associate with CAB; rock. Life Savings boast Katadreuffe dudes who like to rock hard. Frankly we took three songs and evacuated the premises to ensure our eardrums wouldn't crack. Someone shut the door too, meaning the suffering audience began to vibrate with the racket, the room pulsating in a deep rhythmic throb. SHATTERING noise levels aside, Life Savings have a rich and crunching rock noise that reminds me of the clanking tanks make when being tested out on manoeuvres. I hope they take that as a compliment. And they have – on what little evidence I could garner – some good rocking tunes too.
After this we needed time to shake our brains into the correct position After seeing Templo Diez warm up, we hit the sack. Too much, man! Too much!