A whole pile of records that got missed due to my MA thesis deadline. Including Hubba Bubba, Zea, Khan, Ausmuteants, Candie Hank, Perfect Pussy, Tobacco, Protomartyr, Secret Cities, Ex-Cult and Olga Bell.

A whole pile of records that got missed due to my MA thesis deadline. Including Hubba Bubba, Zea, Khan, Ausmuteants, Candie Hank, Perfect Pussy, Tobacco, Protomartyr, Secret Cities, Ex-Cult and Olga Bell.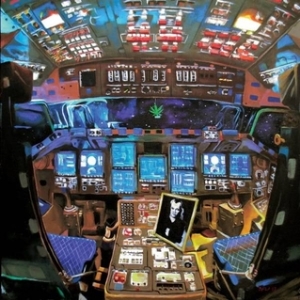 Hubba Bubba – Damaged Bug
(Castle Face) http://www.konkurrent.nl
Chapter 41590876485968598691475645 in the story of rock indulgence worthy of the court of Charles II. To whit, in which John Dwyer, genial singer from Thee Oh Sees props a picture of Warm Jets-era Brian Eno on his intergalactic fighter's control desk (said fighter borrowed from Silver Apples or Amon Düül II's Dance of the Lemmings presumably) and jets off into outer space, propelled only by fusty wibbles and underpowered bleeps and blurts. As a statement it's pretty great. No more the ermined purveyor of all things Garage, no more cranking out the beautiful essays in the appropriation of the Gonzoid past that his parent band are so adept in; rather an attempt to out-sweeten Zuckerzeit or to somehow sound like Organisation (Eggs at Night don't half sound like Milk Rock in parts), or a lofi Hawkwind in a cosmic garden shed of his own making. Bring it on. Those more used to the beautiful car crash of Barrett's psyche and Can's propulsion should take a deep breath, there is precious little guitar (though the opener Gloves for Garbage flatters to deceive). Things get messier as the record ploughs deeper into Psychicke Space, and as a result, less and less like Thee Oh Sees. I bet Dwyer loved making this. Hubba Bubba sounds like a glorious indulgence.
Khan – The Enlightenment Machine
http://www.randomnoizemusick.com http://www.konkurrent.nl
Well, now, this is good. Khan's always been a bit of a maverick, one who's played about with ideas and not been scared to confuse people, or make a fool of himself in the process. This is a soulful and incredibly groovy record for late nights or long train journeys, the sense of movement on tracks like Message in a Coke Bottle and The Future is inescapable, as is the sense of sense of emotional displacement; however relaxed the sound feels. It's as if tracks like Pretty in Red and No Soul deal in disillusionment and disappointment. Or people unable to come to terms with their own emotions. I don't really know but there's this existential creepiness that runs throughout The Enlightenment Machine. Sonically this record is a gift. Drenched in this deep dubby, sub-bass sound, and also benefitting from a velvety approach to synths (the layers are silken and smooth) and some slightly atonal effects and loops, the arrangements on The Enlightenment Machine allow for an astonishingly broad range of ideas to be welded into this dark, velvety soundscape. Everybody is a Bell, boasting Julia Kent is a great track, a Gothic lullaby par excellence, Kent's cello adding ghostly footfalls to a whispered, ghostly tale. And the title track is a gem, a late night come down that takes that Suicide "hiss" and transplants it to some god-awful upmarket club. Slippery, intense, suggestive and damned attractive as a listen, it's really worth your time. But it's dark.
Ausmuteants – Ausmuteants
http://www.agitatedrecords.com http://www.konkurrent.nl
I suspect there's a factory somewhere which churns out bands making this preppy, off kilter take on post-punk. You know the score by now, I'm sure; a sound comprising of clanging guitars circling round a bunch of minor notes, reedy synth lines struggling to play more than one flourish, (à la early Teardrop Explodes, Talking Heads or the Seeds); hoppity drum patterns and "interesting" lyrics. We get all of this in Ausmuteants' LP. Luckily it just about crosses the line into being a good, enjoyable record, though I can see why it would annoy. What saves it is its charm and brevity; even when the lyrics get too gauche to be tolerated (Pissed Myself Twice, Kicked In The Head By A Horse, I'm looking at you both here) the band has still got enough gumption to keep us amused. When it does get good (such as Hate This Town or the brilliant end track, Fran Drescher's Alien Abduction) it gets close to being great, Devo style; harebrained, urgent and backed up by a sure fire sense of melody and tension. This reviewer wished there were more tracks like that, but then I'd be committing a reviewer's worst crime of all, telling the band what to do with their own Muse. I'll resort to sticking pins into dolls.
Candie Hank – Demons
http://www.shitkatapult.com http://www.konkurrent.nl
I presume this record is about demons. I think. There are snippets of a cod-exorcism on here, (as in What Is Your Name) but mostly you forget all that demon stuff and appreciate the moments that mash up kitsch disco, electro and surf. To cut to the chase; Demons is a chrome plated, souped-up version of Cluster's old two cylinder car; huffing and puffing down the electro highroad's slow lane and all the better for it. And if you like that idea you're in for a small treat. With tracks like Elevator Life, Demons is a bit like Money Mark's early work in places, or Toulouse Low Trax's work too; especially the insistent bubbling beat in Solaris and Shadowism, and Magnetic Forcefield which never look to go too far out of its comfort zone. As a bonus you get Moomin-like synth noises turning up at every available opportunity, as in Babyshka Demona. Can't forget them, oh no. It's not all poppy instrumentals, as Demons features Yuko Matsuyama's vocal on Swimming Rabbit; a brilliant slice of warped pop.
One final thing; it's very shiny this LP (you know, shiny as in shiny); and you do feel the mask will slip at some point. That the LP manages to keep up this poppy artifice all the way through just adds to the intensity. Best tracks are the demented ones such as Peace (With My Demons), Every Night and Transylvanian Voodoo (which is just, well, very demented; the sonic equivalent of a tin of spaghetti hoops). Listening to this, friends, is a good laugh. Take it from me.
Secret Cities – Walk Me Home
(Western Vinyl) http://www.konkurrent.nl
A cutesy-cutesy cover, "hand-written" style font for sleeve notes, a cat picture (a fucking cat picture) all these things annoy. All these things normally find me hoying records that look like this in my "until hell freezes over" pile. Luckily after the first few timorous bars and the singer's warble were negotiated, we really got into this new record by Secret Cities. Yes, it's pop, and it's whimsical. Be warned. Whimsy is its middle name. Badtrip is not, as the title suggests a 25 minute screamathon backed by 5 overheating mellotrons and flying V fuzz pedal attack, but a-mid tempo bop, which appropriates to someone dreamily skipping down the pavement (oops! Wrong context! In this context I should say sidewalk, and the lazy skip will doubtless take the singer to the local candy store). But you know what? I like it. I still wonder why, even as I nod along to it in this review. Same goes for the sweet choirboy laments in It's Always Summer and Paradise, the sort of things moping teenagers from semi-rural towns in Nord Rhein Westfahlen, or Connecticut will like, or the schoolmarm lessons wrapped up in a nice melody line that go by the names of Playing With Fire and The Rooftop. Despite hearing evidence of Ukelele and Swanny Whistle (or whistling, what's worse?) on here, the LP just about gets away with it. See; they can write good sweet songs that are obviously from the heart, like The Cellar. Fair play.
Tobacco – Ultima II Massage
(Ghostly International) http://www.konkurrent.nl
Golly mick! This is a cracking LP; it pretends to be all tough and hard and impossible to listen to and full of lyrics your mam and da will be angry about, but when it rolls over and lets you tickle its belly you realize it's all for show. Tobacco's LP is a fun thing; full of really good tunes and snazzy riffs, and a sky high hedonistic attitude that you can't help but warm to. The titles are funny and a bit of a giveaway; Creaming for Beginners, Self Tanner, Spitlord; it all hints to someone dicking about. The first inkling of this is in Good Complexion, which is a wiped out, fuzzy instrumental, sliding hither and thither and not giving a shit when it switches into blurting out salvos of white noise. That's pretty much the template throughout; some more obviously poppy than others but all, ultimately, looking to please rather than to reject. And it's fun deciphering and recognizing these tunes on Ultima II Massage. The process is a bit like scraping the layers of baked muck off old coins, or long lost toys you've found in the garden, to marvel anew at what you've found. The naughty song we were warned about is Eruption, mainly because we hear "fucking" or "motherfucking" a lot. Outside of that it's a perfectly sweet pop song, loves. A good party record, this.
Perfect Pussy – Say Yes to Love
(Captured Tracks) http://www.konkurrent.nl
All right I will. I'll say yes to this LP too; an energetic and occasionally inspiring scramble (aided in the main by an overheating rhythm section, feedback and yowling vox) through the band's idea of dystopia. I think… The lyrics betray a level of strident soul bearing that I've not seen in a while; passive aggressive bedroom soliloquies given a turbo charged prop by the guitar wall. Advance Upon the Real has lines like "I need constant reinforcement / I'm at best step removed from what's considered natural / I'm at worst disinterested in what's considered lovable", which sounds great on paper (literally as, you can't really hear where it is in the track). So; it's a committed record make no mistake; continually crashing itself against a beat, and juddering back into life and cantering off into another direction. Bells and Dig are particularly brilliant demonstrations of this kind of racket. If you don't like whirls of feedback, (with the tremolo setting your teeth off) then I'd give this a skip, but for me this is grumbling, growling urban rockaboogy of the highest order. Sometimes Say Yes to Love nods to Sonic Youth when they were at their most debonair and energetic (it's those guitar changes and that jangle) and they pick up on that Daydream Nation sound in Interference Fits but hell I have nothing against that. And of course the end track VII is just offbeat nihilism. Great stuff.
Protomartyr – Undercolor of Official Right
http://www.hardlyart.com http://www.konkurrent.nl
I only played this because it's got an Alsatian bearing its teeth on the front. I mean, the music had to mean something, had to confirm or deny the provenance of the dog. It's a challenge thrown down the artist, which I like. At first, though, the dog means very little, it's still just decoration, as Undercolor of Official Right is one of those LPs that slowly reveals its qualities, and may initially underwhelm. You may think you've heard all of this before. Some early tracks like Maidenhead and What The Wall Said reveal a maudlin reflective record, hard without being aggressive or pompous and maybe the sort of sound Sacred Bones would put out; simple, stripped down and tough rock. There are hints of GBV here too, but more gonzo, (or monolithic maybe). Aint So Simple has that GBV guitar chug pushing it along. At this point you may wonder pleasant as it all is, whether it's worth more investigation. But stick with it, as we get a very intelligent, focused sound that purveys a clear message; the rant dissecting "social types" on Tarpeian Rock is great. In fact the longer the record goes on the better it gets; Scum, Rise!, Bad Advice and Son of Dis are brilliant just because they stick to their prescribed scripts, which worm their way inside the listener's head. Slowly, but surely Undercolor of Official Right reveals itself to be a laconic, intelligent, socially aware and very hard hitting rock record, one with a clear message and a fine way of disseminating it. With some cracking songs too; such as I Stare at Floors and Come & See. Take your time.
Ex-Cult – Midnight Passenger
(Goner Records) http://www.konkurrent.nl
One of those records that "sounds" exactly the same all the way through; Midnight Passenger is still pretty great, mainly because of its unrelenting insistence of socking it to us in the only way it knows how. Shattered Circle starts matters off as they mean to go on; a steady, unfussy beat (sometimes faster, sometime a bit slower) that sometimes references Jaki's simple Velvets-style tub thumping on Monster Movie (especially on Confusion Hill and Midnight Passenger) simple vocals, more pontificated than sung, and stripped down, crackling guitar riffs. After a while, this template starts to take over your headspace and you realize that by virtue of keeping things in this order, Ex-Cult have won you over. It's weird; a record that doesn't really speak "put me on" is very, very difficult to take off once it's built up a head of steam. Best tracks? Well, Catholic Entries is fabulously moody, (built round one wailing riff) and Sid's Visions; a blast built on a great guitar charge that benefits from a false slow start. Fine stuff, really is.
Olga Bell – Krai
(New Amsterdam Records) http://www.konkurrent.nl
OK kids; listen in. Krai is all sung in Russian and the "minimal" sleeve gives precious little away, apart from terse translations of the Cyrillic titles; such as Perm Krai, or Stavropol Krai. A bit of research from the label's site reveals that the translation of the Russian word "krai" is frontier, hinterland or edge. And in that respect the LP is pretty consistent; as this is a strange listen, one that pushes you to a few edges at times. You will certainly need to give the record some time to both wash over you (to get a handle on the whole) and to start to notice the peculiarities of each track. The first few listens are weird, an interest in strange sounds and languages can fade and you can wonder what the hell you are listening to; especially after a few tracks, as things do seem to merge into one whole a bit too quickly. What saves it, and you, after a few further listens, is the orchestration; by virtue of it being pretty out there. It turns out Olga Bell is a trained composer and you can hear the rigour in this work; nothing is left to chance, everything reveals itself as balanced on a knife edge (especially on tracks like Stavropol Krai and Khabarovsk Krai) and the superb harmonies turn up to rectify or reassure. Apparently, there are SIX people called Olga in the band. SIX. That in itself is something to treasure. A strange old listen but increasingly addictive, it must be said. But stick with it.
Zea – the Swimming City
Zea's new LP is great. Softer, less brittle than his last LP, and certainly less strident. And in this more considered aspect, more rounded, better. The spaces opened up in Zea's new record suit Arnold de Boer; who (in my opinion) could leave his choppy guitar work outs to his "other" band, The Ex. You see I like the idea of Arnold morphing into some soul-boy, punky troubadour, as heard in Dark Minded Me and It's Quiet. Whether he does that is down to him of course but he's one of the few who could carry this off. Things like the opening salvo; Sub Species Ludens and People Shrink People Grow are fine examples of patience and simplicity. There's also a stubbornness which is very appealing; and a desire to allow more space into the sound; I Build My Own Town is fabulous in both its suggestiveness and pig-headed nature. And his Frisian tracks (De Zwemmende Stad and Ik Kin Der Net By) are also tip-top; and surely a signpost for more of the same. It's not a record that is recognizably Zea (going on past form that is; surely the scuzzy, frantic, Jeffrey Lewis-like Bathroom is something I've never heard in his sound before) and it's one that does have a few deflating moments, especially round the middle mark where it seems to flatten out too much. Flexibility and openness are key to this kind of sound working. But this is a transition record if ever I have heard one. And a very fine one at that.