A new Lust for Youth record! Before you wrap yourself up in your greatcoat and button up the top button of your last clean / dirty grey shirt, let me warn you; this one feels a lot more poppy.
A new Lust for Youth record! Before you wrap yourself up in your greatcoat and button up the top button of your last clean / dirty grey shirt, let me warn you; this one feels a lot more poppy.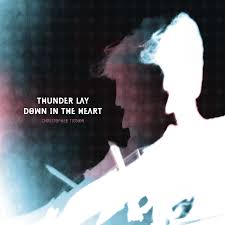 Christopher Tignor – Thunder Lay Down In The Heart
(Western Vinyl) http://www.konkurrent.nl
Is that a mellotron I hear in Thunder Lay Down in the Heart? I hope so, it sounds like one. There's a bit during one of the title track's "movements" that sounds like the beautiful floating passage in Tangerine Dream's Atem; something which you want to go on forever. This is a pretty magnificent LP all round, one of those releases that manages to sound weighty, portentous AND exciting without actually trying. A bit like The Flowers of Hell's stuff if you need a reference. It's also very confident; from the brilliant opener (a reading of John Ashbury's poem, A Boy) through the virtuosos violin and cello solos in the title track sequence, to the ghostly, spacey essays such as the portentous The Listening Machines and First, Impressions; two incredibly "filmic" pieces. In fact, this record could easily be a classic soundtrack; in fact it has a sort of Nymanesque feel in parts; that weird aura of detachment, or voyeurism pricked by clever orchestral passages and an understanding that repetition is the music's main propulsive element. And the longer it runs, the more you get out of your box too. This is definitely a record for a hot summer's afternoon picnic or reflection; you could get seriously spaced.
Young Widows – Easy Pain
(Temporary Residence) http://www.konkurrent.nl
I'm not sure why I like this – as normally gnarly, bluesy, punky rock (sorry, ROCK RAWK) isn't my cup of tea. But this is a great record. Maybe it's because I can't detect any ego here. Certainly not in the way the vocals are done. It's all that bit removed, laconic, "back seat", strung out…. Plus I really dig that full, black, echoey sound; you can visualise the delay pedals overheating. The opener Godman is pretty brilliant and even if you can't sit through the rest, you should really give that track some time; a superbly patient demonstration in laying down a simple melody and a huge atmosphere with care and precision.
This is a suggestive record too; nothing is rubbed in your face, there's no cock rock going on, and you get the feeling that the band are happy for their music to express itself. There is a Gothic feel to it too in Cool Night (especially in the way the guitar skips up a notch near the end) and one or two surprises where the things get sweaty and more direct (the brilliant and slightly bug-eyed Bird Feeder a refreshingly straight, blues collar take on Blues Explosion/Grinderman theatrics). Things get a bit more frisky now and again, but not often; maybe there's something of the early Young Gods in here; both bands share that stately mid tempo crunch, and reliance on a simple lick to get the message across (Kerosene Girl, Doomed Moon). All in all a great listen, something I didn't expect to say.
Inventions – Inventions
(Temporary Residence) http://www.konkurrent.nl
An out there, meditative listen, with one or two cracking passages that really whack you in the solar plexus. Opener Echo Tropism sets the tone and floats gently off; preparing us for Flood Poems, something even more amorphous and intangible (and beautiful; there's a bit where a guitar line starts to ascend which is spine tingling). Other blissed out bits are to be found on Peaceable Child which is possibly the album's standout track and the delicate Recipient which has a feel of British Sea Power about it; especially a track written by Hamilton. A lot of the guitar work on this LP is fab; incredibly subtle and simple phrases inform the tracks and balance out a lot of the background experiments. This is no surprise really seeing Inventions are Matthew Cooper and Mark t Smith – members of Eluvium and Explosions in the Sky – so they should be bloody good at this kind of thing.
But sometimes things can get a bit too floaty – as with Entity – the first part of which (before the guitar run and feedback kicks in) could be sauna music if we're honest – and things only start to pick up again in earnest halfway through Luminous Insects where this huge wave of synth lays down an affecting cyclical melody. But you know what? It's a great record if you want to space out, for sure.
Lust For Youth – International
(Sacred Bones) http://www.konkurrent.nl
A new Lust for Youth record! Before you wrap yourself up in your greatcoat and button up the top button of your last clean / dirty grey shirt, let me warn you; this one feels a lot more poppy and upbeat than Sowing Seeds, or Perfect View; both of which actually felt cold to the touch. Whereas Lust for Youth's records previously felt as if the songs were wrapped in some kind of freezing fog, here we have more warmth, more presence, more colour. Tracks like Epoetin Alfa, Armina and Basorexia are more rounded, funny even; and with songs like Illume or Running you could be forgiven that this was some mad exercise in 80s kitsch. Maybe it is; it's still enjoyable, nonetheless. New Boys for example is a great slab of 80-s electro, the sort of Freur/Bronski melancholy that still sounds good 30 years later. And Lungomare is a real curveball of track; a stately plod that's part Goth-chillwave reflection, part shopping centre advert. Armina is a great attempt at making a choral/High Church pop song (not a million miles away in approach from the very first St Etienne singles) using a discarded Depeche undercarriage. Dance music for wannabe Casuals on their summer hols, kids. Really is.
Lee Bains III & The Glory Fires
(Sub Pop) http://www.konkurrent.nl
Blues? Bar room blues? Naw, not my pigeon love. Except, except… you know this LP from Lee Bains II and his Glory Fires is a rocker, a rocker; full of hoary old riffs that somehow spark into life. Even when the opener The Company Man obliquely references Midnight Rambler, I forgive it. Listening to this LP encourages a feeling – or a mental vision – that some old oasis has been irrigated back into life by a long forgotten water source. It's not an exercise in curating an old sound mind; it does feel as if Bains has an agenda to preach, and enough blue collar spirit to keep things righteous, as in Flags and The Weeds Downtown. Sonically, there are enough scratchy, high octane guitar runs that nod to James Williamson to keep any Stooges fan happy too; I also thought things got a bit like The Faces in some parts, especially in the loose jam known as The Kudzu and the Concrete. In fact the record is packed with classic rabble rousers; Burnpipes and Swimming Holes is just brilliantly exciting and funny in equal measure.
Not a record I'd have thought of listening to in a million years, and yet I think it's great. Life; full of surprises isn't it?
Fatima Al Qadiri – Asiatisch
(Hyperdub) http://www.konkurrent.nl
What on earth is this? Well, I can tell you know it's a concept; writ large. I could spend hours (pompously) trying to justify that concept in this review through reheating old press releases or stuff off Wikipedia. But that's just an exercise in showing off, innit. You go and check out the work of Fatima Al Qadiri for yourself, and see if what she does touches or informs you. Let's stick to reviewing this LP as music. The opener is a reworking of Nothing Compares 2 U. What initially sounds like half-arsed kitsch develops into a very strange ghostly sound with very little content. Weird. It's as if the life is sucked out of the song and we're left with a flat two dimensional take on something that means nothing anyway. Frankly thinking about that can be very wearying. And take it from me it's the highlight of the record. As a listen things regularly tail off throughout; it could be elevator music, simply put, and things only get distracting or charming sporadically. So there's your music review.
As an exercise in making us think about how culture is gradually becoming more homogenized it has merit, of course. I am guessing that's the point of the whole exercise but then, if you're making a record to deliberately sound flat, bland, and nonsensical, you end up relying on the listener to bring your concept back into the work; whilst appreciating and upholding said concept. And it never escapes the charge that as a listen this record is boring as fuck. Does that make us appreciate the point anymore? I doubt it. I also don't believe – given the extraordinary volume, and mix of music, plastic and visual arts this last 10 years or so – that it's the full truth, not by a long shot. And will you listen back in 5 years' time? Oh no, I thought not. You won't. I suspect a lot of people will buy into this LP and it will sell on the concept not the contents. Emperor's New Clothes, First World style.
Man Forever with Sō Percussion – Ryonen
(Thrill Jockey) http://www.konkurrent.nl
So, what do we have here? Well, we get two tracks, called The Clear Realization and Ryonen that reveal themselves to be two long drawn out percussion work outs. That's it. That's what you get. Those who have been to drum circles know that only by totally immersing yourself in the rhythms being clapped or pelted out can you really dig what's going on. Otherwise watching a drum circle can be – like going to Ikea or listening to Money Box on BBC Radio 4 – one of the most stupefyingly boring experiences of your life. Luckily this is a good LP, hypnotic, determined to get you out there; the opener The Clear Realization is a sort of advert for the second track; a bastardised plainchant resting on the top of the rhythm is effective in drawing you in. Ryonen is the true test though; a tremendously focused and busy meditation hat really builds up into something special by the end. Back come the plainchants, stretched over the top of an incredibly spaced out rhythm. Things build to a head and then fade out. It's fantastic. But hey, you have to stick in there.
Nid ϟ Sancy – The Cut Up Jeanϟ Technique
(Digital Piss Factory) http://www.konkurrent.nl
A great record if you can sit through it; as at times it flits and flirts through a whole host of cut ups, breaks and samples with no pause. It's a dizzy, glorious mess of sounds textures and attitudes; a bit like the car crashes of sound that Deejay Miss World conjures up. This restless, messy, funny record also has a soul of sorts. It must be the Flemish thing, (they're from Gent) and I always suspect there's some weird distorted soul vibe in the mix somewhere.
On listening to this a few times, I've come to wonder whether this is dance music or a soundtrack; as it's a relentless avalanche of sounds and beats that don't hang around; and in not hanging around the record make it difficult for the listener to lock into a groove. Only now and again do you get something that can be lifted from the mix, such as the Anti Manual or The Stream. Rather the way each track segues into the other is the main point; presenting a clear picture of the whole album, a sort of Faust Tapes for ravers.