Honestly, you only get this kind of thing at Haldern, Jeffrey Lewis crammed into a small bar singing pop songs about Vietnam while across the road there's a quartet summoning the voice of Death.
Honestly, you only get this kind of thing at Haldern, Jeffrey Lewis crammed into a small bar singing pop songs about Vietnam while across the road there's a quartet summoning the voice of Death.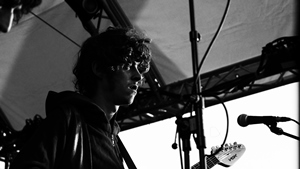 Thursday 7/8/2014
Damian: At the beginning of it all we were already a man down. Not only that but we were being forced to make our annual pilgrimage to the Niederrhein via public transport, for reasons our usual driver will have to keep to himself for now. Normally his wages would be docked but as he doesn't actually get paid anything we will just tut in his direction and roll our eyes disapprovingly and we suggest you do the same should you happen to come across him in the near future. Nevertheless, this enforced extra logistical headache made us break our trip into two, stopping off for the prior evening in Nijmegen. All of this went so swimmingly, and buses and trains ran on time so precisely that we arrived in Haldern so early on the morning of the Thursday that the bread in the local bakery was still warm. This trip that we had feared had turned out, instead, to be a doddle. Who needs drivers? Public transport is ace (when it works – the less we say about the trip home the better.)
Not only that, but on that bright early morning, the very first thing we came across in the village was a pickup truck emblazoned with the logo of the festival's main beer sponsor, and two kind men who offered to transport our suitcases and bags up to the main festival ground and then, to add further cheer, gave us a free beer each as well. Only at Haldern. We were getting excited.
Richard: There are certain things that must be avoided at Haldern Pop. One of them is getting too excited but this is difficult, it really is. Haldern Pop Festival is a gem, albeit a disorienting one; as it's set in a place where rustic calm and daft behaviour seem to traipse hand-in-hand through the surrounding corn fields. And this year, probably because of the excitement generated by Big Ups and Fat White Family, Incendiary got completely carried away by 5 o clock on the first day and out of it by midnight.
You see, on the first day the atmosphere is supercharged, wildly friendly, revelling in the sort of ADHD that gun dogs possess. It's a lovely feeling – but dangerous.
Damian: We'll get to all of that shortly but somehow, against all the odds, your team Incendiary members somehow found themselves completely set up – tents erected, airbeds inflated and supermarket provisions purchased – before lunchtime. Lunchtime! This was simply unheard of and so, without really knowing what exactly we should do with ourselves we set up camp for the early afternoon in the Haldern Pop bar, located in the centre of the village and spent the afternoon arguing with ourselves over a few beers about whether to watch the stellar lineup in the Church or head off to the main site and check out the stuff in the Speigelzelt and Beer Garden stages.
As much as I would have liked to have witnessed Ed Harcourt and John Grant's sets in particular (and we've been assured by a large number of people that both shows were indeed extraordinary) the main site won out and off we traipsed up the lane once more, in search of entertainment.
Richard: However, things started quietly with Mariam the Believer in the Spiegel Tent. It wasn't really our thing; I quite liked what I heard, and the music did boast one or two flourishes that would undoubtedly sound good on record, but ultimately this show was over arranged, and didn't seem to have much in the way of grabbing our attention. Oh well.
Damian: Mariam is the female half of Wild Birds and Peace Drums, an act we saw in this very Zelt a few years ago. I'm not a big fan of WB&PD, I must say and although Miriam's show was certainly accomplished technically, I found the whole thing to be a bit too self-indulgent for the most part. You may well have a beautiful voice m'lady, and a stunning kimono, but until you decide to stop acting like you're so very proud of yourself all the time on stage so much I'm going to find it hard to warm to you.
Richard: Maybe we needed something more direct, meatier. Time, then, for Big Ups in the Beer Garden.
Incendiary likes Big Ups a lot. At turns preppy and raucous, they exude this skater boy cool that seems to balance both a ruthless attitude to what they want from their own music and a disarming charm in presenting it; something that works on both a one-to one and big-stage level. The singer has this Gabriel Ernest-style vibe, an arch politeness that can drift off into unreconstructed goon territory.
Damian: Imagine a young Jim Carrey in cut-off jeans.
Richard: And the band muck about with this determined, 'Ironside' approach to stuff like Minor Threat or even a metal-headz take on Pavement; tough, disciplined and practiced, but with some additional pixie-like element thrown in. At Haldern they wisecracked and minced away, interrupting the nice stuff with the bouts of screaming. Something stirred in farmer folk of Haldern. 'So you can mosh to this? Then we must mosh.' They moshed, and all was good.
Damian: All I can really add is that the band were just so much FUN, and that's not often a word that's thrown around when talking about US punk bands. Sure, they're aggressive when the music needs to be, staccato and unsettling when the need arises and they indulge in enough screaming, yelping and all around leaping whenever the mood takes them, which is fairly often, to fill out their punk application forms in full but Big Ups are just a refreshing blast of hot air. They just want to have a good time and hell; we'll have a good time right along with them. We may start pulling funny faces too, just for the hell of it.
Richard: Following this, The Districts did their 'bluesypop' thing in the Spiegel Tent…
Damian: There was a lot of that 'US bar-room band' type stuff going on this year.
Richard: …which was pleasant but we needed something a little leftfield… such as The Fat White Family. Incendiary, like the rest of the civilized world loves them.
Damian: There's a lot of hype beginning to build around this band. I'm quite happy to add to it.
Richard: Boasting a new drummer, flown in at a minute's notice (and one who added a richer thump and steadiness to their sound) the band began in that brisk, sardonic 'yeah we've started' manner they have; catching the field a bit by surprise.
Damian: They have a magnificent ability to feel completely ramshackle and amateurish and yet also sound like they could possibly be the greatest band on the planet. It's as if they're wrestling with lightning. If they ever figure out how to bottle it and control it, they could be unstoppable. As it is, they're just simply one of the most exciting bands around.
Richard: As ever, the bit where Auto Neutron kicks in and the band goes ape caught a fair few in the audience on the hop. You see, it's the manner in which the band goes ape; it's savage, ruthless, and cuts to the quick. And from then on it was a standard Fats Whites show; namely, it was epic. Clothes came off, jazzy dancing, screams and yowls and non-rockist laughs aplenty emanated from the stage, and great smashing choruses started to make take hold on an increasingly receptive crowd.
Damian: They look like they haven't slept for months, the singer rocks out in a way that seems close to having a seizure, the bass player looks like he'd rather be down the local football club than standing on a stage and collectively they give off the most amazing 'Fuck you and your Mother' vibe. They feel dangerous. They feel exciting.
Richard: You see, Fat Whites have a bunch of great, anthemic songs and are a rock band that draws on the best things in the canon. And for a band that can be seen as the ultimate antidote to shite guitar acts, they're not scared of playing around with rockisms, turning certain clichés to their own advantage. In fact whisper it but in places their show had 'a bit of the Rolling Stones' about it, as in 1965/66-era Rolling Stones, before the foppery and self-importance really kicked in and the blues-based savagery was put in the closet to rot. Yeah, you heard me, the Stones; but only if Gary Burger was in charge and not Mick. Fat White's confidence and single mindedness is also a thing of wonder.
Damian: They sound like everybody you've ever loved. From the Stones to the Faces, The Monks, to The Fall, Blur to Supergrass and so much more and yet the best thing about them is that they're forming their own identity. Forget the influences, they're pointless. The Fat White Family are the band Kasabian wish they were. (Richard splutters into his tea at this point.) Their anthems have power and substance. They may well be lewd, crude and incredibly rude, smart, savvy and oh so snide but you simply get the feeling that they know EXACTLY what they're doing, not so much with their instruments but with their whole ethos. They are a serious force and I hope to watch them destroy all in front of them in the near future.
Richard: Halfway through Bomb Disneyland, the sound (or soundman) gave up the ghost. Everything died on them. But did the band give a shit, or look worried? Nope. Somehow this made everything even better as it became a big communal joke. Strong and streaming, me hearties!
Meanwhile, Royal Blood rocked out with aplomb in the Spiegel Tent, if a little straightforwardly. But then the classic rock they deal in IS meant to be straightforward. I think. I'm still not sure how anyone can write about music like this anymore without saying 'yeah it's a bit like Led Zeppelin, or White Stripes in spirit', and convince others to listen to it. I'm not equipped to do so, that's for sure.
Damian: This is where our earlier day excursions began to take their toll. Somehow, although all members of team Incendiary were within fifty feet of the Beergarden stage not one of us managed to see a single second of Trampled by Turtles. I'm not entirely sure how that happened but we apologise for it, although we did enjoy the fact that their name was misspelt in the guide and so they shall from henceforth be known as Trampled by Trutles.
Richard: I got a fair bit of The Slow Show in the Spiegel Tent, which was warm, fuzzy, reflective and eloquent. Think Lambchop, or a stripped back, wry take on the Blue Nile as your main sonic ingredients, with a wee bit of I Am Kloot's nark thrown in as a seasoning to counterpoint the main flavour, and you're there.
Damian: I really enjoyed them. Ok, so they're another Manchester band that seem to have never spent a single day in the sun – that cold, rainy climate soaks their sound – but that Lambchop mention is key. They really do have a wonderful, melancholy feel to them and snuggled into a mirror tent towards the end of an evening they felt right at home.
Richard: The tracks where the Stargaze choir joined in were fabulous. So fabulous that at this point I packed up and passed out; only to wake and throw up a load of feta cheese-based sick around the artist's toilet area.
Damian: I managed to keep my wits about me enough to watch Kurt Vile & the Violators and I'm glad I did, although it did feel a bit all 'one note' by the end of the set. Kurt does his classic rock thing very well but it's neither exhilarating nor boring; it's just good and if that sounds like it's damning with faint praise, then it's meant to.
Having felt so proud of myself for being the last man standing I then wandered back into the Spiegel Zelt to witness a bunch of roadies trying to set up three grand pianos. Closing one eye I realized there was only one and the sudden realization of just how close I was to adding my own pieces of feta to the field outside, I hastily stomped back to our camp, losing a couple of items of clothing on the way. No, I've no idea how that happened either.
And so I missed Benjamin Clementine and Jonathan Toubin. Maybe arriving so early wasn't such a great idea after all?
Richard: Somehow the tent enveloped me and soothed my shaking body. Things settled for an hour or so; only for a hilariously bad A CAPELLA disco collective seemingly in love with the works of Jimmy Somerville and Erasure in the tents opposite to grind into action, around the 3am mark.
Damian: Disco North. Disco South!
Richard: Surrealism doesn't come more surreal than a twenty-something German Erasure tribute act doing it A Capella style. Gadzooks! These shavers were still twinkles in their mothers' eyes when Andy Bell shook his spangled rump round Middle England. Thoughts like these somehow brought equanimity to your correspondent and he passed out benighted and resplendent, in a field full of gibbering loons.
Friday 8/8/2014
Richard: After a morning sweating through the moderation of an admittedly very interesting panel that dealt with how music can be a medium that can regenerate rural communities (or, at the very least, realign the relationships between town and country) it was time for music. And who better to provide a Psychicke link between planning and 'small steps' action than Jeffrey Lewis & the Jrams? Frankly his show, played to a receptive and at times adoring crowd in the Haldern Pop bar, was the highlight of the weekend for me. Incendiary loves Jeffrey Lewis; he's a one-off and his music truly inspiring and invigorating. Yes, there are obvious nods to Jonny Richman, but that is mainly because Jeffrey L tries to accentuate the positive; and look at the personal, human element in all things. This aids Lewis's stance on matters that can be considered prickly, or uncomfortable. His love of Crass is well documented (a few Crass tracks from his covers LP got a run out on the day) and his revolutionary spirit could be seen in full flow with his song about Ho Chi Minh; replete with a hand-held cartoon carousel. Now Ho is a figure who's not everyone's cup of tea for sure, but the matter of fact way in which Lewis argued the case for the Vietcong leader on the day was, at the very least, impressive. The sweaty, youthful and idealistic crowd that had crammed itself into the pop bar loved it. They started to dig Lewis's quietly persuasive tales of personal revelation, freedom and compassion. And why not? There's nothing wrong with being inspired to take a stance, or communicate with your neighbour. In fact (and looking back on the weekend using a fair vat of hindsight) having the confidence to do things yourself and showing the world what you can do was Haldern's underlying theme. We felt it in the panels, with Jeffrey Lewis in the bar, saw it acted out with Fat White Family on the Thursday night and with Patti Smith on the main stage on the Saturday. Have the confidence to be yourself. Take a stance towards doing something worthwhile; take a small step towards acting with your pals. Right on.
Damian: I didn't get much chance to see Jeffrey, there simply wasn't enough room at the inn and so I made my way across the street and into the hallowed ground of Haldern's church to watch My Brightest Diamond and some members of the Stargaze orchestra perform composer David Lang's Death Speaks song cycle. Simply placing the words song and cycle next to each other should be enough to tell you that, at this point, the programmers had decided to parachute some high-art into the proceedings. Honestly, you only get this kind of thing at Haldern, Jeffrey Lewis crammed into a small bar singing pop songs about Vietnam while across the road there's a quartet summoning the voice of Death. Well actually that's not quite true, the idea of the piece is that Shara Worden, My Brightest Diamond herself, is Death and she's singing about Death. So Death talks Death, or Death on Death, so to speak, or sing as the case may be. (Death on Death. Someone will steal that for a band name I'm sure.) Death Speaks is the kind of thing reserved for black tie events and the high society crowd but slipping it in almost unnoticed here it simply forced a few hundred pop lovers to simply take stock for a few moments, wrap their heads around the sheer power and beauty of Worden's voice and – more than anything – open their minds a little. It's a slow, deliberate, contemplative work, sparsely arranged and focused almost completely around the vocal. And what a vocal. This show was sensational.
Richard: After Jeffrey, The Mispers put together a decent enough show in the pop bar, one which ran on a mix of adrenaline, catchy choruses and a pretty groovy rhythm section. We had to leave early, however, in order to meet up with Damian and catch Alexi Murdoch with Stargaze (the orchestra for all occasions) backing him up in the church.
Damian: Stargaze played no less than 7 different shows across the weekend, if this kind of thing carries on the festival will probably need to change its line up to simply Stargaze and friends, which sounds like a crap Saturday night TV show.
Richard: This too was a magical show, one that fully ticked all the 'religious experience' boxes that these sorts of gigs are meant to provide. Murdoch's beautiful, wistful music glided through the church and, touched by the realisation that sound and setting had found a perfect match in each other, the audience was unable to move; lulled by the stillness and poise that is at the essence of Murdoch's art. Time did appear to stand still; essential truths could be glimpsed on the horizon, and Murdoch, through his gentle, careful manner picked out the notes that could bring a stately, antediluvian calm to the House of the Lord.
Damian: It's his ability to do so much with so little that I find fascinating. His songs are so simple and so is his guitar playing – there's really nothing flashy about him – but his skill revolves around the use of repetition and refrain. His songs seem to creep up on you, like a Scotch mist creeps down a mountainside and, almost without realizing it, you're trapped in a fog of his making and left to contemplate your existence. The results are almost always fascinating. Stargaze really helped to open his sound up more, particularly in the latter numbers and I for one, hope that this isn't the last we see of this magical combination.
Richard: Maybe there is a God after all. And maybe God got pissed because those nasty Haldern peeps paid more attention to Alexi than 'Him', and dissed him in his own gaff of all places. Maybe that's why it threw it down, Biblical style, for the next 8 hours? Because of this we had to shelter on the way back up to the festival grounds, only arriving for the last bit of Honig.
Damian: Having forsaken food I'd gone on ahead and was lucky enough to catch the tail end of Honig's set and, let me tell you, he's stepped up a level. I think he's becoming a lot more comfortable and confident in his own skin and judging by the fact that half the crowd kept 'woah oh ohhing' to the refrain from the last song a good five minutes AFTER the band had walked offstage, I think he's on to a winner.
Stay tuned to Honig. His beaming smile could become a lot more visible in the very near future.
I also managed to catch a bit of Nick Mulvey, who seemed to spend more time thanking the audience and telling them how happy he was to be playing than actually playing but what he did play was as sweet and charming as his onstage persona. And then, outside, it rained. Like a bastard.
"Hello Haldern. I love it when you're wet."
Richard: My Brightest Diamond was up next (once again), and this time she played a magnificent set on the Main Stage. Shara Worden took on the elements and, playing with a sort of chirpy self-assurance set up a weirdly sunny counterpoint with her strange and beautiful music.
Damian: Her new album, due out in the next few weeks is a cracker and it's built around the foundation of a marching band, with bold, energetic rhythms and stop-start moments. It's loud, it's brash and joyful and a world away from the high-brow, intense song cycle she played earlier. This set pulled mainly from that album and it was a pure, blissful release of energy. Here she was joined by a few Stargaze horns – now there's a surprise – but her rhythm section was incredible. The directness of the drums and the groove of the bass simply left me with no option other than to dance and sing along with all the ooh ooh oohs and beep beeps. Have we mentioned that it was raining?
Richard: It was lashing down but we stood and watched; drinking up her elemental vibe as we sank into the mud. We loved it.
Damian: I quickly came to realize that my waterproof jacket was nothing of the sort and within minutes my skin had reached saturation point. I could absorb no more liquid and so the rain simply slid off me in gushes but did I care? Not really, I was having a blast! I love this poppy side of My Brightest Diamond; it's more direct, more instinctive and totally uplifting. The small crowd and I danced like we were at a ritual gathering, a wet, soaking, uplifting devotion to the power of music and the strength of womanhood. My Brightest Diamond indeed. She shone. We nearly drowned.
Richard: And she really suits a big stage, somehow this setting allows her music to have the space and tension it needs; the bass was bigger, the dynamics the rhythm section threw out were subtle, smart and powerful. And Worden herself is such a trooper; she seems to relish the big gestures, and seems to prefer conjuring up these big sweeps of orchestrated emotion to playing a gig on a small stage where her every move is scrutinised. So it was a great set; though it would have been great to have heard this band attack some of her earlier work too and yes, it would have been good to be dry.
Damian: Luke Sital Singh made his second Haldern appearance over in the mirror tent and we managed to miss him once again. We, like thousands of others, simply headed for anything that could be considered a shelter and the only thing I really remember about Ewert and the Two Dragons is that they walked onstage and said "hey, we're the band with the two dragons" and of course, they lied, they didn't have any.
Richard: Over in the Spiegel Tent, All The Luck in the World were okay. Their racket was nice enough; but not arresting enough for us so we ran out from under cover to catch Chet Faker who, in a brief interlude between the heavens opening, knocked out an atmospheric set that was strong on soul.
Damian: Standing there, sopping wet, with my shoes disappearing rapidly into the ground beneath them, Chet Faker began to annoy the life out of me. He simply seemed like he'd stumbled into the wrong event. Seriously, if the sun had been out, this would have been one of those transcendent lazy day moments that Haldern sometimes pulls off. (Anyone remember Grizzly Bear and Bon Iver a few years ago? This could have been one of them, but the mood was wrong and I was quite simply wearing the wrong clothes).
Richard: It was also one of those sets where it was better to walk around to than watch. Even though Mr F did do a lot of jigging about whilst pressing buttons and knobs and the like, this was a patient and subtle sound, which actually gave more if you let it seep through your consciousness whilst you did other things; like wring out your socks or grab some chips.
Damian: Once we'd decided to move around, something clicked. I lightened up, I warmed up and found myself giggling and shaking my arse to his bonkers version of Yo Diggity. Music can surprise you like that.
Richard: Why does this sometimes happen, what mental trigger lets you enjoy some music better when you can watch it but choose not to? Answers on a postcard. Sam Smith was also surprisingly enjoyable.
Damian: No, he was bloody brilliant.
Richard: Playing through the rain, his soul boy 80s vibe made us old gits think of Luther Vandross in his leather-trewed/bemedallioned/airbrushed prime. You may avert your eyes at this point, but we enjoyed this upbeat pop. Maybe because – again – it provided an antidote to the weather and that terrible feeling that we'd all die of pneumonia, or drown later in the evening.
Damian: A quick mention for Boy and Bear, a band I can't seem to help but like. There's part of me wants to ignore them, to think that they're just another Americana band who play that kind of country folk rock that so many other bands do and yet…and yet…..they do it so bloody well and with so much charm that I simply end up forgiving them each and every time. They're a strange band. I absolutely can't imagine anybody thinking they're the best thing since sliced bread but when they're doing their thing you simply can't help but warm to them. Clever bastards. They made me forget how wet I was. Slightly.
Richard: What must it feel like to stare out onto a sea of bedraggled punters whilst the heavens rage? A penny then for the thoughts of Stephan Eicher of Grauzone fame, who played in the teeth of an increasingly powerful deluge; and to a correspondingly sparse crowd. Eicher, not to be deterred, played the classic Eisbeer, albeit in a radically different format (think flutes and violins rather than keyboards – surprising but effective). Still; just like the song, we can't stand the rain so it was back to the Spiegel Tent for Black Lips.
Damian: A small mention for Camel, the cigarette company. Now I'm no smoker but I would like to heartily thank them on behalf of around 300 or so Haldern festivalgoers for giving out free ponchos. Never has a marketing freebie been so welcome. Incendiary wore ours indoors for the next hour or so, we were so delighted with them.
Richard: A word on Black Lips. I think they're average. Average. For sure they kicked up a storm, for sure the packed tent went nuts for their stage antics and single Dinky Toy take on garage, for sure they did all the things expected of them; like spit on a camera man and brag in chawbacca accents. And if that's what makes the crowd happy, fair enough. But they're average in my very humble opinion. For me, watching this band going through its set was like being locked in a multinational burger chain of your choice; with the staff magically absent, and enough processed meat-amalgam product to see you through the night. One offering's enough; and then it gets stale, boring, and ultimately ill-making. And it leaves a bad taste. The only time their two-dimensional 13th Floor Elevators rip-off sound revealed itself as being anything more than pedestrian was when the sax player added a glam, sinister edge. Then they really sounded okay. But they went and fucked it up with their crappy, borderline sexist talk, their spitting, their wank, thicko banter.
Damian: Never has a 'performer' annoyed me as much as the singer/guitarist of the Black Lips. Spitting in the air and attempting to catch it in your mouth is hardly the greatest party trick I've ever come across. Doing it repeatedly doesn't improve it in any way. The onstage banter was the worst I've EVER heard, "Bend it over and I'll stick it in," being one of his less annoying lines but really, honestly, if I'd have been in a band as long as they have I'm pretty sure I'd have learnt to fucking play SOMETHING properly in that time. I thought they were awful. The crowd had a whale of a time. A mosh pit developed and I'd actually go as far as saying this was a great gig by a shit band. I felt like a teacher at the back of the school dance, thinking, "that lad deserves to be put on detention for a week." Awful, awful. If they got rid of him the band would instantly be ten times better.
Richard: Enough, I really don't want to think about them anymore.
As if by magical contrast, Ought were magnificent.
Damian: Apologies to Lee Fields & The Expressions, we were dry at this point and that wasn't going to change for anyone.
Richard: Ought's LP More Than Any Other Day has been on Incendiary's turntable for a long time now and we were more than excited to see them. What is great about Ought is that they take that underpowered, spacious and scratchy sound early Talking Heads had and give it an extra something; a sort of revivalist, slightly camp edge. Their rants, like Today More Than Any Other Day, Habit and Clarity! are sustained, and tense but incredibly positive. After the knuckle dragging of Black Lips it was SO BLOODY REFRESHING to hear someone (namely singer Tim Beeler) be eloquent, erudite, and polite and funny, in explaining what the band was about. Oh, and also show off a ruthless inner confidence about the music the band made. No lickspittle nonsense here; Ought, like some specialist plumbing team, got to work with the audience, tracks like The Weather Song and deconstructing the room, throwing out a host of attitudes that The ending was magnificent too; a brilliant, waspish and coruscating take on Gemini that just went on and on without any let up.
Damian: They're my new favourite band.
Richard: No point watching anything else we thought. And anyway, it had stopped raining. Magically.
Saturday 9/8/2014
Richard: Sun! Blue skies! Dry clothes! Even the early morning's A Capella disco (yes our neighbours decided that, despite the rain another singsong was in order) couldn't dampen our spirits. Off then to the Pop Bar for another conference (this time in German) followed by a gig by Charity Children.
Damian: At first glance, Charity Children didn't really excite me. I think it was the fact they the look like the cast of a Waltons remake but once they began their soundcheck I thought there may well be a bit of promise there. The band hail from Berlin, as in that's where they live and apparently busk quite a bit but in fact they come from all over the place. The main thrust comes from two Kiwis and it's their sweet natured voices that welcome you in but the excellent guitar and bass players give them a bit of unexpected oomph and warmth. Not too much, mind you, they are a very gentle band but I get the impression there's some real power hiding in this group. I hope they find ways to bring it out.
We never saw much of Never Sol, but they certainly entertained the crowd of sardines watching them and by the time we meandered our way back up to the festival site proper we found ourselves face to face with Dawes in the hall of mirrors. Seems as they would be backing Conor Oberst later on I thought it would be worth checking out their show – only to find out that they very quickly reminded me of the Eagles and, no matter how good they can play – and they can – I just wanted to run for the hills. Welcome to Hotel Haldern indeed.
Richard: On the Main Stage, First Aid Kit. Who proved surprisingly enjoyable; their exuberant attitude and very sweet harmonies enough of a combination to win over the crowd; this was feel good music sung by two flower children from the land beyond the Grey Havens. And given their sunny side up attitude and evident enjoyment in playing, there was no way they could cock up.
Damian: For a couple of girls so young, there's a real maturity to them that's quite surprising. Let's face it, there are large parts of the planet where they aren't old enough to buy cigarettes and alcohol and could probably still pass for half fare on the bus back in England and yet they seem to have an inner strength to them that's quite powerful. They may well sing sugary sweet pop folk songs but I get the feeling that we're just witnessing the birth of something here. Plus, in their sparkly dresses, they kind of reminded me of the girls from Abba, so bonus points for that.
Richard: After First Aid Kit, Augustines came on and blustered their way through an up-tempo set which sounded all over the shop. Seemingly the PA, for some technical reason couldn't deal with their guitars. The songs in any case had something of U2 about them which set our teeth on edge. No matter; they may have lacked subtlety but they did their job in keeping the spirits up. That's festivals for you; they make bands act in a set number of ways.
Over in the Spiegel Tent, Speedy Ortiz played an enjoyably clattering and sometimes spaceward set; their buzzy, fried sound at times turning into a total assault. Given the time we spent watching Augustines, in retrospect we wish we could have seen more of Speedy Ortiz. Fink, by contrast, weren't that bothered in connecting with the crowd. In fact at one point we thought singer Finian Paul Greenall was suffering from some sort of amnesia as the opening track (and a number of following tracks it seemed) saw him sing the phrase 'come a long way'… for what felt like a good five minutes. Still, by patient and clever instrumentation, the band won the crowd over. Their muse is one that is introspective and pastoral; built round a soft, quietly undulating set of shapes and attitudes; as well as a hint of trip hop sensibility. And moreover, they were a refreshing and thought provoking act, quietly going about their business, successfully capturing the mood of this lazy summer afternoon.
Damian: Hozier over in the mirror tent was simply making young girls fall in love with him. As far as this bluesy type of stuff goes, he's pretty good at it, but this was definitely a show for the ladies and so I made my way back to the main stage.
Richard: Conor Oberst (backed by Dawes) was surprisingly good. A splash of Ryan Adams, a rasping, crashing guitar sound that was bracingly loud, and a 'go get 'em' attitude quite at odds with his Bright Eyes 'incarnation' combined to make a great gig, high on 'feeeelings' and gesture.
Damian: This was one of the unexpected highlights for me. I'm not the biggest Bright Eyes fan but I do admire Conor Oberst quite a bit and throwing him into the middle of the Dawes was basically like throwing Neil young into Crosby, Stills and Nash. Suddenly everything that was twee had real bite, everything that was charming was given a rough edge and it lifted both personalities – that of Oberst himself and the band behind him – to a new level. The girls from First Aid Kit jumped around a bit for them too, adding some nice backing vocals into the mix but overall this was still Conor's show. And what a show. Great stuff.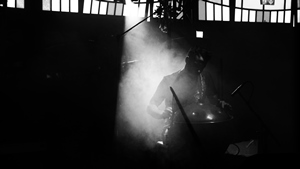 Richard: It was a great gig and difficult to tear ourselves away from but we are glad we did, because we got to experience one of the things that Haldern annually throws our way; an act we'd never heard of blow us out of the water. We had SoCalled a few years back, Dakhabrakha last year and this year we had Manu Delago Handmade. Delago, a talented multi-instrumentalist from the Tirol region, backed by his band, knocked our socks off with their ever-shifting, intelligent and beautifully played set. It was an absolute joy to see the crowd warm to the gig and realise that they were watching something really special. For this was soulful urban music that somehow managed to sound both beautiful and substantial AND evade the horrific clichés associated with the genre. Honestly I really, really don't like the smooth, soulful urban jazz nonsense with a hint of 'world' that Handmade somehow hinted at yet brilliantly avoided; it's the sort of music people with cloth ears affect to like, thinking it makes them look sophisticated. And then there were the handmade instruments Delago played. I mean; this was another element that would have laid him open to the charge of being a pretentious git; if he'd been anything less than brilliant. But, whatever these contraptions were, they sounded wonderful. One percussion 'thing' which he based a lot of the set round looked like a mini spaceship from an Ed Wood film or a giant version of a 'For Mash Take Smash' robot head; but sounded like a kora. How? We felt bad about leaving and prepared ourselves for Patti Smith. This had better be worth it.
Damian: You could tell that this show was a big deal because the crowd was by far the largest for the main stage all weekend. We were ready, we were eager, we were all excited…..and then it began rather sedately. You know that sultry swing that Dancing Barefoot has at its heart? The first half of this show felt stuck in that groove. But what a groove. The band, and Lenny Kaye's guitar in particular, sounded crystal clear. Patti's voice sounded strong too, whether she was reading out snippets of Jerry Garcia poetry or singing 'she being intoxicated by thee'. You could sense the crowd wanted more. You could sense that the band knew that too but they cleverly held off; slowly, slowly building up the show until, at about the hour mark, they simply opened the floodgates and let everybody in.
Now then, in most situations, doing a cover of Lou Reed's Perfect Day would be, for me, a bad idea but not here. Not when you know that this is a song dedicated to a friend, not when it's delivered with such passion and commitment and not when 7000 people roar as if they'd just witnessed the old grumpy bastard shuffle back on stage from beyond the grave. Spine tingling it was.
After that, well the assault just kept coming, Beneath the Southern Cross, with its magical acoustic guitar face off, Patti and Lenny driving each other, and the crowd ever higher. We got Pissing in a River and its piano chords that just repeatedly hit that part of you that makes you want to cry and it all built up to a spectacular Horses/Gloria amalgamation that seemed to pilfer from everything and everyone you've ever heard of, mix them all together and spit out a fireball of rock and roll history back at you. It was incredible.
The moon was full, the crowd bayed like werewolves. The band walked off but we wouldn't let them, the crowd practically forcing them back on stage at which point Patti became Earth Mother, preaching to us all. She made us feel like we could make a difference. She made us feel like we could actually do something extraordinary. She made us feel like we could save the planet and then she tore all the strings from her guitar and somehow it all seemed like the most perfect, glorious and life affirming way to close a show. That sounds like a cliché or a gimmick but it was anything but. The sincerity of her delivery made it all seem totally worthwhile, totally earned and absolutely essential.
I've seen Patti Smith a few times before but nothing felt quite like this. Haldern does that. It has that power and when an act embraces it, understands the crowd and how far they're willing to go, something truly extraordinary can happen. This was unbelievable.
Now then, can every single musician please try and be at least half as good, and half as honest and sincere as Patti Smith? If you do this world will be a much better place.
Richard: Patti Smith was genius. After that I could only take in pieces of Bernhoft's brave, energetic and surprisingly different attempt to kill post-Patti-blues on the Main Stage, or Sun Kil Moon's brilliant and emotive set in the Spiegel Tent. And Conan Mockasin's whacked out bubble-soul adventure (replete with fancy dress) was a bridge too far, even though it's obvious he's fan-bloody-tastic.
Damian: He's like listening to prince underwater. Love him.
Richard: I couldn't even take on board the fact that Lenny Kaye was stood next to me at one point. And it needed a good hour of dancing in the vodka bar whilst chugging some highly suspicious vodka made of beetroot to bring me back round. (MINUS points for the deejay playing some funeral dirge by Phil Collins and then telling me the GENIUS of Marianne Rosenberg's Herz Aus Glas is cheesy!)
Damian: Someone tell me why we thought it was a good idea to drink all that vodka? I can still taste that mango.
Richard: After all of this fuss and bother I was able to sit and genuflect round the huge last day campfire, chatting onto pals old and newly won about how ace Haldern is, before eventually dragging my battered old soul back into the night, away from the festival's warm, faerie bubble for another year. Thus runs the great wheel; another three day Saṃsāra ends and time is suspended till the next one.