It's interesting watching people watch a Cosmic Dead gig, too. For sure there are those who participate in the band's hyperactive onstage frenzies. But there are many who seem to slip away in a trance, and sit or sway whilst staring into space.

It's interesting watching people watch a Cosmic Dead gig, too. For sure there are those who participate in the band's hyperactive onstage frenzies. But there are many who seem to slip away in a trance, and sit or sway whilst staring into space.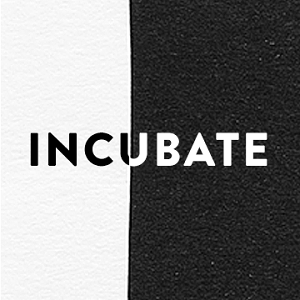 (Imagine for a moment that we're re-enacting that break in Robyn Hitchcock and the Egyptians' classic, Man with the Lightbulb Head. Ready?) "Please daddy, will there be guitars? Of course junior, we'll put away those nasty laptops and look for some real axe worship, and you may yet be saved." Shit, we'd seen two guitars ALL DAY on the Thursday. But we knew that this state of affairs couldn't last the Friday programme. As a sonic apéritif to further guitars and a quick remedy of the situation at hand, we caught some of the Incubate Zero line up that was happening in the cluster of pubs on the Heuvelstraat; Belgium's Shoeshine being the pick of the bunch. Essentially Shoeshine throw lot of different things together in their big, tough and driven sound. A bit of GBV guitar (well – a lot if I'm honest), some thundering Chameleons bass lines and a fair old whack of Dave Formula/Paul "Simmo" Simpson keyboard shapes combine to make a very pleasing racket indeed. We dug them.
Then, a ridiculous clash between Tremoro Tarentura and Tuxedomoon meant a collective decision to catch Tuxedomoon and a resultant quick march to Theater Tilburg; just in time to witness the guitarist fuck up his monitor and frantically hook up to a back up amp. Once the dust settled, the gig got into a groove and was pretty fabulous; throwing out all sorts of post-modern, urban-grizzle vibes. But you know, sitting down in a theatre doesn't half make me fidgety. After about 10 minutes, all this poncey sitting about in a theatre did our collective nut so we ran back to catch the end of an insanely loud Tremoro Tarentura show, which was the aural equivalent of eating a handful of chillies. We stuck around in the beautiful Dudok to catch This Will Destroy You who threw out some very affirmative and ever so slightly "High Church" chord progressions; obvious in that way postrock IS ploddingly obvious to these ears, but still a really fantastic and heart warming experience. Thing was we were having trouble settling. First them bladdy chairs in Theaters Tilburg, now the heat in this upstairs room. If I will take one memory away from Dudok it will be the venue's sticky atmosphere, which got oppressive at times.
From the heat to the cold. Staer were playing in the City Hotel basement and we really wanted to catch them. Last year this lot had sandblasted the Little Devil to such an extent that those present found difficulty in functioning as human beings for, oooh… at least 3 days afterwards. So not to be missed, I'm sure you would agree. We left the sub tropical conditions in Dudok early to catch the sound check (yes that's ridiculously nerdy but sometimes sound checks can be fascinating) and found ourselves arriving on time to experience a shockingly arctic blast; both from the rampant and vigorous air conditioning and the band's primal but incredibly intricate song structures. Jesu H this basement was loud. And anyway, who the hell had picked this place? As well as looking like the most uncomfortable space ever to see a gig (marble floors, polished wooden fittings, those light shades you only see in hotels or furniture outlets) the walls shook to Staer's preliminary run-throughs. Still; no problem, once the place filled up the press of bodies provided aural and physical warmth. And they have hit a chord with Incubate; the room was packed to see Staer's incredible work outs. It's really worth stating that Staer are a great band; and their music is built on some intricate and interesting subplots and structures. A lot of things seem to hinge on quick and irrevocable tectonic adjustments that (like their actual volcanic cousins) lead to brutal and white hot eruptions of noise and power. Suitably invigorated we checked the timetable. How to follow Staer? Easy! The Cosmic Dead.
These Glasgow Hairies are something special; their LPs are always massive trips; full of raging currents of noise and intent. And Little Devil was the perfect setting for them; dank with sweat, brooding in the gloaming, the lights flickering and spluttering like candles in some burial chamber. The gig seemed to be built round two main prongs of attack. First, a careful and incremental built up that had elements of Earthling Society about it; similar in spirit and approach to the 'Dead's latest split release with Guardian Alien. Then we had the fried and fizzing burn ups that just kept building in a dizzying, ascending spiral. It's interesting watching people watch a Cosmic Dead gig, too. For sure there are those who participate in the band's hyperactive onstage frenzies. But there are many who seem to slip away in a trance, and sit or sway whilst staring into space. They really do get to people, do the Cosmic Dead. I think it's because people realise the band are one of those very few who really bury deep into their own trip in trying to understand what makes it tick; and that their music is something that has to be continually renegotiated in a live setting. This brings along a sort of honesty and freshness in their approach; for sure things are going to fuck up, but it's worth the burn out and surprises. Talking of surprises, it seemed that the last track had a false ending that wasn't really planned; maybe it was just another track tacked onto their supposed finale. Whatever, the band seemed initially set on a course of presenting a number of dark riffs that could be slowly marinated over a pagan fire. Then things exploded into a frenzy of noise which just seemed to be building and building; before everyone suddenly gave up the ghost. Hanging their guitars on the lighting rack in supplication to their Gods, the Cosmic Dead exited through the press of bodies. Tremendous stuff and we're very glad we caught them.
Back to Midi to catch 65 Days of Static. This was a cold and ever so slightly forbidding environment. Blue lighting, New Order's Movement on the warm up music, the dreaded beer tokens…. after the womb-like fug of Little Devil this all felt very forbidding and a little alien. Not to worry; 65 Days of Static came on and absolutely pummelled Midi. Shit, we even got some attempts at crowd surfing in Retreat! Retreat!. As my pal Tjeerd van Erve said, it was the moment when Midi exploded. Brother Tjeerd also handily and Righteously pointed out that there was a curious symmetry in this explosion; as, just like Incubate, their debut LP, The Fall Of Math turns 10 this September. Did people realise this? Whatever it's opened a strange wormhole of coincidence. Regardless of timings, they really can put on a show in the here and now; and they know how to wring a great deal of emotion and expression from their work. You never feel tired watching them, though it is pretty intense stuff. Then there's the balance; the mix of ever so 'umble emoting (all those hand clasps that Paul Wolinski does during poignant or reflective passages) and a raw aggression that has something of the lunatic obsessive about it. Those chopping licks and blasted jets of white noise emanating from Joe Shrewsbury's guitar brilliantly counterpoint the big, anthemic melodies and reflective downturns. Urban music for romantics. What else? Shot memories combined to remember Sleepwalk City, and Radio Protector towards the end. A tremendous gig, then; and at times gravity changing. The venue literally shook at times, and this was the sort of headliner show you should treasure.