While the origin of the music is certainly pitched at myself, once it grows into something that exists as a recording and I'm performing it live in front of an audience I definitely feel like it has transformed.

While the origin of the music is certainly pitched at myself, once it grows into something that exists as a recording and I'm performing it live in front of an audience I definitely feel like it has transformed.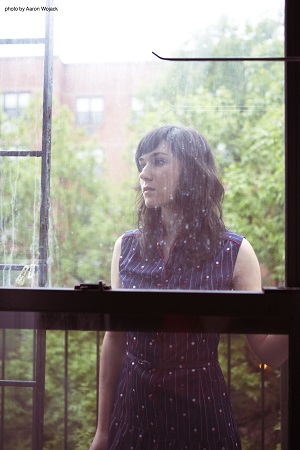 Photo Aaron Wojack
Incendiary got the chance to speak to composer, filmmaker and guitarist extraordinaire, Sarah Lipstate; best known for her Noveller project, though she's played in Parts and Labor and Cold Cave too. Noveller's music is a sublime mix of loops and effects, a music 'to let go to' in some ways. And yet this is music that isn't knocked out after a few cans and a takeaway. Given she is about release a new record, Fantastic Planet, and tour Europe (including a show at Rewire in The Hague which, given its line up, promises to be a cornucopia of the weird and wonderful in any case) we decided to find out what made Lipstate tick.
IN: The more I read – and see and hear – of your work, (and I've read a lot of interviews that are almost obsessive in documenting what pedals, tunings, hand painted films, the guitars you use) the more I'm aware of your rigorous attention to detail in the creative process. Detail, or to be detailed, or prepared, is a key component. Is that fair?
N: I've been making music as Noveller since 2005 and I feel that as the project has grown and slowly become my main focus, the details have become more and more essential in defining my creative process and my sound. When I first started recording solo pieces I tried using just about anything as a sound source. Some of the early Noveller recordings are simply processed and manipulated feedback. Later, when I started playing live shows I used a double-necked guitar as my main instrument but I would lay it flat on a keyboard stand instead of wearing the guitar. As Noveller became more of a guitar-based project, I spent a lot of time trying to figure out what excites me about the guitar and that is when my focus became more macro in scope.
IN: And yet you make the most brilliant widescreen, romantic, windswept music… to these untrained ears at least, it's romantic with a capital R. Your titles are very suggestive of moods and feelings, elemental things; Gathering the Elements, This Heat Will Melt the Earth, Fighting Sleep… It's all "a bit Goethe" in places.
N: My music is certainly moody and the titles reflect that. I tend to record when I need soothing of some sort so I retreat into the music and let it absorb all of my energy and emotions.
IN: So maybe there's this dichotomy. Lots of work to make big, maybe vague and sweeping gestures. So much work it seems… that I wonder why you don't just wing it, or blag your way through at times (!)
N: Haha! I've tried it and I find that winging it is so much more stressful that it prevents me from enjoying the music!
IN: I listen to your music a lot and it makes me think about the idea of communication, contact. What do you think your relationship is with your audience, especially with people who come to see you for the first time? How do you bridge this gap between an intense inner feeling and communicating to a room?
N: I feel that the best way to communicate with my audience is to immerse myself in the performance as much as possible, and try to feel as excited about the music as the first time I played it. I love performing my music live. Because of the nature of the live looping and processing that I do it's such a different experience every show, and it keeps me grounded and focused. I also love that the audience gets to see the process of me building the loops live and growing the song into this massive wall of sound, and I think it helps draw them into my world.
IN: Or is this an artistic trip that has, or is guided primarily by a strong "internal" element, initially pitched at yourself, your peers, or the like-minded?
N: While the origin of the music is certainly pitched at myself, once it grows into something that exists as a recording and I'm performing it live in front of an audience I definitely feel like it has transformed. In the same way that the energy of an audience effects the performance, I feel like the audience's experience of the music transforms the music's meaning.
IN: Further "who" is your music for? Maybe sounds like a non-question, but there are surely three elements at work making art/music. Namely; you dream, create and perform. What or who is in your mind when you dream up something?
N: The future.
IN: There is another form of communication present in your work… You seem to collaborate a lot; with Lee Ranaldo, the brilliant thisquietarmy and most recently JG Thirlwell. How does that differ in terms of approach to how you normally work? I know that sounds like another non-question, but what I'd like to know is, what do you look for in another artist to work with them? And what can you hear or feel changing in the work you make together?
N: I feel very lucky to have been able to play with the caliber of artists that I've collaborated with. Typically, when I've collaborated with other guitarists such as thisquietarmy and Lee Ranaldo it's been an improvised collaboration. It's really freeing to just see where the music goes, and it's wonderful to be able to get inspired by what the other person is bringing to the project. My collaboration with JG Thirlwell is a little different because we decided to write structured pieces for the project, instead of doing wide open improvisation.
IN: Can you tell us about the Thirlwell project?
N: Jim and I have been talking about working together for a long time and we finally had the opportunity in April of this year to collaborate for a performance at The Stone in NYC. When we first got together to write the music for our set, Jim had already come up with some cool synth sequences and patches that he wanted to use so I was able to work off of those bones to develop a structure for the guitar parts. Jim is always encouraging me to come up with ways to make the guitar "not sound like a guitar" so that challenges me to try out different things. We've played 5 shows as a duo so far and are currently working on recording an album of the material.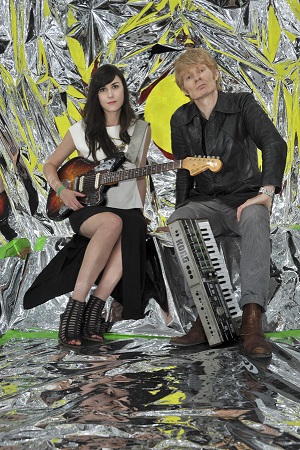 Photo by Robert Kenney
IN: You're about to go on tour and you'll be hitting Europe soon, with the Rewire festial in Den Haag, amongst others (Cafe Oto & Manchester's Gullivers too). What should we expect? Do you have different approaches to playing in different continents, even if only from a practical point of view?
N: I'm so excited about this tour and there will definitely be some firsts for me in terms of my live set. The biggest change for this tour is the addition of another musician for part of my set. Since a lot of my new material on my upcoming album Fantastic Planet has synth filling out the guitar sounds, I decided that it would sound amazing to add live synth to my set. I'll be joined on this tour by Alexis Fleisig (Girls Against Boys) on synth. I've also completely changed my pedal setup to make traveling through Europe easier. I swapped out a lot of my effects for micro-sized versions. I also traded out my Eventide Space and TimeFactor pedals for their amazing H9 pedal that can hold any preset from any Eventide pedal.
IN: Given you seem to do so much, and yet make this music that answers to no time, how do you see your relationship with "time" itself? How do you manage it?
N: Since I don't have the structure of a traditional job to follow, I try to keep my days somewhat planned out so I don't fall into an unproductive time warp. It usually works out great and I seem to get the work done that I need to get done but it can definitely be a challenge at times. I love the freedom that I have to pursue my creative endeavors and I appreciate the time that it's taken for me to get to this point.