As a teenager, John Peel was my lifeline to England and to new music. Everyday I listened to his show. So we were very honoured when we could do our first session. And that we were invited to do 5 in total.

As a teenager, John Peel was my lifeline to England and to new music. Everyday I listened to his show. So we were very honoured when we could do our first session. And that we were invited to do 5 in total.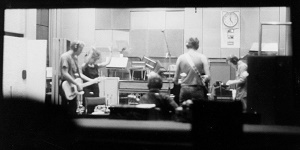 Eton Crop, recording for John Peel
Let's set the scene. We're sat in de Groote Weiver to see the King Champion Sounds release party; and we see Erwin Blom, singer of the spiky and intelligent 80s noiseniks, Eton Crop. Erwin gently reminds me that they're playing soon, and given their brilliant show at Grauzone (which I thought was pretty much a one-off) it would be mad not to talk about Eton Crop now. Typical, I'd half forgotten. Still, I'd been thinking about reinvestigating that whole mid-80s, pre C86 thing, and in terms of the Dutch bands, thinking about Eton Crop and The Golden Strings; how these fine bands had (like many quality acts in the Netherlands) faded away. Time to put that to rest.
IN: Erwin, it's always good to see great bands back; but why did you feel it was time to reform Eton Crop right now?
EB: To be honest, we didn't have any plans to reform. Me and two others of the band have always remained active in music. But under the name of EC Groove Society we were making techno. EC stands for Eton Crop. But we hadn't been playing the guitar or singing for ages other than The Last Dance of The Mekons or Dirty Old Town by the Pogues when my children couldn't sleep.
It was Stephen Harland, organiser of the Peel Regenerated festival in Stockton On Tees, who asked us last year if we were still playing. He was working on a bill for John Peel Day this Saturday (25 October 2014) with acts like The Nightingales and The Blue Orchids, bands we love and who did a lot Peel Sessions like ourselves. We recorded five of them. John Peel has been very important to us, musically and personally. So we're playing again because of him. It's a thank you!
IN: Really enjoyed that gig last year at Grauzone, but I thought it was a one off kind of thing…
EB: This weekend was going to be the one off thing. But when the Grauzone festival in the Melkweg saw that we were reforming, they asked us if we wanted to play there as well. We said why not? And so we did. We loved doing it and we love playing in England. I'm not sure what's going to happen after this weekend. We'll see what everyone thinks. But I have to say I like doing it again! It's nice to look at the past, but then i would like to see some new stuff as well.
IN: So… Where are you playing?
EB: Ok here goes.
Oct 23, 2014: The Doll at The Black Bull, Gateshead.
Oct 23, 2014: John Peel Day; Corporation Club Scarborough. Playing with our old friends The Nightingales and hopefully new friends Crumplehorns and more.
Oct 25, 2014: Peel Regenerated, The Georgian Theatre, Stockton On Tees. A brilliant festival with acts like The Nightingales, Blue Orchids, Terrie and Gerrie, Ted Chippington.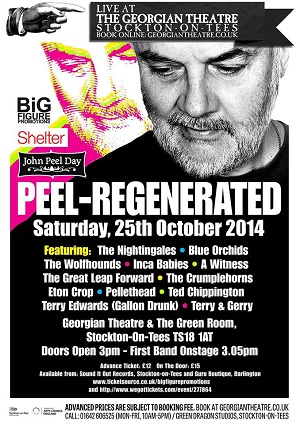 IN: Eton Crop always had a big UK presence, like many Dutch bands of the 1980s (I remember taping your Peel Session on the radio!) What was it about the UK that clicked with you?
EB: To me the most important thing about punk was the Do It Yourself mentality. Start your own band, start your own label, start your own club. Don't just complain but take initiative. And that's what punk and wave from England taught me. And what I like so much about England is that music is such an important part of culture. In the Netherlands that's less so. And when I look at the music that's inspired me, that all comes from England. Bands like The Fall and The Mekons.
As a teenager, John Peel was my lifeline to England and to new music. Everyday I listened to his show. So we were very honoured when we could do our first session. And that we were invited to do 5 in total. We released our album It's My Dog Maestro on the brilliant Grunt Grunt A Go Go label from Norwich and played with bands like The Fall, The Nightingales, The Three Johns and The Membranes. So we were very England focussed.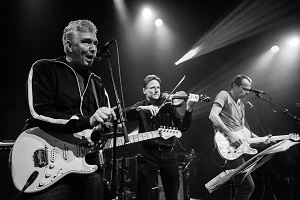 Grauzone, 2014
IN: People will know something about the Dutch post-punk bands like Minny Pops, Nasmak, Mekanik Kommando and Plus Instruments, say; you came a little later, and I'm not sure many people know much about you, or Golden Strings, or of the other Dutch bands from the mid to late 1980s. What about presenting a quick look back for us?
EB: Well, actually we didn't come that much later. We released our first single in 1979 I think. That was a very poppy Undertones-like record. Well… I wish it was that good! And after, that Six Silhouette Romances was quite an experimental mini album. We loved the second Mekons album (an underrated masterpiece in my humble opinion!) and started experimenting with musical structures, synths, etcetera. And Jon Langford produced the album.
But coming from the small village Kudelstaart, we were isolated from the bands you mention. We were aware of Minny Pops and Nasmak and went to see them play live, we liked them, but weren't active in the same scene. It's My Dog Maestro, our – I think – 1983 album was our breakthrough album. That's the album that got picked up and got us play in the whole world and every club in the Netherlands. Our scene in those days was 'The Amsterdam Guitar School' as they used to call it. With bands like Claw Boys Claw, Blue Murder and L'Attentat. They were more American oriented, we more England. Other bands and friends who had that as well were the brilliant Golden Strings, Buy Of The Bar, The Four One And Onlys and Charming Children. It was a lively period for live music in The Netherlands.
IN: You're well known as a journalist, I awso know you used to write for the legendary paper, Vinyl. Can you tell us anything about that scene?
EB: We had the so called Ultra period in the Netherlands. More experimental bands like the aforementioned Minny Pops and Tox Modell were part of that scene. All elements of the DIY mentality I mentioned were there. People started bands that had ideas, but they couldn't play well, people started clubs in squats, people started labels. And people started a magazine called Vinyl. Because there was no place where people could read about new music and related art. So 'let's start it ourselves' was the philosophy. It was a super looking and unique magazine that was integral part of the whole scene. Vinyl started organising gigs with everyone from Kurtis Blow to The Smiths and Siouxie And The Banshees to Palais Schaumburg. Vinyl was the voice of a generation. The only problem was, the Netherlands is small. There were not enough fans of this scene to make it a viable business. And then Vinyl started to broaden. Alienating the old readers and not finding enough new ones. End of Vinyl. But a brilliant period it was.