King Champion Sounds couldn't really fail; lined up on a stage in perfect order, they blasted out their tough, psyched-out rockasoul.

King Champion Sounds couldn't really fail; lined up on a stage in perfect order, they blasted out their tough, psyched-out rockasoul.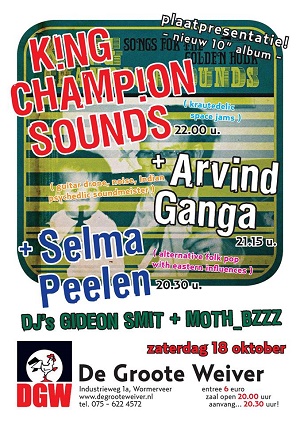 Sometimes making an effort is the best thing, it really is. Getting to the Groote Weiver in Wormerveer is a bitch mind, and involves negotiating a tricky road junction and walking round a pretty confusing complex in an industrial estate in the middle of nowhere, but hey that's where the shaman has designated the music is gonna happen; so who are we to argue? And any place that can set up such a decent bar, and decent grub and cool music needs total support. All hail!
OK, so there were three acts on the King Champion Sounds release party night, all different and all with something to say. First up was Selma Peelen, a young lady in a dress and an acoustic guitar and no before you click away she was utterly superb phew end of sentence. Seriously, she was killer; blessed with a rich and very powerful voice that ran amok across a whole range of octaves, and able to counterpoint her vocals with some clever guitar parts. A lot of her sound was built round creating tension through stretching pitch and rhythms; often balancing beats on a counterbeat or counterstroke, which then set up her voice to perform the odd flourish to finish matters off, or seal a point. There was a lolt of romantic, dark stuff in here too; if I told you she appropriated Blake's The Fly for a song, then you should get some idea of the tone of her music. But you know, it was a great set; all meat and no strumming, four beats to the bar and no cheating! We were well impressed, it's such a shame that there are probably more female singer songwriters in the Netherlands than bus drivers or check out ladies; it just means they all get tarred with the same brush. But we say, check her out.
After this another change of tack with Arvind Ganga, whose mission is to make thee maddest and most out there of sounds using his guitar and every pedal in the book. Another seemingly quiet unassuming performer, Ganga looked to shock by stealth, as his music is brutal and shredding, albeit pitched at a low decibel range. Watching this show with its parade of ever shifting, ever contradictory sounds, I thought of that Talking Heads song, Electric Guitar; which looks to freak us out regarding the instrument's possibilities. If I'm reading Byrne's ideas right, he's saying 'watch out, this thing isn't just a metal and wood cock extension. It's the most "modernistic"and urban of instruments'. Now I think Ganga took a similar path to Byrne; as moments of the show were 'pure granular mate'; in fact so tesselate, and unconnected, and cut and paste were the sounds produced, it sounded as if the guitar was falling apart; with each piece clanking to the floor. The gig was extraordinary in sections; and this lack of linearity in the music meant that the audience's collective head was opened up to just receive whatever sound or conceit was being presented. Towels over the neck? Why not? Just to freak us out entirely, Ganga ended on a beautifully slow, chiming and melodic riff; which dropped its notes like cherry blossom on a garden path. Wow.
Time for the main event! The place had steadily filled out and we were in the company of old punks, young scruffs, faux intellectual bozos like ourselves and the odd tasty looking lad dug up from under a polder, out for a bit of action on a Saturday night. Perfect. King Champion Sounds couldn't really fail; lined up on a stage in perfect order, they blasted out their tough, psyched-out rockasoul. Starting with an incredibly focussed 'one-two-three' of Here We Go Again, Shop Drop and Orbit Macht Frei, the band immediately locked into a concentrated, but ever-fizzing rhythmical zone out; with GW Sok's hand firmly on the spiritual tiller. A word on the former Ex frontman is needed here; as his contribution to King Champion Sounds' live psyche is essential; he's a master of interpretating a concert hall, and he knows exactly how to pitch the mood. Consequently the band can relax enough to build up around him rather than force any issue, or 'do' too much show bizz stuff. In fact it's fantastic the way they look to play with each other AND concentrate like hell on keeping true to their parts; the collective lack of ego is heart warming and something that is very noticeable in a live setting. What more to say? Well, we were treated to an absolutely blasting Year 500 and a great, soulful Shouting at the Moon. It was perfect really by this point; the drums ticking over with this Peter Leopold style patter, balancing out the nuances Ajay was dropping into the sound, and the horn section (who seem to be really getting the feel of being in a loose rock and roll band) acting out a whole host of Dury-isms.
After this, more special beer, a natter and a good old listen to the top tunes the deejay was knocking out, and it was time to return to the well heeled, arthole Randstad. Shame really, as I could easily crash down in the Groote Weiver and make it a home from home. Top do!