Will we be digging B S Johnson & the New Brutalists in sound next year? Or the history of Enfield Cricket Club, or Iceland Frozen Foods?

Will we be digging B S Johnson & the New Brutalists in sound next year? Or the history of Enfield Cricket Club, or Iceland Frozen Foods?A grey day. The Milkman's left a Christmas card which could come in handy as a fire lighter or a toothpick. Vowing that 2015 will see the beginning of a monthly change of underpants, (whether they need it or not), I settle down to write my reviews.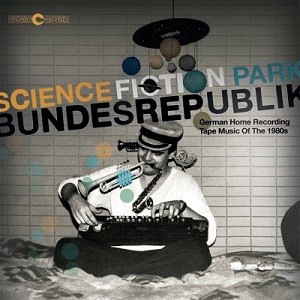 A Year in the Country – Various
An interesting concept this. A Year in the Country have made a load of really cool ur-pastoral/C21st-Digger/reclaim the land/fill in your own description music in this calendar year and have stuffed it all on their bandcamp. They also offer each foray into sound as a sumptuous limited physical edition. But you have to be quick on that score as these things seem to sell out fast. Here's their modus vivendi/operandi.
"A Year In The Country is a year long journey through and searching for an expression of an underlying unsettledness to the English bucolic countryside dream; an exploration of an otherly pastoralism, the patterns beneath the plough/pylons and amongst the edgelands… it is a wandering about and through the trails of things that have influenced, inspired and intrigued me along the way, which will quite possibly take in the further flung reaches of work with its roots in folkloric concerns and what has been labelled hauntological culture."
There seems to be a spate of recordings like this at the moment; my cynical side is on an amber warning at the sight of the word 'bucolic' or 'research', or 'limited edition or 'crag' or 'Throbbing Gristle'; it must be said. What is actually being created isn't bad at all, far from it, as there is some very inspiring stuff to tap into (Rob St John, Jumble Hole Clough, Chris Watson, Pendle 1612 etc., etc.,) but I have to wonder whether this is a movement that has legs and can develop sonically, or is it a passing whim, one that's used up its resources of, and for, the sound it seeks in one fell swoop? Will we be digging B S Johnson & the New Brutalists in sound next year? Or the history of Enfield Cricket Club, or Iceland Frozen Foods? Is this then a commodification of a want inside us, or a cursory reheating of stuff that's long gone, or even a sort of snobbish consumerism that gets in the way of, or colours the music. Whose benefitting here? Are we listening into a set of sonic ablutions that mean little once they're out of the artist, and ones that can only be appreciated through a specific coaching manual or appreciation of a zeitgeist? That's the concern of this old townie git with his industrial East Lancs/Geordie roots.
Because, if we talk strictly musical here, I really like listening to things like this, sometimes (as with the Pendle 1612 LP, or the Water of Life project, or all the mad, insane stuff the Pan Y Rosas label whacks out) they really go somewhere else. But can this stuff stand up on its own, sonically; without the notes, the explanatory bumpf (of which there are acres; online books-worth of respectful scribblings to describe ghostly bangs and processed atonal sounds) and special meanings and the novel approaches to sound? And does this belie the fact that the recording of one sacred stream when listened to in a kitchen in Leiden, sounds like the recording of any other stream? How effective is the (re)placement of sound?
OK: first world hand wringing over. Let's listen in. The Twalif X recording (by Racker and Orphan) is an interesting recording of a single night spent in places that (doubtless) boast some Brythonic/Skando-Kelt [sic] association. What makes this great is that we get a lot of compressed, up-front noises you don't really expect with night – which makes it a very surprising listen indeed – but there again I'm reminded of the noise sheep made when eating at the dead of night when I once walked home from a country pub lock in. When the guitar kicks in it (round 17 minutes and near the end of this 50 minute piece) you feel the relief; and maybe the relief of recognising music as we know it. Especially the guitar bit signifying the end of the vigil and the sun's rise, that is magic.
A Year in the Country also offer things that aren't obvious field recordings. Michael Tanner's Nine of Swords wobbles, slips and slides around your consciousness. Apparently nine Tarot cards were allotted to nine 'percussive' instruments and each instrument was played at its own card's drawing. I wonder what this is going to sound like after that realisation has sunk in? I get the feeling this piece will be impossible to work out for at least a year, and like The Flowers of Evil or any Vidna Obama LP, needs repeated listens, but on the impressions of 2 or 3 run throughs, it's a very calming piece that does let you dispense (however fleetingly or grudgingly) with your own sense of linear time.
We do have some fairly standard stuff too, it's not all mid-tone rustlings or drones. I like the single by She Rocola, Burn The Witch/Molly Leigh of The Mother Town, which is a very tricksy, flightsome single built round her own inner promptings/fantasizings; and packed with all the flourishes you'd expect, but none the worse for it. And the Hand of Stabs' paean to the Black Veined White butterfly is a great piece, one that alternates between folksy meanderings and freeform structures. With these extempore soundscapes, it's a bit like the Christian Family Underground. One particularly woozy bit starts to sound like The Fall's Bug Day (sorry, but it does). And (whisper it) it's almost the sort of thing that gets onto Radio 4 these days, when they try to be down with the kidz and subversive. United Bible Studies make a great psychicke folk noise with their LP Doineann, something that seems to slip very easily between worlds and remain poppy at its core. The magnificently overblown, tripped out last track/voyage from the Grey Havens; Halo is a must-listen; even if it is 13 minutes in length.
My favourite has to be the Torridon Gate recording from Robin the Fog, which is 23 minutes of gate bothering in North London; albeit of the highest sonic order. This is great because the tape manipulations are almost ordered to go somewhere, and by virtue of that the poor benighted listener has a structure, and a story in the music; not alongside it. Further Torridon Gate seems to have an impish vibe to it that recognises that making sounds isn't enough. Am I the only person to think it's channelling the spooky bit on Kraftwerk's Autobahn?
OK, for this once I'll let you all off. Back to the Nature Table we go.
Don't Make a Scene
A review about something that's not even a record! Well blow me down. Incendiary pal and all round good egg Rob St John has recently released a magazine about DIY called Don't Make a Scene. Ah DIY, the concept we're all supposed to be happy with (again the cynic in me says that living the DIY way isn't too far removed from the zero-hours contract, 'music industry' style) but we have to cut our cloth accordingly. And Rob's a wise old bird, recruiting some smart people like Andy Inglis (a very wise bloke indeed) and Marie Tippex along the way, to explain things and debunk the odd myth. It's really worth dipping into. It really is.
Website and pre-orders: http://www.dontmakeascene.co.uk and Twitter: @DMAScene
Music For Voyeurs – The Curtains Are Opening
http://www.musicforvoyeurs.co.uk/curtains/about.html and http://www.musicforvoyeurs.co.uk/curtains/media_player.html
This album* is great; a bloody big and warm Kosmik blanket to wrap up in. Lots of soothing, pleasing midtones and Age of Aquarius drones (in the best sense) enliven a tube journey on the District and Circle Line. No, I'm serious, that's how Back in the Park Again kicks off. It's like an early T-Dream record that's been microwaved. Or a hypercharged Thighpaulsandra piece. The bumpf also mentions seratonin; so no surprises that this is a tripped out listen. Maybe we will never get off the tube. I once did something like this on the Newcastle Metro – albeit after pints of mild with brandy tops. It's really worth trying out.
This opener prepares us from the off; as the LP sounds like a massive swimming pool full of whacked out synths and guitars blaring at each other in bubblewrap (check I've Given Up on Everything). Or (as with Save Me, 55 From Wales and Before Everything Started) daft upside down folksy metal ballads gone wrong with disconnected voices. Or that Ekkoplex/Emmplex take on matters mortal, which remoulds Blue Jam sketches as the darkest pop of all time. It's fabulously concentrated stuff and a hellova fun listen. I'd check this out, playmates. Especially if you are of lugubrious bent.
*and seemingly different, depending on whether you hear the Soundcloud version or the website version. I've added both.
Science Fiction Park – Bundesrepublik
(Cache Cache/Finders Keepers)
I can't review much of this record in detail because it's a total headtrip and no amount of my excited squeaks, or regurgitated booklet information as to why it's so important that you get this, will do Bundesrepublik any justice. It won't. Suffice to say listen in and listen to it as a whole if you can; as the intensity of what's going on here is incredible, and it's just too much to dip into. It sounds utterly enlivening. And NOTHING, not a note, thud, squawk or blurt is left to waste.
It's funny how people react to situations and times; I'm sure we can roll out all the old cliches about the pressures of living in a country split down the middle by two ideologies. And the bomb, etc., etc., ad nauseum. I mean the Dame mapped it out already. Or did she? You see this record is something utterly confident and positive*; a sort of speedy/punk/dayglo take on Faust's post-war reconstruction template (there are drills, there are radio samples) but most of all, there is this impishness which pinches from Dada, Deutsche advert music (you know the stuff lovingly compiled on Crippled Dick Hotwax? that stuff) some early 'hip hop'/ breakbeat/brass band mashups (honest!) and lashings of cabaret. And how fun is that White Album Fabs' cover? (No, you listen in I'm not revealing the track.)
For the most part it maps the experiments in sound that Holger Hillier (yes, him from Palais Schaumberg) and his pals undertook. A totally fearless set of tracks, all played in 5th gear, and seemingly off the cuff, there are moments that get all Gaby Delgado on your grey existentialist arse (and bits do come over at times like attempts at building a new town – geddit!?!?!?) but that's fine by me. Obviously.
Ostalgia? Fuck that. Get into this.
*Not the sort of thing you'd expect to hear given all the squat/punk/smack tales that veterans of this scene often roll out. This record is as colourful as it gets.
Vanishing – Ramifications
(Tesla Tapes) http://teslatapes.bandcamp.com/album/vanishing-ramifications
Hot on the heels of the Stranger Son record from last year, GD Smith returns, with Paddy from GNOD, to serve up more existential brooding. And with Ramifications he's delivered a great record; not easy but not too off-putting either, despite what seems to be some pretty intense subject matter (check the ominous Yarls Wood).
Rather, it comes across as a very sensual listen; maybe because of the deep, subterranean sounds that dominate. At times it gets a bit industrial (Tear Machine) where the overheated gloopy wobbles of the beat threaten to put out all light. Doomsday is also a dark trip; that track sounds like a sort of Piranesi prison you'd actually enjoy being in. It's like a heavy, industrial-synthtake on Fungus the Bogeyman. Or the nice warm bit under a carding machine. I knbow that sounds flippant but despite some of the grisly passages, it's a damned appealing listen. Just listen to the rise of the synths on The Return. Interesting listen, as ever.
Jumble Hole Clough – 202 Days
https://jumbleholeclough.bandcamp.com/album/202-days
ANOTHER RECORD COLIN? Hebden Bridge is the place where springs to the shrine of Saint Cecilia flow eternal and unabated; or so it seems. I think Colin Robinson (he of Big Block 454 / Jumble Hole Clough fame) may have poor old Cec tied up in his garage, or has somehow nicked the magic charm from Martin Hannett's underpants.
This latest record is a move away from the recent meditative / sound recording records he's made; ones that chart the sonic rumblings under the fields and and crags and canals of Hebby, and enters more poptastic places. 202 Days is, to put it mildly, all over the shop; veering from Clinton style wig outs – witness Cocoa Palace Keeper (You Nearly Got Your Christmas Present Early) or The angle where two lines meet – to strange Gong style wazz outs; as heard in the deep space noodling of Is This What You Want?. It even gets a bit like an Isaac Hayes platter in sections (check out the steamy title track) or a Daphne Oram outtake. You are left wondering whether this record was made by the refugees from John Cooper Clarke's band; it has this louche cabaret feel you only get from loons who've been living too long in Ramsbottom; mid-40s glitter ravers with cowshit on their insoles.
Enough levity; it's a very accesible and genial listen, and something you can't help but warm to. I'd love to know what he puts in his tea.
Pitchkettle – Goshen Springs
A really nice record this, revelling in a silken, meditative wash of sound that grabs elements of Spiritualised and early BSP tracks like Birdy (e.g. If Ash Could Play the Trumpet), late Cocteaus and those oh so ubiquitous Dinger-chord progressions*.
You could neatly sum it up and say it is an ethereal and often unobtrusive, melancholy post-rock record with a touch of Explosions in the Sky, and pretty much miss the point. Because – for one – the sound isn't that full; allowing a lot of space between the melody lines; and consequently you don't feel swamped by soneone else's emoting (an issue I have with a lot of post-rock soundscape builders). It's very moreish because of that. And there is something else, it's not all about the sound; as there is a feeling that a strong, or defined narrative drives tracks like Your Face Is Not My Fault, or the excellent This Is Not A Hyperbole.
This is a good record that plays its best cards like the sparkly Could Be Away [sic] near the end. Give it some time.
*You know, those weepy, tinking La Duesseldorf chord changes that informed Silver Cloud and the like. Listen to the beginning of Seven Five Five Seven for a pretty good Dinger rip here.