Some of my Dutch pals look at me like I've just announced that I've converted to satanism when I say I love Frans Bauer.

Some of my Dutch pals look at me like I've just announced that I've converted to satanism when I say I love Frans Bauer.

Like many idlers in the kingdom of the Netherlands, I like to swan around the free festivals. There are (literally) hundreds of these things happening in the summer months here. Some pander to a (self-made, sometimes justified) illusion that they can compete with "real" rock and pop festivals, others give Craggy island's funfair a run for their money. I can't say I'm as adventurous in finding strange sounds as I am when visiting bars squats or clubs. Rather, I take these summer festivals in the spirit they are intended; as a nice hassle-free day out. Still, they often throw up some remarkable surprises. This year I took in two celebrating long-standing anniversaries, and as different as chalk and cheese.
First up was Houtfestival, on June 21. I'm a massive fan of this festy for reasons that don't have much to do with music. I like being treated LIKE AN ADULT (i.e. bring your own booze and grub, a surefire incentive to buy the festival's booze and grub) and relish the fact that there's no stop and search by surly flak jacketed Herberts on a makeshift gate. Rather, you can wander in and out at will. But why does the old Netherlands' free and easy spirit still show itself here and nowhere else? Maybe there's some underlying socio-ecomomic/cultural agency at work here. Haarlemmers are – on the whole – well off, (and, erm, predominantly white middle clarse) and a wee bit older than the great unwashed who normally hit these free days out. Quite simply, they are a bit more sensible. But they are nice people doing their thing and appreciative of one of the most varied programmes on offer in the country.
Last year we had a couple of blinding gigs from The Ex and Fendika and the sensational Jambinai (Korean postrock? comin' atcha); this year we had Hungarian act Söndörgo who (despite looking like a bunch of unkempt Biology students) gave a mesmerising demonstration of Hungarian folk and – well – tap room music. Hungarian music often wraps itself up in a heady mix of Romany, indigenous folk and Eastern/Balkan traditions (just check out labels like Fono and Hangveto); and its beauty seems to flourish in eye-popping displays of technical proficiency over (modified?) peasant dance rhythms. In the drafty festival tent, with the rain teeming down outside, Söndörgo put on an amazing gig, veering (regarding on which multi-instrumentalist was soloing wildly) between peasant, classical folk, street chancer, and Romany. Following that, Vardan Hovanissian & Emre Gültekin treated us to half an hour of elegant but increasingly dolorous Armenian melancholy. This mesmeric, but increasingly somnolent set only made the shock of Frisian punks, It Dockumer Lokaeltsje all the greater. The roof came off as they growled and screeched their way through a brilliant set; at once very engaging, but on another level strange, banshee-like and slightly menacing. I certainly wouldn't argue with the big bassist who looks like a lorry driver who's run off to live a in the woods. The tent slowly emptied of the more fragrant Haarlemmers (after a polite attempt to stick about for a few numbers); this was an assault, and taking on big undiluted gobbets of Frisian punk and an elemental attitude that brokoked no argument was a challenge many festival grazers didn't much fancy. Where were the nice African rhythms you can sway too? Maybe a bit of ethnic food would make things better… Still, for those that stuck around, the D.A.F. cover of Der Räuber Und Der Prinz done with wit and aplomb. Frankly they were brilliant and the highlight of yet another great day out in Haarlem.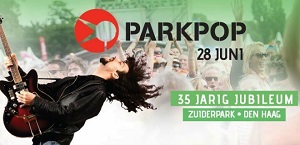 A bigger contrast could not be made with the Middle Earth of Houtfestival and the open air Mordor of Park Pop a week later (June 28). OK; it was an unpleasantly humid day (one that turned cold too, that horrible and typically Dutch summer mix of muggy and chilly). But the atmosphere wasn't too ace, especially if you were sober; for one, there was lots of security (maybe understandable given the shenanigans with the charges against the police the previous evening) that gave off a draconian "you want it, you get it" feel. Not only that, but Park Pop was full of "crowd enablers/helpers" (i.e. the whistle blowers for the cops) and advert upon advert (the big screens at the side of the Park Pop and Jupiler stages were relaying Veronica and TV West adverts as if the world was about to end). The booklet promoting this over-amplified, over-scrutinised day out in the park was an incredible mix of ads, (the back page "Let's Meat" Jupiler ad a classic meeting of oak grove Wagnerian posturing, and flame-grilled, cable TV masculinity) weird "gezeligheid" propaganda texts for the bands, and HUISREGELS where we were told what to do for our own safety. Flyering is dangerous apparently.
Ach, I could drone on about this all day; and there's an Anthropology/Social Sciences essay in this somewhere. But let's stick to the fact that Park Pop, for all it's utter snouts-in-the-trough, circuses and bread PISS, boasted some good, (Ben Miller Band, OMD), and three tremendous gigs that really made our day; young Haagse teens OFG on the I Love Hiphop Area (a child's tent, let's be honest, albeit ringed by some very cool graffiti), Howl Ensemble, and Frans Bauer. OFG I can't remember much about, sadly, except remembering that they were extremely witty and had a certain funk sensibility to their patter that was refreshing and uplifting. I can remember Howl Ensemble's gig mind, despite their attempts to deafen me. They are developing into something really different; no-one really straddles styles and scenes like they do in the Netherlands, apart from Dead Neanderthals… and.. whaddaya know? the two Nijmegen noiseniks joined Howl for some long, brain-frying work outs that started to nod to Soft Machine, Vaan Der Graaf, Frippertronics and Mile Davis. These long, utterly uncommercial and totally provincial rock outs were brilliant. Even the ridiculous noodling guitar solos add to their scene. It's all about context, innit. And the band's signature song, their take on Ginsberg's Howl, was as fab as ever. Howl have appeal, too. Thing, is there are a lot of alternative types in den Haag. People who look like they still need a fix of real punk/hard metal / brain shaking techno. This is good in an increasingly uniform social landscape, and somehow Howl Ensemble have picked up this raggle-taggle bunch and given them a new soundtrack. What now? Well, after regaining my hearing, there was only one follow-up; Frans Bauer.
Some of my Dutch pals look at me like I've just announced that I've converted to satanism when I say I love Frans Bauer. But I do. I like his silly, Jip en Janneke videos, his incredible mix of pomp, bad taste, warmheartedness, silliness, and nostalgia. I love the fact that his light tenor voice is one that both powerful enough to hit you in the solar plexus, and utterly bereft of any side, or cynicism or self-importance. We got all of this, and the whole Frans Bauer show too; preening and squealing backing singers, over the top 50s rock isms from the band, and a lesson in how to be the ringmaster from Bauer himself; alongside hits like Sterren aan de Hemel. Somehow Frans kept us gee'd up throughout, finding every opportunity to get us onside and compliant. "Give a little water for Fransie, Fransie's got a frog in his throat". "I hope you've all got a beer in your hand?" "I am from Brabant, but den Haag has always had a place in my heart", "I remember when I was a young, unknown singer…", "Hey, maybe there's a saucy girl or a lusty lad next to you? You can rub your bum against them, see if they like it" Ooh you TEASE, Bauer. Frans Bauer works a stage like no other in the Netherlands. Able to switch between a fun persona and one dripping with sentiment at the drop of the hat, you can never say his shows are linear, even if they are as comfortable, and as comforting, as putting on a favourite jumper. His take on O, o Den Haag was preceded by a long tale about him and his dad going to Den Haag, and Frans's fond memories of those trips; he even made his memories of eating a herring sound like the death of Little Nell. To balance that, he made Rammstein's Du Hast sound like the background to a bingo night out. Incredible. We left Park Pop later, cheered up immeasurably. Frans Bauer, Godlike genius.