WORM had filled up nicely with a mix of Ethiopians, trendies, part time punks and Roffa dossers, existentialists, and the odd emissary from the world music chin-stroker club.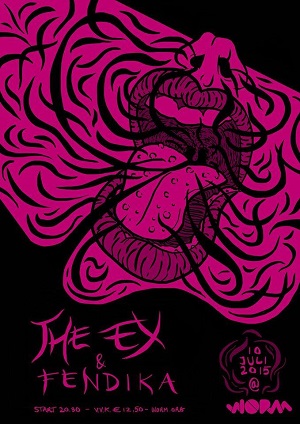 This was a surprising night at WORM and one I didn't think I'd be writing about. The reason? Well I've seen Fendika and the Ex before. And I reasoned that another rehash of the reviews I'd written about what surely must be the same old set would be a waste of time. So I'd just go along and enjoy it. But it's funny how these things work out. Sometimes you really feel you should write about a gig, but find very little to say outside of a set of hastily cooked-up witticisms about the set or the odd snide remark about the crowd. Other times you find yourself blown away by the obvious. Music eh? Always different, always the same.
Anyway, onto this show. Despite this being the same day as Bazar Bizar street festival, WORM had filled up nicely with a mix of Ethiopians, trendies, part time punks and Roffa dossers, existentialists, and the odd emissary from the world music chin-stroker club. All well and good; The Ex are as inclusive as any band on the planet, and no-one felt out of place in this most avant-garde of spots. This time it was The Ex who started up; where previously Fendika had kicked off proceedings with a slow, "introductory set" (with everyone quietly settling down for the gig) The Ex stomped on, and turned up the heat from the off. This was a set that patiently turned the screw; increment by increment, their chugging grooves and razor-sharp guitar attack enabled a slow but powerful build up; with tracks like Every 6th is Cracked and Kath's pièce de résistance, Eoleyo, really getting nailed on the night. The room was swaying; maybe it was the hot weather but a hell of a lot of people seemed, well, squiffy. WORM's future-past tardis felt more and more dreamlike (I am convinced it is a spaceship of some sort).
On came Fendika and ran through their incredibly charming set. That sounds patronising I know but really it's appropriate here, as Melaku and co. can charm the birds out of the trees with their tales of feasts, marriages and the changing of the seasons. Think of the word here in it's more magic, "Gleeman" meaning. The set slowly and patiently built up in pace. Carried by the haunting sound of the masenqo, we got Melaku's "lion mane and hunting horn" dance (literally, that's what it look like to this poor sap, and no, I am none the wiser) and some belting Azmari wedding and courtship songs; singer Zinash Tsegaye acting like a no nonsense compere. It was beautiful, as ever, and the crowd, shaken up by The Ex, responded a lot more freely than previous times. Even the whole bit when we went down on our knees only to jump about felt nothing like a "dutiful exercise in traditional dance".No; we felt good. Goooood… By now the room was dusty, sweaty, expectant.
Back came The Ex to play with Fendika. Things kicked off dutifully with some classic Ex work outs and the brilliant single Addis Hum, but what overshadowed everything was the (unknown) slow burner near the end. That song was absolutely incredible; a rumbling, organic thing with a couple of incredible hooks propping it up, a track that slowly ground through the gears and sensually commanded you to pay attention. We were absolutely rooted to the ground, mesemerised, trapped by the melismatic ululation of the brilliant Zinash Tsegaye. Of course a collaboration wouldn't be the same without Melaku's hair raising sword dance to closer Lale Guma, and we got it here in full, frenzied form, with The Ex providing a dust-shaking rendition that threatened to shake the walls down. What an ending. Going out into the existentialist-jazz-concrete jungle of Rotterdam felt like a culture shock after all of that.