Playing in front of a set of projections showing their trademark revolving Cannabis leaf, Toner Low got very deep into the world's navel.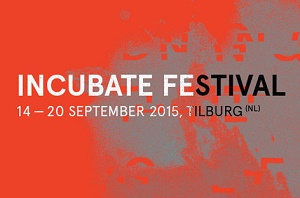 Ah Incubate, Incubate… This festival is such a trooper; grumbling along like a runaway golf cart, a subterranean cosmic drone seeping through the tarmac. Every year Incubate adds a slight dash of weirdo sauce to Tilburg's cultural stamppot. Still; following the underground music scene often makes you realise that you are both part of, and at total odds with, the wider world's concerns. We found ourselves buying some empanadas on the Saturday market from a local lad who'd never heard of the festival despite the town – with its hundreds of fluttering Incubate pennants – resembling a scene in a Kurosawa film about feudal Japanese warlords. Despite Senor empanada flogging his wares next to an Incubate flagpole.
The Thursday programme was all about noise. Plus, we'd decided that pegging around the town was not going to happen this year. No, we were going to watch a scene unfold in a particular venue. Lil Devil, with its programme of near-legendary Dutch squat/stoner/thrash bands was high on the agenda. A classic rockers bar, and full of amiable, beer drinking hard lads and lasses, the place is a cheerful one whilst being that little bit lippy. We like it.
First up in the Devil's compact backroom stage were Kru$h. This gruesome Leidse fivesome rattled through their tracks at breakneck speed, kicking off about all sorts of social issues currently bedevilling sensitive souls the world over. Cartoon-like and yet deadly serious, and capable of knocking out some high grade sonic grumble when they feel like it, Kru$h are one of those bands who seem to revel in doing the footwork, happy to make the most unassuming or grotty proposition into an opportunity for enlightenment. They are like Cromwell's pikemen; steady, convinced of their own righteousness, but somehow accepting of their lot. Ron's guttural barks and rasps balanced out the roars of co-vocalist Dennis, and the band achieved some kind of lift off in the sweaty concert space. People were happy, jigged up, expectant for the night.
Following that was a real treat. Sly & The Family Drone, hot from the YoooKaay, were here to raise all hell. Feeding off the determined vibe laid down by Kru$h, the 'Drone started laying down their lectures, their Ur-Luddite-industrial beat adding a primal thump that remained somewhere just East of your frontal lobes.The band seemed intent on recreating a proto-industrial racket last heard when Ironbridge was erected; something that you could get into once you tuned into the atonal banging that called itself a beat. Steady, but occasionally rabble-rousing, The 'Drone thrived on the room's thirst for intensity; the singer's howls and incantations sounding like some forge master telling his gang to put their backs into their shift.
Just when we thought we were set for a night of Noize and Heavy Metal Cup a Soups, we had a complete change, with a Goth C&W show from Tio Gringo. It was OK, but not our thing at all. For sure people enjoyed it, and the band could really belt out their numbers with gusto, but I really don't get that sort of music at all, however vaudeville or up-tempo. Sod hanging around. We legged it over to walk in on what was evidently a brilliant set from Dead Neanderthals at the soulless MIDI. The Neanderthals, aided by Toft on guitar, had set up this floating, metallic drone that took MIDI's roof off. Man this was some cosmic shimmer, akin to the vibrations on the wing of a Gotha G.Va, dragging the terrible angles and sports hall vibe of the hall into a warmer emotional climate. Without sounding too much like Incendiary is hipper than the hip, we'd already seen Rene and Otto try out a similarly jaw dropping drone-zone out in a shed in Voorhout a month earlier. Amplified, it sounded like the Visigoths braying at Rome's gates. But we couldn't tarry as we HAD to back to Lil Devil, to take in the gig by the great Toner Low, a stoner band of Cosmic proportions. Danny, the 'Low's vocalist, and legendary Leiden Head, seemed as up for it as Danny gets. Even a 15 minute delay – in which "the scene" seemed to be moving too fast to check if the mics were working – couldn't stop the band's inner resolve. Playing in front of a set of projections showing their trademark revolving Cannabis leaf, Toner Low got very deep into the world's navel. Shit going on outside was far too fast to contemplate; we were now drawing water with the rest of the tribe before we went back to camp to once more pick up our trusted deer antlers and dig out the sacrificial henge. And Danny, wearing a set of headphones that made him look like the flight commander in Hawkwind's bomber squadron, had mind-mapped the whole trip; simply by playing the heaviest, and most Prehistoric riffs he could. The crowd dug heavily. In fact the only thing stopping me getting utterly horizontal was the presence of a girl who looked like she'd escaped from an episode of Dynasty. Joan Collins' PA was freaking me out a fair bit. But not as much as the two bearded lads who stood behind her, smiling, wearing matching grey cardigans. Is this where it's at? I began to sweat, freaked out by their glowing, glossy hair and shining eyes, worried that these affable-looking chaps were in fact secret agents come to sell Man Creams or ironic cereal apps to the unrepentant rockers.
Fresh air helped. In fact fresh air would be needed in great, in urn-like quantities to get through FCKN BSTRDS. Essentially this legendary art-noise duo throw rubbish at you whilst making the most terrifying, enervating set of electronic shrieks and growls. You need your shit together to take on this assault. Despite knowing what we'd get, the shock of the band, when it came, was incredible. The BSTRDS set about their job with the sort of gusto Nero reserved for winning everything at the Olympics. Wheelie bins were thrown about the crowd. Sometimes with people in them. The place stunk like a rotting clothes bank. The squeaks and groans emanating from the band's "gear" sounded like a million dying fridges' death throes; amplified and broadcast round a deserted hangar. The stage at the end looked like a cat had sicked it up. Why can't Taylor Swift do this kind of thing?
After this we popped down to Dudok to see our good pal and Head-in-Chief John Doran (here wearing his Outernational cape and looking for all the world like Nisroch) hammer out a brilliant deejay set of Cosmic Middle Eastern grooves, raving disco and soul beats; all squeezed from the freshest and most multicoloured Arabian fruits. We'd seen John earlier in the day (along with the lads from the CLF and Incubate's Joost Heijthuijsen)  talking eloquently about his love of Islam Chipsy and his and Joost's field trippe to Cairo a few years earlier. In the Dudok, the energy created by these thumping tracks was high and handsome, and at times we felt like we were transported back into '88-9. There is a sonic link along the way but it was so much fun I really couldn't be bothered in taking it in to process. Too much fun!
Fun? I'll tell you what fun is. Seeing a band like Cairo Liberation Front find their stride, and morph into more than the sum of their parts. For sure, they have worked out how to fuse Brabantse party nonsense and Egypt's most headbanging sound into a whirligig of fun. But, somehow, the elements that Yannick and Joep have been playing with over the last 3 years or so have also been able to carve out their own space alongside the band. Now, nothing feels too frenetic or forced, or worried about things like "what is right", "authentic", or "proper". There is no discernable gaze of, or comment on, The Other. In fact, CLF ably show that none of that stuff really matters. Fuck context. The context is the here and now. Consequently, the party the band throw is one that feels much more inclusive and easy to explore. Not only that, they seem to be getting known as being good. Yowsa! In fact one girl fan used all her elbow trix to get me out of the way at the front; claiming that she "knew the band, got it mister?" Gotcha. Luckily one thing that has not needed to change hasn't, and that thing is the vodka gun. Joep squirts falling down liquid over anyone in reach. O, temperance! Forsake me not!
A quick dose of Acid Arab's bonce-squeezing grooves made me realise I'd had too much time sampling the fruits of the vintners trade, (which was a bitch, as their set was a sonic space hopper). I staggered out, and was put to bed by my good mate and total Head journalist, Tjeerd. More of this!