"Refreshingly the LP isn't cluttered with references, or over eager to please; despite containing a Peter Warlock song (of all things), the music is quite happy to set the stage for Philip Clayton-Smith's Gothic imaginings. "

"Refreshingly the LP isn't cluttered with references, or over eager to please; despite containing a Peter Warlock song (of all things), the music is quite happy to set the stage for Philip Clayton-Smith's Gothic imaginings. "
Bow Mods – Eidetic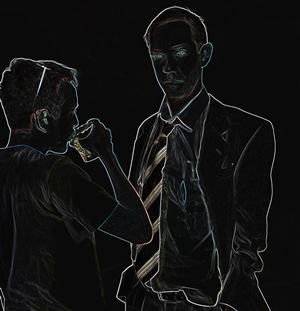 Bow Mods! I can't help loving this band. However annoying and prissy they get (and that can be quite a lot at times) they always save themselves through a pointed wit and a restraint rarely seen on a debut. Good taste, see? Refreshingly the LP isn't cluttered with references, or over eager to please; despite containing a Peter Warlock song (of all things), the music is quite happy to set the stage for Philip Clayton Smith's Gothic imaginings.
Things kick off with the poppy single Beats Still Have It, which in turn morphs into the splendid Special Needs which sounds like a very unholy musical collaboration between D.A.F. and Shaun Ryder's dad. The Vocoder May is a charming, pretty nuts instrumental hybrid whereas Aspen Glamour ups the ante with a paranoid and very lusty wish-list. It's an impressive opening salvo.
At times Eidetic brings Non Stop Erotic Cabaret springs to mind, albeit without the latter LP's torch-singer and 60s soul element. In fact the subject matter is the thing that links the two works, for emotionally, this LP seems to inhabit a much more personal, maybe more cynical space. The social satire is kept on a lead, as once it's allowed out it's not as cheeky as Almond's; in fact (as Country Girls and Second Best in Bow shows) it's quite savage. A sign of the times, for sure.
This LP isn't all clever put downs though, I Feel Emotional and This Feeling are straight forward love songs. And despite sounding like Charles Laughton with a sore throat, Clayton Smith evokes a warm feeling with I Will Dry Your Eyes.
Highly recommended (if you're feeling a bit sinister), you can get it from iTunes from March 17th, the single The Beats Still Have It is available now.
Words: Richard Foster