"And anyway I packed my case and ran to Düsseldorf airport, but I forgot to wear any shoes, and the man at security just looked at me… I got some very nice trousers, very expensive but beautiful material. And that's the reason I got divorced… "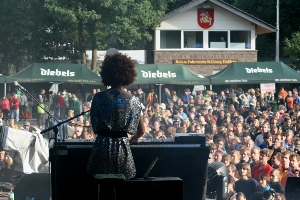 Haldern Pop Festival 2008, Part 2
Friday 08/08/08
"And anyway I packed my case and ran to Düsseldorf airport, but I forgot to wear any shoes, and the man at security just looked at me… I got some very nice trousers, very expensive but beautiful material. And that's the reason I got divorced… "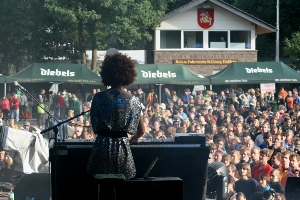 Haldern Pop Festival 2008, Part 2
Friday 08/08/08
Friday broke bright and clear, and with all memories of felt costume hell safely tucked away, the team wandered over to the Spiegel Tent to see the duo that is Dagons run through their trippy set. Starting off with a sitar and guitar, a set of droney, nihilist numbers were spat out. Half way through, the sitar was abandoned and drums were thumped. Incredibly, it made no difference. The songs seemed to sound exactly the same to what went before. A bit Gothic in spirit, maybe a touch of Mid-West cool and (as you may have gathered) very one-paced. Dagons didn't really grab us, but didn't really drive us to drink.
They did drive one of us to despair though. I won't say who that was in case I give my own name away.
"She's got a voice like a weasel in trouble."
RF: We don't usually start off our reviews with recommendations, but really, you must go and see My Brightest Diamond. This girl can really deliver. Armed only with telecaster and a tiny drum machine, the artist otherwise known as Shara Worden knocked out a set of magical proportions and wide horizons. The great thing about her music is that it's hard edged and thrashy as well as being complete dreamboat stuff. She clangs her guitar in a way we really like. And, as we're sure you are aware if you have heard her two LPs, added to this brash, windswept and mercurial vibe is a voice that stops you in your tracks. Charming rather than kooky, she held the audience in her hand. Truly you could have heard the proverbial pin drop. Oh, and as a touch of light relief she electrocuted herself. Somehow this act only made the gig better if you know what I mean…

DL: I have nothing more to add. Well said.
RF: What next? Bernd Begemann. Ah yes. Mr Begemann is a folk/cabaret singer of epic proportions. Imagine Barry from Eastenders finally snapping and running away with only a guitar for company, singing demented Jack Black-style songs of love and loss (but in German), and bouncing around in a way that signals his cares are far behind him and he'll give you his underpants if only you'd ask… That is Bernd Begemann. On a more sober note, my limited German was enough to clock that he's a funny, charming guy who likes a good time. Think about it, how many large, German-language only comedy singers hold your attention for a full set? Not many, fo'sho'. But he did. Well played sir!

DL: The world needs more belly shaking rock stars. Great, compelling stuff, even if I didn't understand a word of it.
RF: Over to the main stage for Killians, who have been unhappily described elsewhere as the German Strokes. Luckily this Kiss of Death turned out not to be true.
DL: No, they sound like the German Stereophonics and, whether you believe me or not, I mean that in a good way.

RF: A good, powerful, determined set showed them off to have more up their sleeve. Sure, they rocked out New Wave style. But it was far punkier and rougher edged than the Strokes, almost stepping into Damned territory at times. Top marks.
DL: They slipped up a little bit by finishing with a rather pedestrian version of Sunday Bloody Sunday by U2 – easily the worst thing they played all set – although I wonder if the meaning of the lyrics had been lost in translation somewhat as the singer started shouting "You sexy mother f" – well, you get my drift – throughout the chorus. You had to be there.

RF: More new wave came from White Lies who immediately set about sounding like the Cure, or a soft soap Bunnymen. Now, I have more Bunnymen records than most in my record collection, and I even have a Cure single or two. But my patience with bands that sound like them wore very thin long ago. And it's not just considerations of fashion. The gig was alright, but so what? Until a band takes the Heaven Up Here template and goes one better (and sounds original and daring to boot) then I'll just continue to play Heaven Up Here. Simple. It reminds this old man of all those C86/87/88 pop bands trying and failing to better Revolver.
DL: Don't get me started on this lot. Worshipping Robert Smith does not mean you have to try and rewrite his entire catalogue. Big Boys Don't Cry but they fucking moan a lot when they get hold of a guitar.
RF: Luckily Jack Penate came on and cheered us all up. Penate's enthusiastic pop and puppyish vibe is what anyone needs when the rain cascades. There was enough about his music to waylay any accusations of Kooks-style "Tommy Steele with leccy guitar" schlock. He was fun and talented for sure, despite not being our first choice on the old Dansette. Let's hope he doesn't go too far down the entertainer route.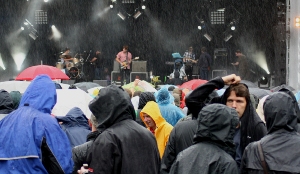 Joan as a Policewoman encountered sound problems, so we repaired to the tent till things were listenable…
Interlude…
"And anyway I packed my case and ran to Düsseldorf airport, but I forgot to wear any shoes, and the man at security just looked at me… I got some very nice trousers, very expensive but beautiful material. And that's the reason I got divorced… I was given this beret by a farmer, you can wear it for now but tomorrow I want to co-ordinate my clothes so you must give it me back…It's raining, why is he eating gooseberries in the rain? He's tripping. Yeah, but why eat gooseberries? And why clean the tables?"
Joan as a Policewoman's set is now kicking in big time.
DL: Where did that hair come from?
RF: The memories of her yawning one-paced chanteuse-athon in Den Haag earlier this year were utterly dispelled as the lady totally rocks out. Maybe it's the massive afro perm she now sports.
DL: She looks like a giant microphone!
RF: Whatever this was great, really great. Hell, how did we ever dismiss her as self-obsessed schlock? It's cabaret to be sure, but committed, visceral stuff. This is the sort of eclecticism we like, rough and ready, trying new ideas with wanton abandon, hard headed and funny. More!
DL: I want hair like that.
RF: It is early evening on the first day proper of Haldern. It is the time when this festival stops being gentle, stately and ordered and starts being loose. Even Kula Shaker, with their psych-by numbers colouring book sixties pastiche can't spoil it. And whatever you think of them, they play a mean festival set, knowing when to slip out the hits, and when to go through the "I'm high and meaningful" routine. It's them actor genes. We appreciate it and head back to the press tent.
Interlude 2
"You know, I live a boring life but I am wild, so to help things I like to take drugs… That woman is eating a candle with a knife and fork… can't you stop her?… In the Ukraine, they throw money at you. I have seen this… Do you remember barking like a dog? Ah you must excuse me, for I am incontinent… Rolling Stone mag sucks, man… they say they've paid 100 grand for two tables, cordoned them off with tape and stopped anyone sitting there. I mean, how symbolic is that? And now they have the cheek to make up to us. We told them you could buy a cheaper set of tables on Bury market. And I told them their mag was like Antiques Collector, but it went over their pretty heads."
DL: Next up, Guillemots. Something we were decidedly not looking forward to.
RF: "Guillemots? Huh, boring text book eclectic merchants. Part of the New Studiousness. Unhip, man. Remember when they were here two years ago? Awful." But wait, this gig was in no way the Guillemots we all hated. Shit they rocked out! The whole smug vibe has obviously been battered out of them if this performance was anything to go by. So transformed were they, we were convinced there had been a cancellation and a late line up change. And the singer had got rid of that loathsome hat. We left whilst they still battered the audience with their spacey sound, just to keep the memory intact, like.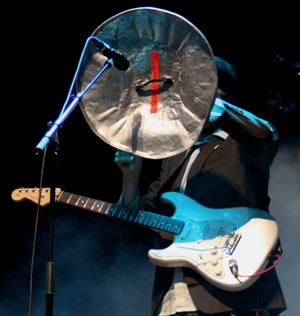 DL: A band redeemed. No squealing. No gimmicks. No nonsense. Great stuff. Getting rid of the nonsense and focusing on becoming a real band has helped them no end. I may now start to believe in them after all.
RF: In the Spiegel Tent, DJ St Paul deejayed. It was the teenage stuff you'd expect; and to be honest we instantly hated him and his smug "I know all about music" playground vibe. It's just a continuation of the "I've got parents who buy me better toys than your parents" rap you were subjected to at school. Why don't deejays realise this? There's something so self evidently controlling about deejaying that brings out the twat in all of us, we admit. It's the biggest teen power trip. And we've fallen for it too. So, our plea to all deejays? No-one knows everything about music. Even you. Still, we danced to Blitzkreig Bop and the kids enjoyed themselves enough to give Gisbert zu Knyphausen, who was up next, a great reception.
Savour this name for a moment; Gisbert zu Knyphausen.
DL: Sounds like the name of some furry monster you'd find on a children's TV show. Love it.
RF: Gisbert is a German-language singer-songwriter whose band is great and who sings like he means it. You know, straight down the line stuff with guitars and drums. Satisfying meat-&-two-veg rock. We're struggling to think of any sonic comparison we could make, but the set had that "desperate in love" vibe of Elvis Costello's I Want You about it. After the existential sneering of the deejay, this was refreshing stuff. Again, like Bernd Begemann, such was this lad's inner power that we stayed the entire gig, despite everything being very, very German. If there was one criticism maybe he was a bit too earnest and at times mid-tempo, but we'll forgive him that.
DL: Entertaining stuff all round I'd say. Good, solid rock and roll and anybody who's got the name Gisbert can have my attention for half an hour or so.
RF: Off to Kate Nash, who was fun, fun, fun as a late Spiegel tent replacement last year but frankly shat herself on the big stage this time around.
DL: Oh dear God this was actually quite uncomfortable to watch.
RF: To be fair to her, when the sound boys wreck the opening two or three songs, it's bloody hard to hold a vibe that thrives on intimate reflections and girly observations. Still, bless her, she summoned up enough pluck to do her hits justice and the audience were gentle and appreciative.
DL: She started too slowly and when she stepped out from behind her piano to play guitar she really did look like a little girl lost. It was as if everything around her had become more professional. She had her name up in lights. There were one or two new band members, one of them playing violin – the typical sign of an artist trying to show they've grown up a bit – and they were all sporting shiny uniforms and ran around the stage for a bit of spectacle, but Kate herself seemed to come across as the same little naïve girl she was last year, marooned at the front of the stage and totally at odds with everything around her. Things did improve as the gig went on, but that was simply because all the hits had been pushed up to the end so everyone could sing along and wave their hands. Now I really like Kate Nash, but I have to say that this felt like a missed opportunity and I'm sad to say that I don't think she's ready for the big stage just yet.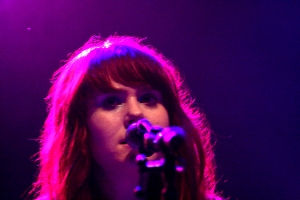 RF: Back to the Spiegel tent to see Lykke Li, who came on and began to play some very Maclaren-esque rhythms. It was all very BowWowWow at times, (which we like) but just the wrong side of clever/knowing/press the right buttons if you know what we mean. Why oh why do musicians nowadays feel the need to throw every sonic kitchen sink at their muse? This girl has bags of talent, and has phenomenal stage presence and is certainly no mug, but sometimes doing the dumb stuff is needed to get things going. And just as we disappointedly thought "wasted opportunity" the last two tracks blew the tent away. A cover of Can You Kick It? and a loosening of the vibe proved that sometimes being obvious is so much better.
Now we're not bitter, hung up people, but there was no way certain members of our team would grace Editors with our presence. It's just that we find them utterly devoid of charm.
Before Loney Dear came on in the Spiegel Tent we popped out to get some air, only to hear enough of their lumpen, museless karaoke-Joy Division sound floating over from the main stage like a deflated gasbag to last us the weekend and more. All I can say is, like an old Trabant, they have two speeds: fast-ish (in a plodding way) and grindingly slow (in a constipated way). 'Nuff said.
DL: Yeah we don't like to upset people and Editors fans tend to cry quite often so the less we say about them the better I think.
RF: Back to Loney Dear. Now we're a bit tired of all these soulful country tinged singers that are seemingly de rigeur nowadays, but we have a huge soft spot for Loney Dear's hippy charm. After a lot of fussing with the sound, the band came on and played a beautiful set, a sticky-sweet paean to teenage love and hope. It was so clear-eyed that it almost made me want to be a teenager in love again. Even the comedy moment when Emil Svanängen (impossibly) fell over a huge balloon added to the event.
DL: Loney Dear are good on record but they're a much better live band than you'd ever imagine from listening to them. They seem to play for one reason only, to make the audience have a good night and they did a great bloody job here, as they did last year on the main stage – only this was much, much better. They can throw I Am John, one of their most infectious songs, away near the beginning of the set now because they have so much more ammunition left in the cannon. You can't ask for more than a handful of good songs being well played but when they come complete with audience participation and a singer falling on his arse then you just have to be glad you were there to witness it. Wonderful stuff.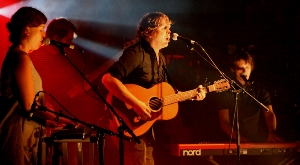 RF: Sticking around for the brilliantly named Bohren & der Club of Gore turned out to be a major disappointment.
DL: They turned all the bloody lights off for a start! And what's that? A saxophone? Oh dear God.
RF: With a name like that you do not expect jazz; even if it is jazz with a doom metal sensibility. And just having the instruments visible in what was otherwise total darkness is really the stuff of sweating nightmares. Okay, maybe we're being a bit harsh. It was a bit too existential for 3 in the morning.
DL: Getting out of there was like trying to make your way through a New York grope room, which is honestly not as entertaining as it sounds. There were a lot of hairy, sweaty people in there.
Interlude 3 "… and there's this glowing man coming out from behind a tent. And he's selling beer. It's 4am but I need a drink, and this man is huge, orange and glowing. I don't know why he's glowing. He's just asked me if I want a beer, and I say, well, we'll take four and he says, get this… he says, "why not have five?" It's either utter nonsense or he's incredibly sussed about something…"
Okay, if you can face reading Thursday's report agin, click here, for Saturday's travails; click here, and for our photos, you can click here…