"What would broken beat, new jazz or avant pop sound, if it was created behind the Iron Curtain in the 70s and 80s?" says the guide book. Frankly we dread to think, but we're intrigued.



Incendiary do the OFF FESTIVAL: Slupna Park, Myslowice, Poland, 08/09/08 Part 2
Baaba play mad jazz. Good mad jazz. Yeah, I know, but you'll just have to trust me that that's not a contradiction in terms. And I'd love to bring you photos of their impressive sax collection and the drummer's astonishing sideburns (you could land a 747 on them) but it seems security is rather tighter in the press compound today; no beers in, and by the time we've downed ours the first three songs have passed and just getting a camera out is greeted by stern head-shakes, although quite how you know with this kind of music is beyond me…
They have precisely none of the po-faced-ness generally associated with experimental jazz, play two- and three-minute bursts of wonderfully Can-esque nonsense, and look like they're loving every second of it. And this time the sun does come out. Properly. A bit about this beer thing though – think of the word "festival" and think, yes, watching live music outside in summer with a pint in a paper cup disintegrating in your hand. Not here. Be it the VIP area or the regular punters' bar (where the beer is actually cheaper, if rather fizzier) there are security on the gate and you may not leave with drink about your person. This might well be normal for Poland but it's something of a culture shock for us, and the rapid downing of pints in order to catch as many bands as possible does indeed lead to a quite terrifying burping extravaganza later from one of our party.
There are yet more unusually large saxophones over on stage 2, along with a melodica, pennywhistle, accordion and French horn, courtesy of the quite bonkers looking Czeslaw Spiewa, who does a distinctly left-field take on traditional Eastern European folk. Much more haunting and atmospheric than that which normally escapes westwards, it's rapturously received by the flag-waving crowd at the front – and a delighted toddler near us at the back, who's driving his parents round the twist by adopting muddy twigs faster than they can confiscate them.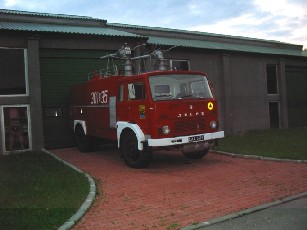 Right, time to check out the Experimental stage, which given some of what we've heard today could well mean just about anything. And appears to be situated in… a fire engine museum. But of course… "What would broken beat, new jazz or avant pop sound, if it was created behind the Iron Curtain in the 70s and 80s?" says the guide book. Frankly we dread to think, but we're intrigued.
"The musicians from a group Plazmatikon are looking for an answer to this question. They use the original East German Vermona beat machines together with the legendary Soviet Elektronika and Polish Unitra keyboard instruments…." and yeah, it's jazz. Fuck me, they do like their jazz here. But those old keyboards have a glorious sound to them, the sound of the earliest days of machine-tuned music. Then suddenly they ditch the jazz and turn into some insane hybrid of Kraftwerk and early 808 State playing something that sounds like The Whip's Divebomb if it had been recorded in 1974 on spares from the Soviet space programme. From thereon in we get a wonderful journey through primitive electronica, stuff that's got the beats and the tunes of nascent acid house. With a bit of jazz, yeah, but what was Pacific State if it wasn't jazz? 808's vintage equipment loving Graham Massey would certainly find kindred spirits here.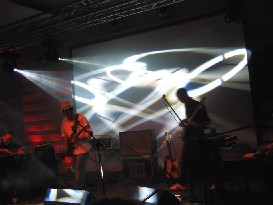 Unfortunately towards the end of their set we are summarily ejected from the hall due to one of our party being caught with a can of lager. Back over in the tent, Icelandic visitors Singapore Sling are doing BRMC doing JAMC pretty well, but we have places to be…
Piotr Stelmach, presenter of the Offensywa radio show, is renowned across the country for his exemplary taste and musical knowledge; a local fan describing him as "the John Peel of Poland". And he's very, very excited. "Do you like rock music? DO YOU LIKE ROCK MUSIC!!? I think they like it a lot! This is one of the most spectacular moments in OFF festival – for the first time in Poland, from Brighton, England, please welcome Yan, Hamilton, Nobble (I know you shouldn't laugh at peoples' pronunciation, especially as our combined Polish extends to please, thank you, chips and beer, but we can't help it… sorry…) Wood. BRITISH SEA POWER!!!"
The crowd stretches back as far as we can see. Hamilton enters with twigs on his head like its 2003 again. Phil has a rather wonderful platform for his keyboards. Atom and Carrion go down pretty well, but when the introduction to It Ended On An Oily Stage kicks in the crowd go wild. The 2005 single doesn't see many live appearances these days, but we've been let into a little secret; Piotr's been playing it a lot on his show and earlier requested its inclusion. This necessitated finding a role for Phil who's never played it live before – as it is, his addition of a third guitar and Woody's massive drum rolls toward the end render it ten times more powerful than it's ever sounded. In fact every last song is played with so much energy and enthusiasm you'd think their lives depended on it.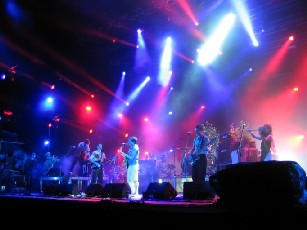 Poland might have been waiting five years for this band, but they're rewarded with what may well be their best ever festival performance. Everyone's clapping along to Down On the Ground; by A Trip Out there are dancing parents balancing delighted small children on their shoulders. And then Yan, a man who generally prefers to let the music (or indeed Noble) do the talking, addresses the crowd. "Thank you for welcoming us to Poland – this is a song about welcoming you to our country. And I'd like to thank Phil for being Phil… and Abi for being Abi…" and the six-piece band – who to this old fan are never considered anything less than a six-piece band these days – strike up the rousing introduction to Waving Flags, Polish flags are raised aloft from various parts of the audience, and it's just one of those moments of euphoric overload that can't really be described in words. By the end of the set Noble's breached the several levels of security fence to ride the crowd, and even more impressively one fan has taken advantage of the security staff's attention being briefly on the guitarist to launch himself onto the stage where he's welcomed by a band who seem as delighted with this performance as everyone else.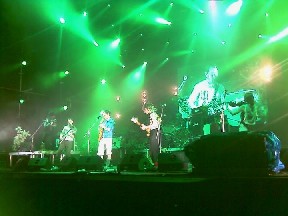 The rest of the evening is, in the manner in which you dear reader have probably by now come to expect from Incendiary's forays into festival reportage (we've just had a phone call from the Haldern contingent which made precisely no sense at all), mostly about drinking. British Sea Power's roadie invites us to the upstairs after-show, before discovering that whilst our blue VIP wristbands grant us access anyway his yellow artist's one doesn't and we have to go and find their manager to issue him with a blue one; the strictness of this bizarre level of bureaucracy has us laughing our heads off. Although not quite as much as the discovery that the drinks at the after-show are free with the compliments of one of the festival's sponsors. Eventually we reach the point where we physically can't fit any more beer in and take one last cheeky VIP liberty by asking the receptionist to call us a taxi, only to discover when it arrives that we're a man down. He'd gone for one last sausage.
As a teenager in the 80s, your correspondent had a pen-pal in Lodz, courtesy of a small ad in a Stranglers fanzine. Jarek lived in a concrete tower block surrounded by identical concrete tower blocks, resigned to the fact that cassettes of John Peel shows and the second hand British punk albums I posted across the Iron Curtain to him would be as close as he ever got to his favourite bands. Meanwhile the Polish albums he sent me weird postcards from what might as well have been a different planet. Nowe Sytuacje ("New Situations") by Republika (not to be confused with the slightly differently spelt Britpap act of the 90s) was my favourite, the singer's guttural bark and the urgent abrasive guitars sounding not too dissimilar to the sounds coming out of our own concrete jungles. It made the world seem at once a much bigger and smaller place.
Fast forward two decades and back home in Manchester following an international journey arranged with a few clicks of a mouse, writing for a magazine in Holland which can be read instantly across the world, I'm sticking in the Myspace links and thinking about how Rotofobia and Broadway Taxi are not even old enough to remember a time when Polish music only made it to the West in battered cardboard packages adorned with stamps depicting spaceships. Click through to Piotr's Offensywa page to see what other musical delights his country might have to offer – and there, in his Top Friends panel, middle-aged and balding but still dressed head-to-foot in post-punk black, are Republika. In their 27 year career they've seen more New Situations than their angry young selves could ever have imagined. And in 2008 Poland has shown it can put on an international music festival to rival the best of them.
Words and Pictures: Cath Aubergine.
To go back to part one, click here.
http://www.myspace.com/trojkaoffensywa
http://www.myspace.com/ofmontreal
http://www.myspace.com/clinicvoot
http://www.myspace.com/dick4dick
http://www.myspace.com/heyechosystem
http://www.myspace.com/broadwaytaxi
http://www.myspace.com/rotofobia
http://www.myspace.com/poiserite
http://www.myspace.com/rentonrox
http://www.myspace.com/baabapoopemusique
http://www.myspace.com/plazmatikondzwieksystem
http://www.myspace.com/singaporesling
http://www.myspace.com/britishseapower
http://www.myspace.com/republikazespol