The Barn isn't a tent with a pretentious name, it's an actual barn with the lovely rural scent of cow shit left with it. It does however provide excellent acoustics which are rare at these festivals.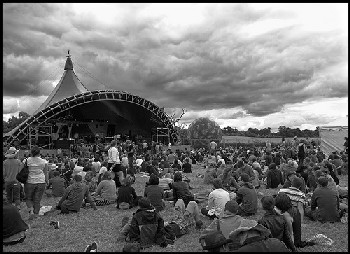 Incendiary go to Truck: Part 1
Truck festival hasn't sold too well, in the past two years tickets have sold out within a couple of days of sale… I remember having to get down to Fopp records in Oxford 2 hours before opening to get one last year – this year my friend bought his the day before the weekend. I'm still not quite sure why this is, Truck has grown in size and reputation in recent years as a festival putting on great hidden gems and the next-big-names which the larger festivals have no space for yet. In the past the festival has staged performances from the likes of Editors, the Futureheads, and British Sea Power, all before they were widely known. This year's line up looked extremely promising; with many bands playing that I'm sure we will be hearing more about in the coming year. But the attraction for me personally is the wide range of genres, and the faith that the organisers put in exciting local acts wanting to prove themselves on their biggest stage yet.
We arrive early on the Saturday in the small village of Steventon with little effort needed to get into the car park and we are swiftly into the Hill farm where the festival is held without any of the usual lines of people and hassle I've come to expect from festivals. After getting all the pitching the tent stuff out of the way (note for next year, don't set up near the all night disco tent!), I have a glance through the programme and note that almost all the acts I want to see seem to be in "the Barn". Nice and easy. The Barn isn't a tent with a pretentious name, it's an actual barn with the lovely rural scent of cow shit left with it. It does however provide excellent acoustics, which are rare at these festivals.
Nothing I desperately want to see is on until early afternoon so I check out Loud.Click.Shoot! followed by Alphabet backwards in the Barn, neither of which I really remember at all, but I do recall thinking Loud Click Shoot! were the better of the two openers; still, it was a very standard style of indie pop. Alphabet backwards was just bland soft acoustic stuff. So I decide to check out what else is going on instead and head down to the Market stage which is very small tent that would barely fit over 100 standing people. When I get there its pretty full and everyone inside is sat down as The European Union take the stage. The booklet says they are a Glasgow based 5 piece (with a Canadian front man) inspired by Seattle Grunge. Their first song seems to contradict this, as it starts off slow and is fronted with a piano. It gradually builds up and it's all very nice if a bit boring, but it's evident that the Canadian guy has a decent voice. After that's done he jumps off the piano, picks up a stat and the grunge kicks in. Well sort of, it's not that heavy, but they have a cool indie rock sound going and at times it sounds a little like Idlewild and in other parts there are moments of Lou Reed's Transformer.
There seemed to be real potential there, and I almost liked them but they too often cross the line from being laid back and cool, into being just boring. It was enjoyable but not really that remarkable. It seemed to go down well enough to other people in the tent though. As soon as they are done I made my way back to the barn to see an unknown to me, Buttonhead.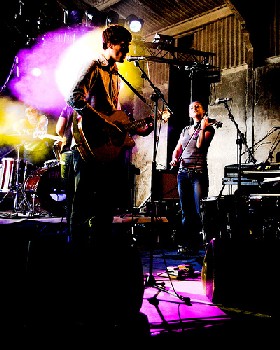 Buttonhead
The Barn starts to get more packed as more people arrive on the site, meaning Buttonhead play to a fairly decent sized crowd for 2 in the afternoon. They start off with a heavily rhythmic number, and it's their front man's vocal style which is most distinctive. He switches between high and low pitches in a similar way to Angus Andrew in Liars, but the overall effect ends up sounding a little too like Deerhoof. This is not something I mind too much, as I like Deerhoof, and Deerhoof aren't playing the festival so it's not bad seeing a 2nd best Deerhoof early in the afternoon. But the band clearly has a lot of talent, instrumentally and as song writers, and I end up concluding that they will only reach their full potential if they manage to come up with their own unique signature style. But as a live act it is very together, and at times intense and compelling. Not bad at all for a band on so early in the bill.
Next up on the barn is Lovvers, a band I had very much been looking forward to. They seem to have picked up a reputation for being an exciting live band, which had won them a support slot with the great Butthole Surfers a few days earlier. Although the Barn still only seems half full, from looking around I can tell that I'm not the only one eagerly anticipating this. The band seem to take almost no time setting up, and all of a sudden they are speeding through their first track. Their influences are clearly a mixture of punk, post hardcore and grunge bands, with moments of early Damned and Mudhoney really standing out for me. Their stage presence is also reminiscent of these two bands with front man Shaun Hencher throwing himself around the stage and climbing over PA systems while snarling the vocals through the numbers.
One could argue that this has been done to death, but it really doesn't come across as pretentious, studied or a replica – there is just something really refreshing about genuine raw energy thrown into a performance. On top of this they already seem to have potential anthems in their stand out tracks Wasted Youth and No Romantics. Henry Withers does a great job of cutting out the catchy guitar licks in these songs, without making it sound poppy or losing any energy. This is the key to Lovvers, they are very good at what they do, meaning that even if their style of music has already been done to death, they still have loads to offer to a generation who missed out on first wave punk, and Seattle grunge. They only play for around half an hour, in which they manage to get through loads of their 2/3 minute tracks. I think there is a real skill in performing the perfect half an hour set and Lovvers did a fine job at this. I leave the Barn buzzing and excited about seeing such a great live band that I'll want to see more of.
After wandering around the site a bit, I head back into the Market Stage where The Wishing Stones are just about to start. Admittedly I had never heard of them, but a quick glance at the programme suggests that this could be an extremely interesting performance. It seems they were a late 80s alt-country revival act, known for some excellent live performances and one outstanding album, over which critics still get in a lather. They do however appear to have a handful of hardcore fans who still think of them fondly enough to buy tickets for the festival. One woman has an old Vinyl of the said record which she excitedly gets signed.
The band themselves look like the stereotypical aging rockers who were once in a really good band back in the day, and they seemed to be genuinely excited themselves about brushing the cobwebs away after not playing together for a staggering 20 years! And their performance is just brilliant. It's alt-country, but with a real almost post punk kick to it. Their style sounds pretty timeless as most class acts do, and I really get the feeling that I and the other 100 or so people sitting down in this intimate tent are really seeing something special. Vocalist Bill Prince is every bit as good as Michael Stipe at this, and I'm not sure if I've ever seen a country guitarist as controlled and brilliantly subtle as John Niven. These lot really could have been legends, but it was never to be. As they crash through their final number with the powerful (and quite comical) Lost in the well (which
I will have in my head for the rest of the weekend!)
I feel almost sorry for the band having to play in front of such a small number of people when they really should be on the main stage late in the afternoon. They don't seem to mind at all though, and neither do the handful of people packed in the tent, who had just witnessed something brilliant. One of the members of the Epstein later claims them to be the band of the weekend. I'm just glad I saw this, which could have easily been missed. The Wishing Stones were definitely my flukey catch of the weekend.
After this I rather naively get excited about seeing one of the most named dropped bands in a growing noise scene, Rolo Tomassi. There seems to be great anticipation about this from everyone, as the Barn is now completely packed and a number of people chant "Rolo, Rolo…" at the front. I think to myself, this must be quite something! Maybe it was just too heavy for me (which I doubt as I've been listening to a bit of Black Metal recently), or maybe my ears were just not up for this after seeing such a beautifully subtle alt-country act. But I just felt it was unintelligent distortion and quick drumming over high pitched screaming. Now I'm a fan of some noise acts, but only when there is something going on in the mix. It just seemed like they were trying far too hard and completely missing the point. I guess I was the one who must have been missing something, as it seemed to go down brilliantly with the audience.
But Rolo Tomassi was definitely the most disappointing act of the weekend for me after hearing so much interesting hype. At the end of the set there is a "surprise collaboration" planned, although I think everyone had already worked out that seeing as there is no time given in the bill to set up this must be a Rolo Tomassi and Youthmovies (next on the bill) set. What this actually turned out to be was an instrumental and what seemed to be completely improvised jam while Youthmovies set up and Rolo Tomassi leave the stage.
After speaking to many people about this afterwards there seems to be quite a divided opinion about it, some feeling it was a great way to fill boring standing around while the band sets up time, and others who felt the jam sounded like a bit of a mess and probably went on for too long. I have to say I am of the latter opinion; it sounded at times nice enough, as Al English is as good as it gets for a post rock guitarist. But I felt had the two bands put more time into planning this it could have been a much more interesting spectacle. Well; as I pointed out I don't rate Rolo Tomassi as musicians but it would have been nice seeing Youthmovies try their hand at gentle atmospheric post rock. Anyway it only went on for about 20 minutes, and once the remaining members of Rolo Tomassi had left the stages, Youthmovies were ready to perform.
Youthmovies are one of my very favourite contemporary bands; I've seen them several times over the past 5 years, and every time they seem to have grown in stature. I missed out on them on their last tour, so haven't been able to catch them since the release of their stunning debut full length record. Good Nature has a number of catchier songs than their previous 2 EPs and singles, but it loses none of the skilful and unique progressive math rock which they are best known for. Their more radio-friendly style appears to have extended their cult following and I am only able to get to the middle of the barn due to people packed at the front waiting for them.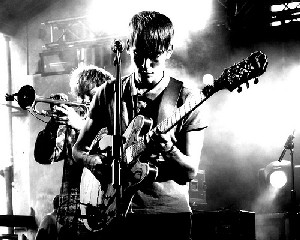 Youthmovies
It does help that the festival is only a few miles from their home city Oxford, but I am pleased that they seem to be getting at least some of the credit they deserve – even if it is at its strongest on a local level. The last time I saw them was at an all day festival and they were visibly pissed off by a lack of interest, tonight they seem to take enjoyment out of the positive reaction, it's their first show in a few months and they play really well, with all the complicated math rock rhythms and cutting guitars holding together tightly. Andrew Mears's vocals are joined with a lot of the audience for their strongest anthem The Last Night of the Proms which brings their performance – which was already very good – to a whole new level.
What's most impressive about Youthmovies is the way they can suddenly go from quick, chopping or jazzy guitars into long drones and instrumental noise and both styles seem equally studied and controlled. Youthmovies are one of the only bands who can do both pop and experimental music at the same time. While I can't understand how they aren't already a far bigger band – if they keep on performing sets like this at festivals then they will grow quite a fan base. It is one of the best times I've seen them, and I go away remembering exactly why I tell everybody to check this band out. I can't wait to see them again on their September tour.
For part two of our Truck report, click here!