Next up in the barn are The Early Years, a band I am quite looking forward to after hearing glowing reviews, and a championing from Brian Eno (who it later turns out was also there observing).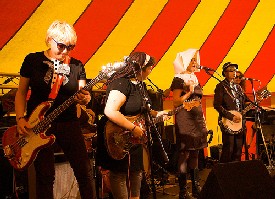 Incendiary go to Truck: Part 2
After Youthmovies there isn't much on that I really want to catch for another hour, so we take the opportunity to sit out on the grass and enjoy the hot summer afternoon with a couple of beers. It really is a nice part of the country to have a festival on a day like this, in contrast to the flooded weekend last year, we had been extremely lucky with the weather. And very few festivals have an atmosphere like this, where hundreds of people can just sit together drinking in the afternoon without any hints of laddish culture, it's just so chilled out. I hear something going on in the barn which I assume must be Dead Kids after looking at program, we wonder in but then quickly turn back. I can't even remember what they sounded like, but very few bands annoy me so much that I don't even give them a whole song.
Instead we hang about until we hear noises coming from the main stage. After making our way over I find that it is the locally hailed Danny and the champions of the world. I enjoy 2 or 3 of their Crosby Still's and Nash esq country folk numbers, and I hear afterwards that the entire set was one of the highlights of the weekend, but annoyingly they clash with These New Puritans. This is a band I really wanted to see after catching them earlier in the year in Manchester supporting British Sea Power, in which they turned up only 5 minutes before their stage time meaning they had to perform unprepared and without a sound check, yet somehow it ended up being fairly good!
Since then they have been hyped a great deal in the musical press, and I wanted to see a real performance from them to fully judge this hype. This time however their electro Wire meets the Fall style really underwhelms me, mostly because it ends up sounding exactly like the Rakes. They are a young band, and can play together well. Jack Barnett is a good vocalist and could be Mark E Smith-esque, but the band need to write far better songs, and I have the feeling that it just isn't going to happen. It was interesting seeing them, but I have to say I regret not sticking around for Danny and the champions of the world after since hearing their impressive debut album.
It's still a lovely warm evening so we decide to get some more beers and head over to the main stage to catch Okkervil River. I'm sure there is no better way to catch this band than laying back on the grass and cracking open a can. It was one of those perfect moments seeing a really good band play an hour of laid back alternative indie/folk on a great evening. This is what Truck is all about. Their style is quite hard to explain actually, it's a pretty slow form of indie with many of their songs fronted on the piano or an acoustic guitar resulting in a sort of ballad sound. To say that would make it sound boring, but it really wasn't at all. There were some really subtle tender moments and there were some up beat triumphant bits, and they have an outstanding vocalist in Will Sheff.
Together it sounds very refreshing and unique. The band seem to enjoy it, the audience seems to enjoy it and all in all their set was just one of those top summer moments. I will definitely be investing into some of their albums in the near future.
After they finish we have the option of checking out the Lemonheads headlining the main stage or a band called Munch Munch who are compared to Liars in the program. Of course we go for the latter. We head into the Market stage expecting to have missed the first song (according to our trusty program), but we find them to be setting up, which they take a further 45 minutes doing. My friend comments they are just fucking about, and looking at them they did seem to be amused by it all. Just as we were deciding that we can't be arsed to stick around any longer waiting (and I expect the other 100 so people who came for an alternative to the Lemonheads were thinking the same) they finally get going. It's certainly very rhythmically based which is where I assume they got the Liars comparison, but it's very poppy and electro sounding at the same time (as opposed to the Liars drones) and it takes me most of the set to work out if I like them or not. I come to the conclusion that it is alright.
Like These New Puritans they have the potential to be very good, and while they are closer to this than TNP (I thought Munch Munch actually had some excellent moments, just not enough of them) it's nothing particularly special. It was good fun however, and I was glad I saw it. As we leave the tent we can hear that The Lemonheads are still performing on the main stage so after getting some chips we head on over and catch the last half an hour. I don't mind the Lemonheads for what they are, but after 2 songs it's quite clear that every song sounds exactly the same. It's nice and laid back and there were a few quite catchy songs but it all kind of washed over me a bit, and I left wondering how this band became so big all those years ago.
I get up the next morning refreshed and ready for Sonic Cathedral's shoegaze Sunday Service in the Barn for the day. After seeing in the program that this doesn't start until midday, I look through the options. We head over to the main field to get some breakfast and check out whatever is on the main stage which happens to be This is Seb Clarke. This in fact is the most boring form of indie I can think of, and after hearing them rip off Razorlight for 3 songs I decide enough is enough and head over to the Pavilion to check out Andrew Mears (Youthmovies) reading poetry (something I was realistically always going to do however good or bad TISC were).
The Pavilion is a tiny tent, even smaller than the Market, and when I get there I find it almost full of people sat down on the floor half asleep. Right on time Andrew Mears arrives dressed in a rather cool looking trench coat. His style of poetry is a bizarre one, and like a lot of Youthmovies lyrics it is mostly based around a clever play on words. His repetition and stressing on pronunciation reminded me a little of post colonial poetry, Derek Walcott's style in particular. It was very obscure and difficult to pick up on the themes he was touching on, but his presentation and performance was very interesting, and I enjoyed some of the imagery. The lyrics have never been an important aspect to Youthmovies for me, but I went away having seen yet another side to Mears.
After this bizarre performance we head over to the barn where "special guests" are billed to play before Sonic Cathedral kicks off. I later find out that the special guests are serial truck performers Winnebago Deal. They are a heavy metal duo of guitar and drums, and they seem pretty good at what they are doing. A lot of the crowd (which is already half full) seem to be head banding along to it. For what it is, it's quite good fun but I don't personally get that into it as I find it a bit samey but I can see that others do.
After their set we just hang about waiting for the first Sonic Cathedral act which happens to be Leicestershire based Kyte. I get the feeling that Sonic Cathedral is the main attraction for a lot of day goers as the tent quickly fills up while Kyte set up. Like Youthmovies the day before they seem to blend their setting up with the start of the set and all of a sudden we are in shoegaze heaven. Kyte could be criticised for sounding too like Sigur Ros, but this doesn't bother me in the slightest as they perform so well and blend it in with other post rock influences making the over all sound their own. A lot of their set is gentle and subtle, yet the whole crowd seems gripped and not at all bored. They are technically great as a band, and it sounds so glossy and polished live. They play for about half an hour and after they are done I am buzzing. Like Lovvers, it is another one of those perfect half hour sets. It really is a skill worth honing for a festival band.
Next up in the barn (where I am glued to all day bar one band, thanks to Sonic Cathedral) is Le Volume Courbe who are fresh from supporting My Bloody Valentine on some of their recent huge come back shows. Their style is a very unique blend of twee shoegaze and alt-country which is pretty interesting. Vocalist Charlotte Marionneau sings softly over what is together quite a dreamy sound. I find it enjoyable but I'm not completely gripped, but speaking to friends after it appeared they went down excellently with others. They certainly have a lot of charm, and I have since listened to them on record and grew to it a lot.
Next up in the barn are The Early Years, a band I am quite looking forward to after hearing glowing reviews, and a championing from Brian Eno (who it later turns out was also there observing). Instantly I can see what all the rave is about, they are one of those live bands who grips you from the off with their atmospheric shoegaze, carefully controlled mostly by two leading guitarists using delay pedals. It ends up being pretty heavy and very loud, yet they manage to stay tight. In the background to these layers of noise there is a synthesizer and a laptop supporting the bass and drums, and the vocals are strong and nicely bedded into the mix without being too demanding.
At times the band touches on psychedelic styles and at other times it is pure prog. It ranges well from subtle atmospheric melodies to long heavy distortions, and I found the over all impact to be stunning. It's a really uncompromising style which will only get them so far, but by the sounds of it they already have quite a cult of adoring fans, and festival performances like this will only attract more. After listening to these on record it sounds cool, but to get the full sensational effect you definitely have to catch them live. My friend puts them down as his discovery of the weekend, and I'm sure they have picked up a lot of other interested fans than us. It was brilliant.
Part three of our Truck extravaganza is here, to bone up on part one again, click here.