As long as Truck keeps staying away from mainstream demands, and keeps on putting bands that the orginaisers and local people enjoy, then it will keep being the top festival in Britain.


Incendiary Goes to Truck Festival Part 3
My friend and I agree that Early Years will take some beating today, and are buzzing for more after seeing such a great performance. Next up on the shoegaze bill is The Tamborines.
I saw this lot last year on the Truck Relief show at the Oxford Brookes, the day Truck festival got rained off. I thought they were alright, but since listened to them on record and got really quite into it. Their style reminds me of a more minimalist Brian Jonestown Massacre, limited to three musicians. Guitarist and vocalist Henrique has one of those really cool laid back voices like Anton Newombe, and it's perfect for psychedelic indie. Having listened to most their songs I get more into it than I did last year, and all in all it's an enjoyable set. The singles, 31st Floor and Sally O'Gannon are definitely their stand-out tracks, but a few other songs have radio potential (a week later I actually hear the Tamborines on BBC 6music); but I can't decide whether they would be a better band or not if they were to invite more musicians to get involved.
While the songs are catchy and great, I can't help but think they have the potential to be something even greater. They are somewhat limited by having only one guitar, and maybe another guitarist would do the trick. On the other hand this may have the opposite effect and they could lose a lot of charm by doing it. Either way The Tamborines are an impressive band but there is just something small missing which could (if they find it) turn them into an amazing act.
When the Tamborines finish I leave the barn to take a quick break from Sonic Cathedral to see another one of my favorite contemporary bands The Epstein play in a tent called the Village pub while my friend checks out Camera Obscura on the main stage (which he later reports back saying they were great). When I get there I see it is exactly what it says, an open tent as small as it gets attached to a beer tent – nice idea! After the boring Six Nation State annoyingly drag on over time I manage to get myself to the front and watch the complicated proceedure of the Epstein setting and tuning up all sorts of things. Both guitarists have the biggest pedal boards I've ever seen, and the banjo and bass players have a lot of effects and stuff too.
As they set up the tent starts to pack and from the conversations I over hear it sounds like a lot of them are regulars gig-goers for this band. So we are all in for quite a treat. The last time I saw them it was one of my very favourite gigs of last year, and this was several levels better. The layering of their sound in an alt-country style is very important for them, and the Epstein got it perfect that afternoon. They had an intensity which bands rarely achieve, and while sounding nothing like them in style it reminded me of seeing British Sea Power for the first time early on in their career, and that is saying something. In sound it is very like the Flying Burrito Brothers, but they have their own unique touch going with it which while keeping it uncompromisingly alt-country, makes it sound fresh and modern.
There was an urgency about the way they played and you could tell by their stage manners that this set was extremely important to them. They play a long (for a festival) 50 minute set with stand out tracks being the instrumental 6:06 PM and Hudson. After their 50 minutes, the sound man calls time, and they make their way off stage. This is followed by such a long and loud applause, with many calls for an encore that the soundman just shrugs and the band are aloud to come back on (something I have never seen at a festival from anyone other than a headliner).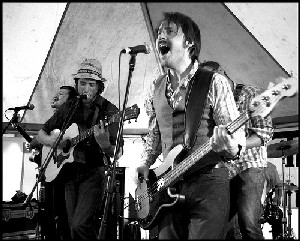 The Epstein
They play 2 more songs, one being a fast instrumental, and the other being a fantastic acoustic Leave your Light On, and they are done. It's hard to put into words just how good this set was, The Epstein for me are the most exciting new band in the UK right now and I just hope they get the same sort of response they got at truck in other areas across the country – if they play like this I can't see how they wouldn't!
After that I'm back over to see the 2 final Sonic Cathedral acts in the barn. I hear Ulrich Schnauss was his usual excellent self (which annoyingly clashed with The Epstein), and everyone is getting excited about Spectrum. I don't know his work at all but it appears that Peter Kember, the creative center of Spectrum was a member of legendary shoegaze act Spaceman 3. (Indeed he was, and a big Delia Derbyshire fan too – ED) This gets me excited as I have seen a splinter group from Spaceman 3 before in Jon Mattock's Slipstream and they were excellent.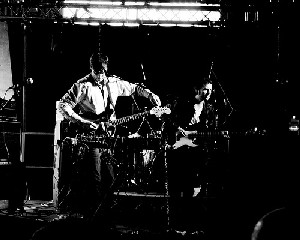 Ye Spectrum
Unfortunately Spectrum seemed to have problems in setting up, and it takes him at least 20 minutes longer than it should have, and seen as they were only assigned a 30 minute set this limits the time of Kember's set a great deal. They end up giving him longer than the 10 minutes he would have left, but he is only aloud to play for about 20, meaning he gets through about 3 (admittedly lengthy) songs, one being a great cover version of Mudhoney's When Tomorrow Hits. All three of the songs are fantastically performed and everyone is left wanting more. Several people from the audience shout for more, but Kember is left only able to shrug his shoulders and walk away. If it was Kember's fuck up setting up then it is annoying, if it was Truck's then they should have given him a full half an hour set and let it run on. Either way I feel a little robbed from a set which looked extremely promising. I guess I will have to keep an eye out for him again and hope he plays near me soon.
The final billed act was from another of my favorite bands, Maps. I last saw them late last year in Sheffield, where I was informed by others they were suffering from sound problems and were not at their best. I however felt it was a great performance and it was one of my favorites from last year. Their Mercury music nominated album We Can Create was also excellent and filled with some classic tunes. I was extremely excited to see what Maps were like at their best and I was hoping for a top performance from them.
It seemed like I may be denied this though after they seemed to follow on from Spectrum with sound problems. However half an hour later than their stage time they were ready to perform, and I was just hoping everything would hold together. My anxiety was put to rest though after they went crashing into their opening number So Low, So High, and everything was leveled to perfection.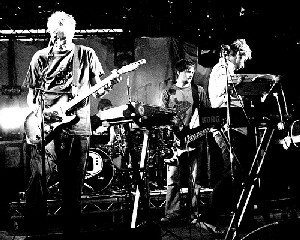 Maps
The power they created was outstanding, and it really reminded me of seeing the great live spectacle that was Hope of the States. I really was buzzing, and it just got better as they played through a fantastic set including the stand out track Elouise, the strong single It Will Find You, and the gloriously poppy You Don't Know Her Name. They slowed things down with the emotional When You Leave, which I personally am not too bothered by – I think Maps are best when they are high on energy and loud, but I know people who love this and it does break down the set really well. They ended with a special treat, due to it being their last gig of the year.
They played a Ride cover (which one?! – ED) and were joined by laptop master Ulrich Schnauss, and Henrique from the Tamborines to perform what was easily the loudest song of the weekend. I was left buzzing, my ears were fucked, and I really couldn't believe how good Maps really were. I think they just clinched it for the set of the weekend, and considering the amount of fantastic stuff I saw that is saying a lot. It's a shame they won't be playing for a while, but I look forward to their future recordings and live performances, and for now they have left me with a set which is hard to forget.
It was easily the best festival I have been to and I have heard similar opinions from many others who were there. As long as Truck keeps staying away from mainstream demands, and keeps on putting bands that the orginaisers and local people enjoy, then it will keep being the top festival in Britain. Bring on next year, and for now I have plenty of new bands I have found who I will hopefully catch again in the coming months.
Words: Martin Perceval
Pictures: Philip Perceval
Go back and read Truck part 1 here, and part 2 here. I'm telling ya.