Napalm Death? In Leiden? And a children's choir?

Werfpop festival, Leiden 12/07/09
Napalm Death? In Leiden? And a children's choir? This much we had been promised by Werfpop, and in our eagerness not to miss out on what is fast becoming a very under-rated festival we made plans to come early doors, despite a poor weather forecast. We also knew that the mighty Tegendraads organisation would be pitching a tent with some weird and wonderful things.
Weird? Wonderful? Well watching a teenage girl's choir run through the hits of today in a dank, half empty field could be classified as such, I grant you. And instantly classifiable under the moniker, "The things the Tegendraads organisation makes you do in the name of entertainment"… But to give credit to De Leidse Sleuteltjes and their gentle vibe, they were just the sort of thing needed to dispel any unquiet felt about the weather and watching Napalm Death with thousands of Goths for company. After the Sleuteljtes, Team Incendiary decided to forego the pleasures of watching the main stage, preferring to stay put at the Tegendraads festival "tent" – well, a large army surplus groundsheet on poles, looking remarkably like photographs of the sort of temporary bivouac used by Forward Observation patrols in the Western Desert – and check out any events within a 20 yard radius. Nearby a man was throwing two switched-on chainsaws around, all in the name of juggling. Idiot. But Leiden liked him…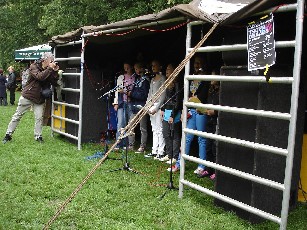 De Sleuteltjes, and cameraman…
Next on at the T'D tent/bivvy was a singer songwriter (replete with guitar and harmonica) known as The Long Conversations; (known to his mum as Olaf Caarls). Looking rather like a Dutch version of Lee Mavers, (albeit with rude boy hat) and starting of with a hesitant look at the sky, Caarls proceeded to knock out a set of hypnotic, ever so slightly meandering acoustic tracks, personal in tone and brilliantly executed. The lad has a great deal of talent and was funny in a self-effacing way to boot. Comparisons with Damian Jurado or Pete Molinari are not far wide of the mark. One to watch out for.
Following the break (more spluttering rain, and attempts to cover the speakers outside the bivouac) was Vlijmscherp, a hiphop 4-piece from Leiden. Now a lot of Dutch hiphop can be a bit crap, and some can be well over the top, but there again, there seems to be a growing number of acts who take a different slightly self-effacing approach; Dikke Vandalen and De Nomaden are but two examples where wit, charm and interaction are seen as the pivotal elements in the live show. Vlijmscherp were witty, sharp and packed a great deal of punch both in the message (very socially aware) and the method (a very good, engaging show). Nice to see a varied range of samples and sonic textures too. These lads have brains, keep an eye on them.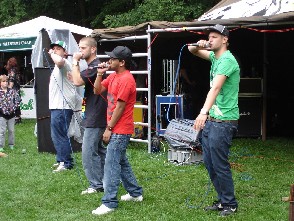 Vlijmscherp
Ah, wet grass! After a brief walk round the dance "area" at the back of the field (things got a lot more interesting there later in the evening), Team Incendiary settled nervously down on the greensward and enjoyed that first moment of relaxation that signals the active enjoyment of open air festivals. For the next three hours, we were royally entertained by DJ Vince the Prince and Gebroeders Dstruct, who between them played an extremely intelligent collage of weirdo dance music, found sounds and songs to make old people cut some rug. Leiden passed bemusedly by this Vale of Faerie, either on the way to eat candyfloss, win a blow up chair (in exchange for promising to have safe sex, no – I kid you not) or, in the case of the Goths, to mope about in capes, corsets, boots made for club-footed elephants and mascara. Truly, they didn't know what they were missing.
Talking of missing, the last thing we wanted to do was miss the Antwerp Gypsy Ska Orchestra. We bid farewell to Tegendraads tent, and got down the front to see what turned out to be one of the best shows of 2009. You must catch this lot live, they have everything. Truly; great musicians, an infectious mix of ska, dub, Romany/Balkan beat and traditional songs, and stage presence aplenty (witness a lead singer who downed a crate of Jupiler). It's all a bit Goran Bregović in theme, but put through a Specials blender. Starting off in ska mode, the band ran through a variety of styles, ending up with a brilliant Balkan knees up with a track, (can't remember which), from Black Cat White Cat. And the way the lead singer dealt with the eedjit who ran on and dropped his kecks, ("security, please, take this idiot away, and treat him rough") was brilliant. Don't diss the Romany, I tells ya.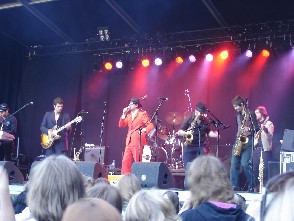 Antwerp Gypsy Ska Orchestra – and crate
Oh, and whilst we're about it, things couldn't get any more confusing than a Romany band doing a brief Napalm Death impersonation, but, trust me, by way of an off the cuff tribute, that's what happened.
But think of it. Napalm Death! In a field in Leiden. Think of it.
To say Napalm Death bludgeoned the audience would be an understatement. The crowd (apart from a large knot of grime enthusiasts, who indulged in some very freaky dancing) stood transfixed, like rabbits in the headlights of a 4×4. It was amusing to see the Death's lead singer almost apologise for the torment his band were putting the good bhurgers of Leiden through. One Head on the Leiden scene turned to Team Incendiary, and remarked that the gig was so loud, and so dense it is almost truly psychedelic, in the sense that you felt your mind and senses totally overwhelmed by everything. And he was right.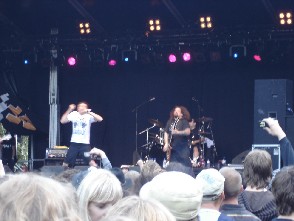 the stillest pic of Napalm Death we could take
After this, Voist's enthusiastic attempts seemed thin, and Infadels seemed too straight, calculated and boring, even though both bands drew enthusiastic responses. Team Incendiary decided to head to the dance area and shuffle about to some techno with other jubilant and (slightly) deaf types.
Wonder what we'll get next year?
Words: Richard Foster
Pics: Mariska van den Hoven