And what has happened to Howl in the Typewriter? One minute he's railing against vaginal discharge and the sexual connotations that faeces could have and the next he's ranting about Sciatica, whilst telling Lionel Richie to piss off. Oofph
And what has happened to Howl in the Typewriter? One minute he's railing against vaginal discharge and the sexual connotations that faeces could have and the next he's ranting about Sciatica, whilst telling Lionel Richie to piss off. Oofph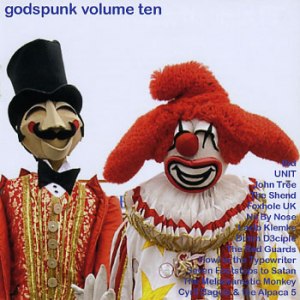 Time for more Godspunk, how can we mere mortals resist? And resistance should be futile, because there are some crackers on here. I may be guessing but this is possibly the best of the 10 thus far, what is missing in eclectic acts is made up for in the consistently high level in terms of quality and intent. It's as if the bands are really going for it this time.
There seems to be a more psychological bent to a lot of the material as well. We have dreams explained (The Stolen Carrot) and UNIT's monologue on Second Desert is almost Thespain. Lord knows what The Shend want to convey in It's Lovely Today but it ain't on the level. And what has happened to Howl in the Typewriter? One minute he's railing against vaginal discharge and the sexual connotations that faeces could have and the next he's ranting about Sciatica, whilst telling Lionel Richie to piss off. Oofph
A number of stompers are here to ensure you can't with Lava Surf's Seven Footsteps to Satan, (a hairy, straggly stomp if ever there was one) the gloopy and weird nonsense (otherwise known as Dem Ol' Llamas) served up by Cyril Bagels and the Alpaca 5. The techno and drumnbass bastardisation that is b600's tbd is pretty hot too.
UNIT carry on their war against the ills of humanity; possibly their strongest set of tracks on any of the GS compilations: Ming Hai is a great track (about a Chinese takeaway) Universal Soldier and Nazi Scum are powerful tracks and Death to R & R is really something else, a shambolically bad but heroically, epically dismissive declamation against the entire genre of Popular Music. And Laslo Klemke's weird 60's Iron Curtain vibe surfaces again; the pastoral Slavic workout that we are given on The Danube Affair apparently is a take on 60's spy themes. Damned if I can see it but it doesn't really matter.
Marvellous and invigorating stuff.