…there's something in their urban swagger on this release that draws a line right back to the Scuttlers

…there's something in their urban swagger on this release that draws a line right back to the Scuttlers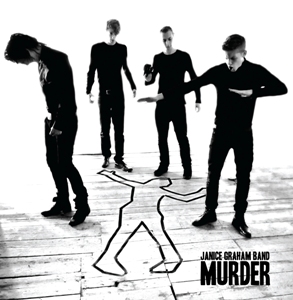 I've always thought there is something very Victorian about the Janice Graham Band; and the Goth-horror scream at the beginning of both Murder and Assassiner just enforces this. This isn't really a cosy record, actually none of the records I've heard of theirs are, but there's something in their urban swagger on this release that draws a line right back to the Scuttlers. "I wanna get away wi' murder" isn't the sort of opening line to a pop song that you'd expect in this bright and scrubbed age. B–side Assassiner is a darker tale still; a cod-Manc rap that tries to be funny and menacing at the time, it sort of gets away with it.

This record benefits from a shiny, spacey production, something that only adds to the feel of queasy urban morals and methods: like inspecting something you've just picked up at the Pound Shop. The arrangements are great too, the brass blares away to good effect adding a fair dollop of atmosphere to the skanky rhythm. And the lyrics follow in the tradition of the unashamed (and funny) Manc boasting Ryder used to sneer his way through on Bummed: it dares you, the listener, to laugh the message off as just a bit of fun, check "I won't pay for the divorce/we'll settle it outside the court" for one…
To be honest anyone else singing these songs would mean I'd dismiss the record. The singer could be a consummate actor, no doubt; but this band has an almost unearthly ability to make you believe anything they do anyway.
Pretty tremendous.