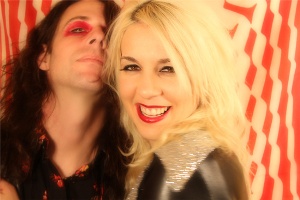 Firstly I'm pissed I missed Blanck Mass as they came on after I'd pegged it for the train (a host of problems on the night meant no night trains). One day I will catch them… and I missed the first support as well so this review is going to be a somewhat condensed affair… Still I'm elated that after years of waiting I finally got to see White Hills, in their High Rock rather than their stoner phase but frankly with this lot that's no real issue.
Ekko's always such a nice venue to go to, and this was seemingly a show to be at, as it was pretty packed out. Years of giving their all have seen the band embraced by media types – such as the beautiful butterflies and wannabe butterflies from Amsterdam – who have previously not noticed their existence. This of course is good, but I wonder just how many of the newly converted were ready for such a wall of sound; I knew this lot liked to bash it out but this was loud, MC5 & Sabs style.
The show was clean and, hard-edged, and based mainly around the sprawling tracks that constitute their latest record – Frying On This Rock. Their presence nowadays has a brash and gaudy feel to it – which demands a glitter attack – and in any case playing up to the music's inherent "rockisms" suited the bands' moves; lots of shapes were thrown (again reminding me of the whole MC5 thing). During such imperial ventures into noise as Song of Everything, (a classic opener) and You Dream You See, the trio had an irresistible swish about them and the spaces inherent in the song structures were exploited to the maximum. Now and again we got a track off HP-1 such as the meditative rumble of Condition of Everything, but what stood out most for us were the bone crushing takes on Robot Stomp (a ridiculously bombastic and monolithic slab of noise which sounds like some runaway machine press) and the rumbling, shaking Pads of Light. Of course there are elements of the Sabs in all of this but if done properly and with a steely eyed determination that is never a bad thing. There is no flab or ponderous element about White Hills at the moment and the Ekko crowd knew it and demanded more. Sadly we were denied due to time reasons which did put a dampener on things, but what the heck. A truly great band this lot; in whatever guise.