…though the Friday nights are now a regular fixture, the new (and frankly shambolic) press operation from SUB's new set of bookers means I never know what's on…

…though the Friday nights are now a regular fixture, the new (and frankly shambolic) press operation from SUB's new set of bookers means I never know what's on…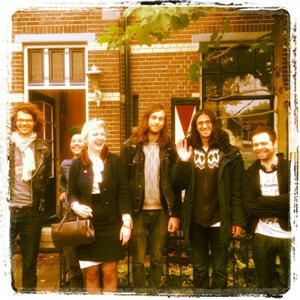 "I don't know really what time we're starting but hey it's a Friday at the SUB, right?" Thus spoke the girl on the door when I enquired about when Bent Moustache were going on. Well, okay then… SUB's old policy of finishing at midnight sharp has gone by the bye recently, which is a real pain in the arse for those midweek gig goers like me who have to be somewhere else the following day. And though the Friday nights are now a regular fixture, the new (and frankly shambolic) press operation from SUB's new set of bookers means I never know what's on… but still, this is my favourite venue and when Bent Moustache are about that means it's all the more reason to put up with the odd "blip".
Three bands were on the bill: after spending a convivial hour or so with Marc from Spilt Milk and Jaap from the New YX (now drumming for the Moustache, along with his old band mate Jillis, who's now on Moustache bass duties), we repaired to watch the first act, Mordor Crew, a trio who's mission it is to espouse a feisty sort of Catalonian crustcore. We weren't really expecting much, but Mordor Crew confounded expectations by turning out to be pretty tremendous, and pretty inspiring it must be said. I've seen a whole host of bands ploughing the same furrow and to be honest, a lot don't really get out of first gear in terms of doing something interesting, but this band do have something quite unique. Initially, their appearance didn't augur such rich possibilities: but despite sporting the veritable squat uniform of rat-tail hair, knacked clothing and innumerable tattoos the band started to create something unexpected, by ever amplified increment; a sort of spiralling, rolling noise, driven mainly by long undulating guitar runs and a smashing, pulsating rhythm. That is wasn't a predictable noise assault was mainly down to the guitar parts which at times were surprisingly sensitive and played with great feeling. All throughout, the singer waited his turn to scream his lungs out, sometimes squatting on his haunches, lost in the music, sometimes reading out in a deadpan voice a whole set of what seemed to be detailed notes. Great stuff.
There's something about The Bent Moustache which is incredibly rejuvenating, maybe it's the fact that the band is a revolving door in terms of personnel, meaning there's no time to stand still or for egos to flourish at the expense of the music. I'm sure leader Ajay will one day hold a convention where past members can finally meet each other, all wearing a special badge, replete with name and dates of service… But flippancy aside, they are a great act, one of the great mainstays of the Dutch underground. Their last record, Pastures New Seasons Turn was a true classic and it's tracks from this LP that we get tonight. The record boasts a whole set of metallic textures that need careful balancing, and consequently the band have realigned their attack from an essentially swashbuckling, abrasively quizzical stance to one where a sort of sleekness reigns. It's still got a spiky edge, but if you think how Githead sound then you're not far off. Sagar divides his time between conducting the band through the set (which takes some effort given SUB's knackered PA) and playing out his talent for cheeky asides, (the man has a future as a compère there's no doubt). The stately title track and a burning Skip a Breath are the highlights, and an elemental take on Hey Mate I've Got Plenty to Spare, Sagar acting like some genial, apprentice Loki, quietly emphasising the track's dreamlike qualities.
A total volte face with Seal of Quality… we'd seen him earlier without clocking who he was: noticeable in clothing more suited for a day's ramble (replete with striking red bobble hat), we just thought he was some weird fella that often turns up at SUB for gigs. As it was Seal of Quality was a one man operation, a true one-off: akin to some strange mystic or wandering monk with a penchant for knitwear who's also (naturally) a wiz with electronics. And in such a guise, he made a wild, pulsating and enervating sort of glitchcore that even survived the PA blowing up. Everything was precise, calculated and determined with the set – almost bloody minded in its execution; but there was also a cavalier quality to the music, the man's a bit wild at heart and he wants to tell you about his dreams and hopes for the future. Nothing seem to ruffle him or knock him out of his stride, and the air of utter imperturbability increased when he whipped off the bobble hat and shook out his wild straggling hair like some old raver. So strange stuff, but interesting and very, very good,:we bought the CD, so proof of sorts I suppose.
Top night all told, and after a while we forgot how late it was.
Seal Of Quality http://glineproduction.com/seal-of-quality
The Bent Moustache http://www.thebentmoustache.com/
Mordor Crew http://mordorcrew.noblogs.org