Wooden Constructions are great and if you don't get a grip on that concept, then the doors to the garden centres up and down this land are waiting for you, beckoning to you, happy to put a warm, schmaltzy, all-enveloping arm round you and propel you round their sensory death-spaces.

Wooden Constructions are great and if you don't get a grip on that concept, then the doors to the garden centres up and down this land are waiting for you, beckoning to you, happy to put a warm, schmaltzy, all-enveloping arm round you and propel you round their sensory death-spaces.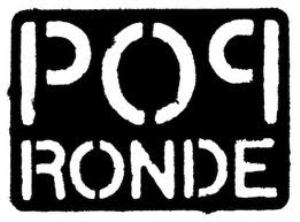 Delft 27/09/2012
I'm sitting in the wrong venue. The Koornbeurs in Delft had Space Siren and Rats on Rafts in this very room last year, so where's the audience and bands? I know I'm early but… what, the gigs are next door? OK. Baffled, looking like a right nobber, I pop next door to see April mooching around outside, waiting to set up. I repair to their dressing room and bump into Gover from Wooden Constructions. Good times await. Despite the early set back I pick up: beers are one whole euro and the line up in the Koornbeurs is stellar, and somewhat of a showcase for that great Dutch label, Subroutine. Wooden Constructions, WOLVON, April and elsewhere, Nouveau Vélo. Wowsers.
First up are April who nervously tell me that they're going to play all their new songs tonight – to add to their trepidations they don't have time for a sound check: Jesus, there's a bloke walking around nonchalantly carrying a ladder, talk about last minute… Jorn nearly sabotages the start by knocking all the mic stands off the stage with his bass. His wild, angular movements are severely curtailed and he has to content himself swinging round in a careful manner like a giant version of one of those tiny figures on a musical box. Sound issues bedevil the band throughout, but yet again they prove they have a certain something about them, their new songs sound slightly in need of a bigger sound, despite Julia's guitar sounding more prominent and grittier on a couple of tracks. I suspect that's down to the pitiful sound they get on the night. The new songs also sound more complex, more introverted than the big, open hearted torch burners that we know and like: Always A Good Night sounds assured and incredibly sussed in comparison. But they are striving to do something different, and always seem to be in a constant state of emerging. And this is a good thing. They never seem to be sitting still and for them to do all their growing up in public is not only brave but the correct thing.
Then we have Wolvon, fresh out of the back of the van from Groningen and ready to rock. Wolvon are such a great proposition, their easy going approach to setting up and just playing belies a fierce belief and almost unsinkable confidence; they have the sound and the songs and they know it. But for me, the great secret weapon that Wolvon can use is actually not of their making. It's fairly well established that your average Dutch audience won't stand too close – preferring a good 10 feet distance between them and a band. This gives singer Ike room to throw himself around like a maniac, and, wild eyed and long of limb, he stalks this no man's land, looking to attack anyone who should come too close. This tactic is incredibly effective, especially when their more abrasive numbers get an airing. Their new single, Unicorny, is a thing of wonder too, live it sounds like the world is about to crash in on itself. Wolvon shake up the Koornbeurs, everything gets multi-coloured and frazzled and a bit blurry. After a wait (for Moke to finish playing outside) we get the mighty Wooden Constructions. A fine band and one blessed with a keen sense of rhythm and presence, they seem to have somehow slipped through the cracks these past few months. They don't have much image in Holland, it seems their studious, "music first" approach seems to mean people don't latch on, which is a ridiculous thing given how fucking good they are, especially as a live act. This night sees them in prime form. They have a smoky sensuality about them: building round the snakelike rhythmical patterns they make – Gover running the show with his brazen but intensely disciplined, mannered dancing. What makes him fascinating to watch is to see when he will finally win the audience round and get them to dance: this element of confidence and concentration is really something to watch. Most people aren't watching; rather they're dancing in a convivial, surprised manner, showing that sort of elation you only get when you see something really good you'd not seen before, not expected to see.
A good night, but then these are three good almost great bands.
Utrecht 18/10/2012
I miss Nouveau Vélo in Delft but see them play their yearning songs in Utrecht where the packed student crowd sort of enjoy their winsome, hook-laden pop. The sad thing is that the delay which really gives their sound that something extra is sort of muffled by the fuggy atmosphere of the boozer. They still play a rocking set. And it's good to see a relatively unknown band pack a pub on the outer ring out: Utrecht does seem to give Popronde a big push, yes it's a big student city but it's noticeable how many people are out and about: and this with the Tivoli hosting the Levellers too.
Leiden 08/11/2012
In Leiden we wander aimlessly round trying to find leaflets about Popronde (we can't find any, anywhere), before being ushered into a silent and well behaved Meet and Greet where young troubadour Daniel Versteegh is to play in front of some state broadcaster. Versteegh is an equable, affable soul, and his voice and guitar plucking skills are pretty sensational. His voice is brilliant actually, the control in the upper registers is truly something to hear, a sort of smoky but very masculine alto allied to a very open and pleasantly understated manner of singing is some combination. I just wish his lyrics were better and didn't have me squirming with boredom and no little embarrassment. (Ok, one track didn't do this, a track called, I think, Julie Come Home, which was simple and beautiful). Maybe it's time to rant here. I was certainly driven to ranting about it as I walked away to catch the Nouveau Vélo. And I'm ranting because the lad is talented and I feel the lyrics undermine his talent. I feel angry FOR him, savvy? But feel free to laugh or disagree or wildly misinterpret. Here goes.
A good singer songwriter must appreciate that their craft is primarily about the message. They must. The lyrics, propounding whatever point of view, have to capture someone's attention and imagination. I also appreciate that this crusty old Englishman may have had his nose in too many books (and look where that got Larkin et al) and listened to too many wordsmiths like Buchanan, Cohen and Drake but, but… It can't be just me can it, that's getting sick all these similar lyrics. Like those awful pretend 2d digital cartoons in primary or baby colours that are supposed to look "cute" and advertise bank loans or smart phones, there's a trend to populate songs with the same kind of phrases over and over again. I appreciate Versteegh's language is Dutch, and wish I could speak Dutch like he speaks English, but has no-one noticed how bloody banal this small overused pool of lyrics used in these sorts of songs is? Are these the ONLY words that scan??
It may be a Dutch thing too: too often it's acceptable to just say "mooi" (beautiful) or "leuk (nice) when listening to a nice song. Especially a nice guitar strumming troubadour. You know, we're not in Ikea here. We're not in Henny's Rits looking at jeans. Curtains can be mooi, or leuk, as can a trip to Apenhuil. Or a cycle ride on a Sunday to see Oma. Bunging music into this general feel good bracket does that most mysterious, instant and mercurial manifestation of the human spirit no bloody good at all, you ken. Now the Dutch are, in my experience suckers for catchy phrases especially in English, which they store and use amongst their peers to show how good they are at Ye Old Engels (which they are!), and GIVEN THAT they are, it astounds me none, or very few, stop to ponder what (just to coin my own phrase here), utter operfokkingvlakkig tripe they are talking, or singing. And with THAT in mind I henceforth BAN the following words and phrases from all songs: "falling", or the classic "keep on falling", (and what on EARTH the fuckety fuck does that fucking mean??), AND "running away", (only allowed if you are on the run from the police. For public wanking).
Daniel. Look; it's not enough to come out with these sorts of words. You're fucking really talented. Having heartfelt songs about your brother for example is great and I applaud the sentiment but son, come on. When you sing about your girl kissing your chest I want you to tell me – in a manner I can believe – you then gave her one and then she gave you one, and your eyes popped out like dollops of humus on a celery stick when she gave you one, not that you had "a sensual dance", which makes no bladdy sense. What did you do? A foxtrot in your undies? Push the fucking lyrics, feel ennui's, or death's hand on your shoulder. Push yourself. Let me feel you feel your words, like you had to drag them out with a fish hook. Let me be pinned against the wall by your rapier wit. Send me in to a giddy mess with your drug-stained surreal visions like Marianne's Broken English. Be as dumb as Jerry Lee's Green Balls of Fire. Be as mad as Robyn Hitchcock's Queen Elvis. Smash me up with your vision like Barrett's No Good Trying or Drake's Pink Moon or Scott's It's Raining Today. We've all got to make sense of this living thing. Help us do that.
Where was I? Oh yeah. Nouveau Vélo. Now I haven't got the first idea what the bloody hell the singer, Rolf, is on about but I know it's good bozo pop stuff, and I know – by watching the reaction they get – that this band can make a serious inroad into people's affections. The band are – by virtue of who they are – charm itself, and they could be bloody huge in this land. Stuffed into a pub we like a lot (Meneer Janssen,) full of a bunch of old gits who (to quote one punter) "want to find music to remember our past by", and watchhing said old gits getting down with gusto to the band, you realise Nouveau Vélo are onto a winner if they get a bit of luck on their side. As usual they could be a lot louder and having no monitors and a pretty subdued guitar sound on the night means that a lot of their beautiful pop harmonies and their shuddering guitar lines get a little bit dampened in the beery fug of the pub's atmosphere. Still that doesn't matter too much as the band's long drawn out, bittersweet pop has the place in the palm of its hand. The audience love them; you can see that they have cornered some kernel of the Dutch spirit, that sentimental side that used to get release with Frans Bauer or Johnny Jordaan, and, mad as this comparison sounds, Nouveau Vélo have it. Heads nod (it just a matter of time) and people start to bob about, shuffling as much as the limited space allows. Especially when we get those long Feelies-style, Neu!-lite work outs. The Vélo have these brilliant shifts in octave allied to a quickening of tempo – Niek's guitar ensuring things never get too smooth – conjuring up coruscating, driving passages that seem to draw equally from the Feelies (and THEIR appropriation of Michael Rother's guitar on side 2 of Neu!75) or a punky, slightly buzzsaw take on Buddy Holly's rock n roll jangle. We get all our favourites from the Moestuin & Courgette EPs and we leave happy, realising that there are people who will be wondering just who that great band were in their local.
A skip and a stride up to the battered old LVC – now showing her age sadly, and waiting to be put out of her misery; (poor old club, having such a bunch of feckless, soulless, uninspired people running it), to see Wooden Constructions. Now we've already mentioned their gig in Delft, and it was great, as we mentioned… but not as great as this one. So I feel beholden to tell you that – yes – this was a great gig, a great ending for us. Truly great. Great, geddit? Good, remember that. Wooden Constructions are great and if you don't get a grip on that concept, then the doors to the garden centres up and down this land are waiting for you, beckoning to you, happy to put a warm, schmaltzy, all-enveloping arm round you and propel you round their sensory death-spaces; all the while contentedly piping out a sort of aural slush, a sort of Beyonce-lite stew of background noise where all cares are sucked away into a vast ocean of nothingness, a place where a saucijzen broodje and a kopje koffe is a real leuk thing, man. Mooi. It's yours. Buy matching colour co-ordinated clothes. Tap along abstractedly to the rhythm of life at one remove. There's no real difference between this and the bejaardenhuis. It's all yours. Mapped out. That's why it's important you get that Wooden Constructions are great and there for you. Got that? And frankly if you were at the LVC and watching Wooden Constructions put on a show of wit and real fucking presence, and not getting off on it, or even abstractedly enjoying such a performance then what the fuck are you doing being here at all? The band were astonishing, singer Gover going through the whole gamut of sub-Jagger gyrations, a truly vein-popping display: pulling wondering frowns, gurning, screaming and huskily intoning some wisdom/nonsense, all the while backed by this huge pulse of rhythmic sound, a sound that would get most tribes out on the the Veldt, looking for a fucking dust up and a ritual slaughter of the cattle, savvy? In the LVC we get a sort of head nodding acquiescence then, led by three nervous girls, who should be awarded the freedom of Leiden, the crowd start to shuffle and then dance and then finally dance wildly. Dance, Holland. Yes you can do it, you don't need to pay taxes on it nor do you need a deejay to administer to your rhythmic needs; bands can do it too. Look: Wooden Constructions have made one of the most interesting, pulsating records of the year, a dark gnomic brew of danceable music that isn't too far away from primetime Talking Heads: and they can play it masterfully, they give. They give. So take it.
After that we repair to have a chat with some old chums (Leiden being home and one we love) and suddenly, amongst all the small talk, find it's 3am. These things happen.