The changes of speed are, in a way, symptomatic of the fact that the music just can't sit still; and this restlessness is in everything, the lyrics, the way the sound switches from track to track, the way vocals are presented…

The changes of speed are, in a way, symptomatic of the fact that the music just can't sit still; and this restlessness is in everything, the lyrics, the way the sound switches from track to track, the way vocals are presented…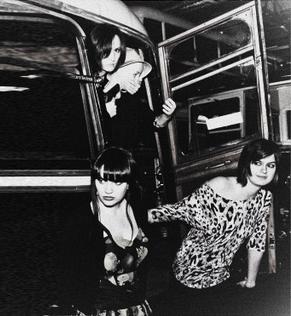 I do like this record, but it's one that you could quickly look over or initially dismiss as just another energetic, punky band. Nothing to do with Manchester's Mr Heart who (as we shall see) have made something very good indeed, but there's a seemingly limitless number of acts who ply their trade in a similar manner. And sometimes it feels like some dreadful plot has been hatched, with Humanity and all that is Sensitive and Gentle finally being overwhelmed by a conveyor belt of bass-guitar-drums combos.
And The Unspeakable Mr Heart definitely does need a few spins, as a lot of the LP's qualities are those that need your time. Though it's not really background music – it's very confrontational in its way – a lot of its essential personality is hidden just below the surface. So you need to pay full and undivided attention to some remarkably intelligent lyrics and arrangements.
On the surface, this is scrawny, glittery punk often played at a fierce lick, and occasionally speeding up or slowing down mid track, which can initially sound very messy indeed. But I have to say that the the looseness of the drumming is one of the elements that make this record great. You know, there's always the danger that the rhythm section can sound like some precision tool, like a machine… which can sound incredibly boring. Here – especially on the opener, Mr Heart – it freshens up the record no end.
The changes of speed are, in a way, symptomatic of the fact that the music just can't sit still; and this restlessness is in everything, the lyrics, the way the sound switches from track to track, the way vocals are presented…. It's mercurial, intelligent, and often funny. Also enjoyable is the way the songs are delivered; there's a relentlessly inquiring intelligence behind all of this this, as well as a very refreshing, slapdash attitude to getting the message across. You're just not sure what is coming, with the vox, it could be some softly delivered reflection, some carefully phrased put down or blue murder screeching Valkeries-styley as in The Hide, which starts to get very Nina Hagen at times. So we can safely say that Mr Heart are cheeky, and not afraid to mix it: Twisted Lamp seems to take the riff of Jane's Addiction's Been Caught Stealing and add some psychedelic whimsy, courtesy of The Soft Boys. And as well as being a very sharp social commentary, Riot Song is a tremendous strut, in love with that scuzzy Velvets/Modern Lovers jangle.
And some of these songs are just brilliant; Lynchpin, the aforementioned Riot Song and Dynamo are classics, full of personality and vigour, whereas Vacuum Head is a tremendous track to wrap things up with: the sparse, sub-Siouxsie chant dissolving in a wall of noise.
Great stuff, glad I stuck with it.