It's a small thing I know but there's something incredibly satisfying about stacking all my CDs up and looking at the spines, seeing the precision design… they all look so cool.

It's a small thing I know but there's something incredibly satisfying about stacking all my CDs up and looking at the spines, seeing the precision design… they all look so cool.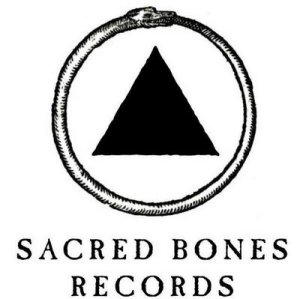 http://www.sacredbonesrecords.com/ https://twitter.com/sacredbones
The last couple of years or so have seen some remarkable releases on Brooklyn's Sacred Bones label. We saw them talk on a panel about "the future of labels" or some such serious thing at Incubate and dug their freewheeling approach which was a heady mix of American Gothic and hard-nosed, "grid iron" hustle. It's fair to say we liked the cut of their jib. We were already big fans of Moon Duo (we slavered on here and here about their stuff), but I hadn't really associated the label with them, getting our promos from a German label. And funnily enough what made me sit up and take notice of Sacred Bones wasn't the fact that Moon Duo were on the label, but this strong aesthetic with the artwork, as the design of the covers is incredibly clean and confident. It's a small thing I know but there's something incredibly satisfying about stacking all my CDs up and looking at the spines, seeing the precision design… they all look so cool. Further investigation showed the span of their release schedule seems to point to a label that puts out what it likes and worries about whether it's relevant or cool later, if at all. So we thought we'd pick out 6 releases, (though what with Vår and the Eraserhead soundtrack LP we could really run amok here), and give a quick overview.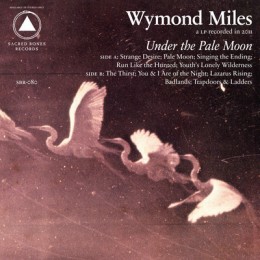 Wymond Miles – Under The Pale Moon
We reviewed this last year: and in retrospect, and after a couple more listens for this review, it still seems a slightly strange and very solitary LP. Despite the very attractive, elegant rock contained within the LP gives off a suggestion that its author isn't really comfortable in the company of others, and may start something if he's pushed. (Actually that might be unfair, a bit of digging showed that Miles recorded this record after a bosom pal and some of his family passed away).
This fact may also inform a feeling that there's a strong feeling of future past, of looking both ways, of being in a space that's not really of this world. But it would be wrong to make it sound like some dirge; despite all the declaiming, there are some absolute belting songs on here, especially the weepies like Singing The Ending and Youth's Lonely Wilderness– two veritable tours de force of elegant chords and somnolent vox. So, passionate (there IS a fair whack of emoting to deal with here) but still very prickly, it's a damned fine record and one that's got a certain emotional durability, a certain je ne sais quois…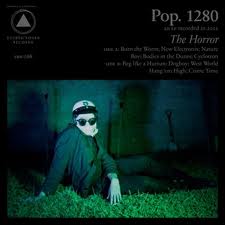 Pop. 1280 – The Horror
Something we should have bloody well reviewed last year is The Horror by Pop.1280 which is an astonishingly tough record, punk as fuck and full of both latent animal strength and no little wit. Despite the fact that it's darker – and longer – than a night out with your mother at your local youth club, there are some absolutely enervating moments here. The opener Burn the Worm is just a crushing starter, treading on anything that gets in its way, and setting the template for a whole gamut of bristling, metallic work outs. Take Dogboy: now I've not made up my mid yet and I'm certainly NOT going to stand by what follows, but whilst it's certainly a fabulously theatrical piece of glittery and very punk camp, I'm undecided whether to call it out as a drawling take on Fodderstompf or a bunch of moody Goths trying to play a Fall track in a half arsed manner. Whatever it's fun, as are the sludgy cine noir stomps like Bodies in The Dunes. It's like the sort of record that used to come out of America round the early to mid-1980s; tough, uncompromising, and ridiculously grand in scale. Fuck knows why but it times, tracks like Nature Boy remind me of some weird and queasy collision between Pussy Galore and a groovy, snaky Ministry. Like a lot of artists on Sacred Bones they seem an act that thanks no one very much for anything, thank you. And you need a cup of tea and a biscuit afterwards.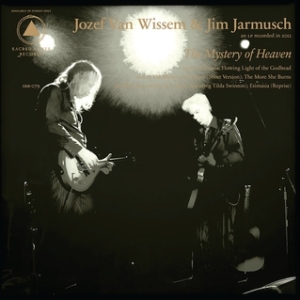 Jozef Van Wissem & Jim Jarmusch – The Mystery of Heaven
Something definitely more cerebral is this LP, one that is borne of a collaboration that has some standing and empathy. I'm not going into why Jozef Van Wissem & Jim Jarmusch want to work together, but whatever it is they seem to cook up something remarkable with The Mystery of Heaven.
A beautifully concise record, not in terms of length, but certainly in terms of execution and in seizing the moment; this is one of those rare LPs that works in pretty much whatever setting or climate the listener chooses. There's something very dry, and spacious about the whole thing, tracks like Flowing the Light of the Godhead betray a mix of crisp academic precision and total moody, slothful abandon. The LP sort of comes on like other collaborations that tried to lift the bar, like Tony Conrad and Faust's LP or a more sonically abrasive, abstract take on Church of Anthrax (it doesn't really sound like the later at all but it shares the same sense of remove, of deliberation). It's also got something of a chamber folk / dark folk feel with the lute on the title track: a bit like a stretched out, burnt out Witthüsser & Westrüpp vibe. And although seeing bloody Tilda Swinton may give a sense of unease, the track she recites on, The More She Burns The More Beautiful She Glows is absolutely killer, her diction a perfect counterpoint to the screaming, groaning feedback and the surprisingly brisk lute part. (A side thought – not really for now but… it always feels like some takeover of our own imagination, an appropriation or a consolidation of space and power when a famous artist from another genre muscles in on a cool thing like this, but enough paranoia.)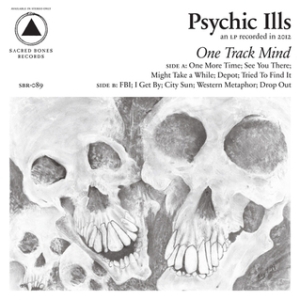 Psychich Ills – One Track Mind
This is a tremendously slack record, it seems to do absolutely bugger all with a total freedom of conscience–the opener One More Time is a gross misnomer, there will be no more "times", as this track can't be arsed getting out of bed to do anything. There's something very enjoyable hearing a band plod on with the aid of about 4 chords and a commitment to sounding zonked out. Depot does try to raise a sort holler, but then thinks better of it: the slight modulations in (the ever decreasing) tempo are cool, the band seem to have just decided that no, it's better to not rock any sonic boats. And it's a very witty LP in that way, if it tried for one moment to take itself seriously or think it was "the shit", you know it would lose the vibe, the whole thing would just fall apart at the seams. Funnily enough it reminded me of Royal Trux at their most horizontal. And lo and behold Neil Michael Hagerty is on here too. Tracks like Might Take a While or I Get By are like folky, hippy, "feather in your hair" takes on Speed Glue & Shinki –albeit without any references to getting wired on speed or any idea that this lot would have the energy to set their drumkit on fire. Even the titles have something of that slacker / Generation X / futen feel; I Get By, Drop Out, Might Take A While… by now you should get the picture. Oh Yeah, before I forget. All Heads should have this LP, if only for the cover as it's by Powell St John.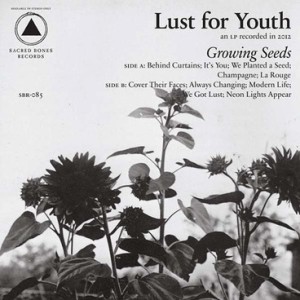 Lust For Youth – Growing Seeds
This is a tough LP, and very, very simple too, initially that was a bit off-putting, I'm all for bonehead simplicity but I just couldn't see what this take on the one fingered "futurama" of Being Boiled era Human League was going to do for me. But there's something utterly unrelenting about this record that makes it a fascinating release. And eventually I gave up trying to tackle these tracks as individual entities or listening to the LP in a standard way. Taking it as a large slab of noise works a lot better; as there's absolutely nothing to take from the vocals – apart from a sense that all's not well, or that the singer's got a few issues – and after a while even the basic, fuzzy melodies work better as a side issue too.
Having said all that though, the record does remind me of something that Plurex or Crepscule would have stuck out round 1980-1. We Planted a Seed, for instance, could be a pissed up Moebius and Plank work out (one that they scrapped for sounding too harsh). It's self-confident and despite the fug and the hiss, clear sighted in what it wants to do as well: not looking to be arty or clever. And that is a big relief. Oh yeah, the Blue Monday riff on It's You is also pretty funny. So it's odd, self-contained, ugly, but durable like some old two cylinder car chugging along truculently stopping any overtaking. I'm sure I've heard this before, maybe it had a European release: no matter.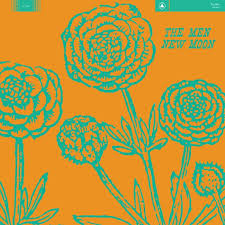 The Men – New Moon
It's funny, we reviewed the Men before (reviewing Open Your Heart here) and as with Open Your Heart, I find New Moon a bugger to write about, in that it's just such a good, down to earth, feel-good record that I'm content to play it and worry about other things than trying to explain why I like this record so much, when normally my high heels wouldn't be prancing within a mile of this brand of guitar rock. I mean they must be SICK of these sort of semi patronising, warm and empathic reviews by now, I'm sure the Genesis-style rock opera is just around the corner…
The new LP starts with Open The Door, an opener that sounds like a particularly half arsed campfire song, which may be a big fuck you to anyone who thinks it's going to be good ol' boy rock from the off, but fine. That it does rock is undisputed, a dash of MOR and a whole set of phrasing and flourishes that wouldn't be out of place on a lot of big stadium LPs, or tough old bands who keep fun firmly on the agenda, like Eddy Current Suppression Ring or Hallo Venray. The great thing is that the band never gets cocky or full of bluster but stick to essentials, it's a stripped down sound though a certain sentiment is never far away. And tracks like Without A Face, I Saw Her Face and I See No One are great, just great, slashing chords and a cavalier way with the rhythm: the latter is absolutely blistering and gets into Saints territory at times, and that is never, ever a bad thing.
So there you have it, plenty to explore, plenty we didn't write about, but the listening in bit is down to you now.