The sheer intensity of Swans is always a wonder to behold.

The sheer intensity of Swans is always a wonder to behold.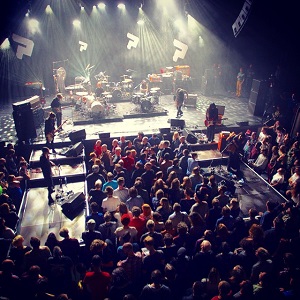 Pic courtesy of Erik Luyten – All rights reserved – www.erikluyten.nl

Flush from Le Mini Who, and freewheeling somewhat after ace Irish pub O'Leary's, Incendiary & Palz decided to hit the Bo Ningen / Savages 'Words to the Blind' stand off in Vredenburg. Before we do, we had a fag and got talking to a large fella from Flanders, who wanted to talk to us about lumberjack shirts and old people in Brugge. We got the feeling that it could be one of those nights. Into the Ronda hall we trooped; where we saw both bands facing each other on extended podiums whispering at each other in what sounded like dreamspeak; with a whole host of photographers in between. It must be a film maker's dream, this gig. But is it a critic's? Well… on the impressions formed here I think it was a brave attempt driven by a clear if steady plan (keywords are: loud, quiet, dramatic); but the live results, certainly when viewed from the back of the room, gave the impression that it was a project which had some way to go before being fully realised.
Think about giving an impression for a minute. Hold onto it.
This is what we got, impressions from both bands. Savages, by dint of a very (British?) sense of theatricality, cut all these shapes and attitudes (with Jehnny Beth throwing her hand in the air, crouching, declaiming) that suit actors, or rock bands in a small room rather than this sort of widescreen kick off. Bo Ningen always threatened to fire up their spaceship and disappear off somewhere else but never really did. You always got the feeling they were dying to grab Savages and smuggle them into their sensual Longhair world, but couldn't work out how to, and had to content themselves with a lot of hair tossing and gyrating. As such everything felt a bit scattered, though there were some really tremendous moments – one wailing, tripped out section coming on like Die Welt on Walter Wegmueller's Tarot. Get in.
Where the two bands did click was with the drumming; where Fay Milton's stealthy, menacing patter was a great partner to Monchan Monna's regulated space thump. They should build any music or future shows round that base; but I'm not sure whether that would suit the musical 'agendas' or ambitions of both acts. Oh well, a girl can dream. In a perfect world (ho ho) they should have about 5 or 6 more stabs at it, or a full year of gigs, who knows. And I bet an edited video of this gig will look amazing.
Time to take in Sharon van Etten, which was a fun and easy going gig but something we couldn't settle into, despite her freewheeling charm. Never mind, I can say it was really great; and that's all I can say about it. One of those gigs you enjoy without being able to describe. We decided to do what we had decided not to do all week, which was watch Wire, who I've seen a lot both in the late '80s and in the Netherlands, especially since that blistering show in EKKO in 2006 or 2007. I always say this: 'ach I've seen Wire I don't need to see them again', then go and see them and get blown away; again. How the bloody heck do they do it? They are masters of stealth, steadily and unobtrusively building up a groove and catching you out with smart about turns, or incremental shifts in volume (Drill being onesuch barb here). For those who like their onstage theatre, there's always the latest episode of the affable 'stand off'* between Graham Lewis and Colin Newman to take in. Like regulars in a pub, each with their own corner stool, they stake out their own territory whilst joining forces to lay the ground rules for the other revellers. And the endings to their gigs are always blistering; on the night we got a double punch with the classic 'oldie' Map Ref. 41°N 93°W followed by great 'newie' Doubles and Trebles, which ended in a smoldering avalanche of dark, molten noise. Fucking genius this band are, true legends.
*I'm sure they get on just fine.
Incendiary then did a lung bursting sprint to watch Ought at de Helling. Ought are a fucking brilliant band; we were blown away by them at Haldern earlier this year. Thing is their debut LP, while being a truly great and original work isn't easy to get. It's the total opposite to the one from the band they played the EKKO with the previous night; that new Viet Cong LP which (despite its bluster and noise and spikiness) allows you so many entrypoints and safetynets. Ought, by contrast, are obtuse and demand you think as well as feel. This has played against them I think, certainly in the Netherlands where, on one level, people just want a nice record to get down and groove to (such as War on Drugs). No; Ought demand you get involved in their trip in all its hyper-attentive detail. This exhaustive nature of their scene is best taken on board live; then you realise how brilliant they are. They are both workers and teachers in the manner that Talking Heads employed, throwing all sorts of suggestions and instructions during the gig. It's mainly through the way the band set up this blank canvas for singer Tim Beeler to go to work on. And work he does; pushing the audience to think and to get down; all the while the band patiently building up a steady groove. The gig is mind-blowing, patient, savage at all the right places (Today More Than Any Other Day) and sometimes chiming in the way only the best pop can (Clarity!). The ending is brilliant with an extended take on Gemini; Beeler even chucks that line from the Men Without Hats' Safety Dance into the mix at the gig's ending, before the 'dance track'. 'You can dance if you want to, you can leave the rest behind'. It's a phrase that sums up his band. Then a bit of The Vaselines which was OK, and funny in places but it made me think of old times a bit too much. You know, watching the Shoppies in The Riverside with 15 other mopers, or something. I sort of prefer their new songs to their old; and they are smart and cool enough to take the piss out of themselves and their situation, but ach… I was just not in the mood to take them in live.
Another lung burster meant we got the last track of Swans in Vredenburg Ronda, which was – predictably – outstanding. Gira ran the place like a cowboy driving his cattle on; there was no time for water or grazing, the audience were bullwhipped over that hill and if you fell, that was your look out. The sheer intensity of Swans is always a wonder to behold. I once (back in the Jurassic) saw them do an 'acoustic' show that was louder than most gigs. And their gig in Patronaat a few years ago was a total assault for mind and body. The packed hall were in bits by the end, staggering out. Surely we needed some balm for our shattered nerves.
High time for Tim Hecker, who was kicking off the 24 Hour Dronefest in Pandora. Hecker's music is always a joy to take on board; and I remember the last time he was here at Le Guess Who?, when he played de Helling. Then, we passed out to his dreamscape in a sparsely populated hall. No chance this time; as Pandora was packed, sweaty, buzzing even; and this time Tim Hecker seemed to be up for a sort of rock out. The set was really intense in places; waves of compact sound jarred with, or smashed against swift, rapier-like passages of white noise. These may have been employed to clean the palette but had (in our case at least) the effect of wiping you out even more. Wow, this was a heavy trip. Maybe the kick off of the dronefest needed a sort of statement; and maybe a lot of the spirit of Hecker's last LP (which is much more upfront and 'glam' than his previous releases) was influencing the gig. No matter, we needed to get out for a while to sit in the foyer. A quick return for the Dronefest DJs wiped us. We needed a sleep, but we vowed to get back early for more, as we had a feeling this could be a trip that was off its head.