The place just explodes and I'm reminded of my younger self watching the Stone Roses or The Pale Saints when both enjoyed their brief moments of extra terrestrial illumination in the late 80s. That good, no shit Sherlock.

The place just explodes and I'm reminded of my younger self watching the Stone Roses or The Pale Saints when both enjoyed their brief moments of extra terrestrial illumination in the late 80s. That good, no shit Sherlock.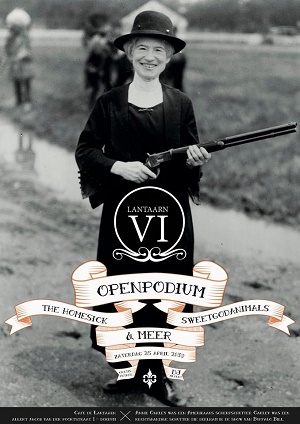 Sometimes it's not about the gig. It's about everything else. Originally I was going to write about the Rats on Rafts tour as one long read, including thoughts on the burning, brazenly powerful gig at Bitterzoet, and the rabble-rousing fun of the V11 opening party. But sometimes your surroundings are the things that determine the copy. So I'm going to write about being in Friesland watching Rats and The Homesick; Dokkum and Leeuwarden to be precise.
Friday 24/4/2015
Apparently Leeuwarden is on fire. Or something. There are lots of police and ambulances and fire engines about. But whatever has happened hasn't reached the tranquility of Markies special beer bar, a cosy and friendly spot where Incendiary have set up camp. In fact it's so cosy and friendly a place it's hard to tear ourselves away to the venue. Said venue, Asteriks, is in a prison that's been converted into an artists space. It's suitably forbidding, and it's strange to see the prison wings and cells converted into funky shoppes. The Asteriks stage seems to have been set up in the old chapel or meeting hall. To get there you have to trudge up a stone spiral staircase, the steps worn down by years of constant use. The gloom of the building's old role still hangs about the place like a mist on a marsh, but everyone here is pretty cool and friendly. We set up the deejay booth and watch the soundchecks. The sound in here is booming, bass heavy, and seems to come in waves. One thing is certain; it's going to be very loud.
The night has four acts for a fiver, which is surely incentive enough for a decent crowd, which slowly materializes. First up are "legendary" Frisian punks, It Dockumer Lokaeltsje. I'm stick "legendary" in brackets because I know next to nothing about them, but I'm happy to go along with the garbled enthusiasms of my older Dutch punk friends. Friese punk is a first for me, and I suspect for you, the reader, too. After boring those present with old Faust 72 tracks we settle back to watch It Dockumer Lokaeltsje. One thing is immediately apparent. It Dockumer Lokaeltsje are really fucking good. They create a sort of weird, straining, squealing racket that somehow blends the angular flounces of the Neue Deutsche Welle with the bone-shaking blurts and electric shocks of NoMeansNo. The best thing, (as in the REALLY best thing) is the way Frisian sounds when yelled out in punk songs. It sounds ace, a rich, expressive language that also has this aggressive edge. I can't understand a word of course but you get the feeling that this is essential stuff. Now, I know this makes me sound like some old boring git who collects noises from the deepest, darkest rainforest and then evangelizes about the primitives to my urban pals, but it really felt like it all meant something. We get some "comedy" covers (presented in the manner of Toy Dolls' appropriation of Nellie the Elephant) including a great take on D.A.F's Der Räuber und der Prinz. Fantastic stuff, and I really need to check this music out more.
After some more tunes played ridiculously loud (there's no mixer or monitor in here, so your deejay just turns it up to 11, Nige Tufnell style) we get Venus Tropicaux, a three piece from Rotterdam. I'm sure I've seen them before, called something else. No matter, I like them as they have this utter contempt for everything, probably everyone in the room. Where It Dockumer Lokaeltsje looked to communicate, Venus Tropicaux look to lecture. This is music for the oppressed workers to do their warm ups to. The singer screams and ululates through a short set of hook-laden song shards which are very appealing. I suppose you could use bands like Delta 5, BowWowWow, Maximum Joy or The Slits as a reference (mostly through projection of "attitude" and the attempts to make fractured, warped pop), but the comparison doesn't go too deep. Rather the sound is a shimmering, glistening one based round a clever, pattering drum sound and very harsh clashing guitar. There's an element of Babes in Toyland too; albeit without the Babes' raw, physical howl. The room is confused. Some get it but get freaked by the fact that the lyrics are impossible to decipher. And by the fact that the band aren't that bothered in making friends. It's enervating stuff, regardless.
The Homesick are up next; I've only seen them in the Randstad and Groningen so I'm interested to see if their act (a mix of cool, deadpan charm and Scooby Doo silliness) gets rearranged on home turf. And there is a change, even though they don't seem to do anything markedly different. They seem tougher, more focussed and determined. There's a no-nonsense thump to the night. Their opening two tracks (Hyperventilation Baby, and Stereo Lisa) normally quite a playful opening pair, are weird and sinister at Asteriks. These Josef K-like deconstructions of pop with catchy loose ends are thumped out, making the strange about-turns in the tracks sound menacing and somehow really exciting. They have also some brilliant songs; and if the scally garage of Gucci Gucci isn't a hit then I will eat my hat. And here, in the booming, cavernous Asteriks, with Elias screaming out his vocals, The Homesick start to sound like an unholy mix of Texas Fever era Orange Juice and the 13th Floor Elevators; a sort of growling, howling reaffirmation to the best, most healing things in alternative guitar music.
Before Rats, I play Stereolab's most annoyingly arty track, Animal Or Vegetable (A Wonderful Wooden Reason) by mistake and Asteriks loves it. Even the bit where it goes backwards. I take this as a good sign, The Homesick having reduced everyone's emotional intelligence to a porridge of thoughtless, carefree happiness. Rats on Rafts though aren't looking for affirmation from anyone. Quiet simply they mash everyone's heads further with a gig that's off the richter scale in noise and attitude. This tour has been the best. The band have been on fire; mixing an evident happiness in playing with a relentless determination to go as far as they can. What's more impressive about this particular gig is that Florian isn't here (a long overdue operation on a nerve in his left hand); his place being taken up by The Homesick's Jaap. Jaap whilst a different player (different, flatter strings, softer and more precise playing, more though his fingers that Florian's raw, wristy, expressionist style) fits in pretty damned well. And anyway Rats are so good that quite frankly very few notice. The guitars take the lead, Aroud's rhythms taking up Joris's beat and giving substance to Jaap's precise playing, and David seeming more expressive and direct in his lead role. There's something about them now that just screams "great band"; they seem to be tapping into an alternative message that can educate and illuminate, the sort of space that just happens when bands find their true path. Who knows how long it will last? The best part of the gig is the mid section of Powder Monkey, Last Day on Earth and Jazz which is an absolute riot of texture, pace and shimmering white noise. The end (1-6-8 Machine) is also a chaotic affair full of yelling and running and a quite insane moshpit that looks like a comedy Wild West bar room brawl. It's an outstanding night. After this we get back to Markies and celebrate like hell. This Leeuwarden place rocks.
De Lantaarn, Dokkum 25/4/20105
The next morning after finding a ridiculous amount of vinyl at 2 euros a pop in King Kong records, looking at Mata Hari's statue and walking round the pretty old town we leave Leeuwarden and catch the 50 bus to Dokkum, bowling through the flat, wild and (strangely) clean countryside of Friesland. Dokkum's a pretty place, too; small, unobtrusive, but also pretty self-reliant and tough. The place was a fortress after all. After a brief walk about (just to say, yup, we've seen Dokkum) we saunter over to the venue, De Lantaarn, passing a Father Ted-style funfair on the way.
Quite simply De Lantaarn is paradise. A snack bar annex ensures everyone's favourite bar room / and deep fried snacks are available; as well as a range of meat & chips dishes "from around the world" and a large choice of burgers; some looking, quite frankly, on the verge of obscenity/fantasy in terms of size and content. After negotiating one of the latter foodstuffs, (accompanied, we may add, by a HEAPED plate of chips) and getting a quick sightseeing ride in an Unimog courtesy of The Homesick's drummer Erik(don't ask) we settle down and watch the locals (young un's in clogs and Heavy Metal t shirts, or golfer caps and Quick Boys Dokkum tracky tops being the sartorial mean) quietly sup and smoke away. Soon the bands turn up and set up starts – surrounded by bemused football types and people just out for a quick – and loud – post-work drink. I'm deejaying on a table next to the speakers. Oh bugger. Still, once stuff gets settled we start playing groovy African nonsense that people actually quite like. Them Frisians seem to dig their funk, regardless of provenance. I thought Heavy Metal was the law up here.
First up tonight are Venus Tropicaux, who, if anything seem to be more confrontational than ever. Singer Shelley looks like she's going to put the whole audience in detention for even daring to watch the band. Their set (like last night's) is a fifteen minute star burst of clanky, shimmering guitar shapes and cod-operatics, pinned together by some surprisingly subtle drumming. Those watching like it in principle, but seem a bit bemused. You see, the room by now is filling up with lots and lots of Young People who are at odds with the Tropicaux's existential sneer. After a while things feel like some weird time-warp. It's like being back in the teenage discos of the 1980s albeit with (predominantly) blonde kids with teeth that could bite through an onion in one. But these are lads and lasses who have none of the Randstad hang ups or pretensions. They're a great bunch, and we have fun all night watching them having loads of fun.
Many are here to see local band SweetGodAnimals who lay down this (surprisingly, given the racket in the bar) quiet and precise pop. It's ok at times, but I can't really get a handle on how reserved it feels, despite the occasional nods to Can/Stone Roses (the singer sometimes tries to tap into a Damo/Brown style croon) and the odd funky jam. It's very mid-60s in terms of its charm, and – well – naivety. Regardless, plenty dig. Then it's time for Rats – again with Jaap – who play an absolute blinder. They smash through every ceiling tonight; Jaap seemingly more confident in terms of laying down Florian's bass lines, and Arnoud really coming to the fore and leading their charge, his subtle and driving guitar lines giving an urgency to the sound that sometimes gets lost on their brilliant, deliberately disorienting and spooky LP, Tape Hiss. The highlights are an absolutely smashing, crashing Powder Monkey (which nearly achieves orbit) and the brilliantly snakey Zebradelic, a track that has grown immensely in the last year or so. Zebradelic sounds like some beefed up Count Five track, with extra drugs on the side. It sounds superb here and acts as a sort of wry, lightheaded counterpoint to the band's grinding, relentless urgency. Once the usual Rev. Eugene Noordensteen duties are dispatched (I suppose I can come clean now about the fact that I'm the voice at the beginning of 1-6-8 Machine, and sometimes called upon to carry out my rant live), I jump back into the crowd and watch Rats pummel the hell out of everything with the rest of the track. This is a superb gig and though not everyone is here for the band, the amount of curious looks they get from the bar area is testament to their emotional and musical power.
Last up are Dokkum's finest teen/tween trio, The Homesick. There is something about them at present; they can do absolutely no wrong. When they really hit form (the Subacultcha 10 year gig and here) they are pretty much the most exciting guitar band in the country. Rats may be the greatest band you'll see in NL at the moment in terms of power, vision and cross-border appeal, but in terms of pure, bubblegum excitement, you have to hand it to The Homesick. One thing Incendiary loves about them is the fact that all the usual snotty/snobby/worried/playtime Randstad balls about "being in a band" passes then completely by. Sometimes you see – or sense – a dark film of self-doubt round many who are in bands here. Deep down, many seem to ask themselves "why am I doing this" (for a variety of reasons, mainly social or pecuniary). This kind of navel gazing is utterly incomprehensible to The Homesick. They have a band. Two bands, sometimes three. And a record label. Drummer Erik has an Unimog, which he bought. The very idea of self-doubt. Alien. The very idea that they can't say, do or think what they want with their music. Or the idea of listening to any of the scene's gadflies, freeloaders and piss talkers. Nonsense. And who cares if it's over in a month?
The gig reflects this. The sappy, "dwarves in Moria" roar they kicked out in Leeuwarden is here too; maybe even more concentrated because of the size of the room. Gucci Gucci is once again a highlight with its superb anger and Will o the Wisp chord changes (Elias screaming out his lyrics like he's suddenly gone demented) and the last killer punches, Cut Your Hair and The Best Part of Being Young is Falling in Love with Jesus, lead to stage invasions and delirious, whirligig moshes. The place just explodes and I'm reminded of my younger self watching the Stone Roses or The Pale Saints when both enjoyed their brief moments of extra terrestrial illumination in the late 80s. That good, no shit Sherlock.
After this more funk (courtesy of DJ Jildert – ps you still got my laptop lead?) and a bedtime of 5am that might be anytime. Not that we're tired. After a day like this how can we be?
We're going back to Dokkum real soon. I don't know why, but it just feels appropriate to stand by this surprising, enervating and incredibly creative lava flow.