This is a point where people are beginning to realise this is a really special show. I mean Neubauten are special anyway (they're not ELO are they) but this gig is sliding off the richter scale.

This is a point where people are beginning to realise this is a really special show. I mean Neubauten are special anyway (they're not ELO are they) but this gig is sliding off the richter scale.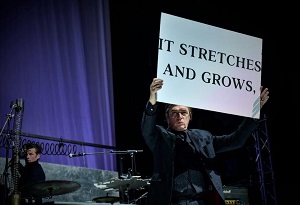 Photo: Tim van Veen
A strange start to the evening. I buy a record for my charming and generous host that turns out to have something completely different on the record to what is, erm, meant to be on the record. In fact what should have been a repressing of Sweet Gene Vincent's debut LP turns out to have a different band (70s blues) on the flip side when we play it. It could be rare, it could be our lottery ticket; what it IS at this moment in time is weird. This weirdness continues whilst navigating the multi-storey Tivoli Vredenburg. Especially when trying to find a way to the Pandora venue; which is about 4 or 5 floors up. Equal parts airport, deserted art installation and film set for Stalker AND Logan's Run combined, the whole place freaks us out. It's vast. In fact we don't get used to it at any point the whole evening. Weird chairs and sofas appear round corners. Some of the toilet signs point at EACH OTHER. The bars are like very posh, louche hospital waiting rooms; or maybe the kind of bar Brian Eno used to drink in round 1973. And it's nigh on impossible (unless you have a wizard's staff equipped with a homing device) to find the same way to go down as it was to go up.
Enough confusing architecture, we are here to see Einstürzende Neubauten play their incredible new LP, Lament, and Loop, and anything else that takes our fancy. Normally we like to avoid anything that looks like a festival headliner show; especially at Le Guess Who, which is one of those festivals that hides away its best gigs in some old cafe, or somewhere completely off the beaten track, like de Helling. But tonight is all about Neubauten. So we stick about Vredenburg and take in Fumaça Preta, who sounds like a mix of Spirit, Jefferson, Santana, and a pretty annoying cover band. It's ok but, well, not shaking our tree. We go to the bar, with the intent of getting to the main hall, only to realise we don't know how to get there. We bump into Marc, a Belgian journalist who has similar issues with getting to the main hall from Pandora. Worse for him, he's been on the Bob Hope, and is beginning to doubt whether he will ever see his family again. Somehow we get there in time for the Songs from the First World War thing, which I enjoy immensely. Did we get Ivor Novello? I think so, we do get Roses of Picardy. Great stuff, and fab for being played at muted, then very loud volume; the shellac crackles and hisses coming on like some mad Klara Lewis or Wanda Group record. See? At one level, what we experience as music never changes; however subliminally.
Actually it's time for a quick rejoinder. He won't read this, but I must point out to Mr Bargeld that there are (contrary to his later onstage claim) plenty of songs from the First War. And a fair number recorded at the time. Maybe his definition of music or a song from WW1 is something else from what others perceive it is; maybe he's talking about recordings OF the actual war, and those made in Germany alone, but in any case, for starters I'd point him towards Charles Chilton's The Long, Long Trail. Ach… More beers and it's time for Einstürzende Neubauten. Their stage set looks (with the worktable, metal buckets, brazier and pipes and wotnot) like a garage where someone's been fixing a boat. The crowd look like a bunch of gallery owners who wouldn't mind reenacting their drug youth. We also have a couple of dudes right down the front who seem to be experiencing their drug youth in this very moment; so much so that we begin to wonder whether, post Neubauten, their emotional and spiritual lives will ever be the same again. Whether drugged or not, the feeling of expectation is palpable. Eventually the band (and a chamber orchestra of sorts) saunter on to cheers. They are a remarkable looking bunch, still. Is it me or is Alexander Hacke rocking this 'Holder Czukay as biker' look? For his part, Blixa looks like a sinsister owl, or Francis Bacon. Maybe both.
We expect Lament to be played in order; more or less. And we get this. Off we go with Kriegsmaschinerie; Hacke and Unruh busying themselves with dragging chains and tools across the metal-topped table. The noise builds up with a whole load of scraping and dragging; reminding me of a line in one of John Glashan's Genius cartoons from the 1970s. Wanna hear it? Go on then. Glashan's character Genius is down the job centre, and asked what he wants to do with his life. He is offered a chance to 'drag steel hooks across a metal floor'. Which he declines. Well that's what the opening sounds like; or, if we want to be poetic, it sounds like the machinery of war (with all its outrageous appurtenances) cranking up. Blixa holds up placards that spell out Lament's cental message; that war never goes away, its a malignant tumor that reappears, one that everyone thought was removed from corpus human. And as such it's part of all of us, regardless of our peacenik intentions. Shit man, this is going to be a heavy trip.
From this opening, we get transported into Hymnen, which is brilliant live, the mash up of British and German anthems of the time treated with this sarky, ebullient, bravado. If you closed your eyes you could imagine the band as a bunch of students from some nature worshipping gymnastic Vereinigung, singing their last toast before being packed off to the Mausurian lakes. Oh, and Heinrich Hoffman's words at the end are given this Cabaret/Beggar's Opera twist by Blixa, who hisses and spits the lines about herrings and gin out like an angry cat. He could be Fagan at this point. The Willy-Nicky Telegrams are also a hell of a lot better live than on the LP. Which means to say that live, it's stunning; revving up the underlying, 'Cher sitting astride a naval gun' campness of the song to maximum. Hacke & Bargeld play out the exchange of telegrams between the Imperial cousins with this fab music hall verve. It's the expressions wot do it, guv.
The showmanship carries on in In de Loopgraaf, which is whimsy itself. There's this resigned humour and suggestiveness in the track which is played around with by the band on the stage; in a way that allows us all a bit of emotional breathing space. We even get a little jig from Blixa. The drugged dudes see this and start to mosh. This is a point where people are beginning to realise this is a really special show. I mean Neubauten are special anyway (they're not ELO are they) but this gig is sliding off the richter scale. The sort of stuff you'd want on the curriculum. We want a bit more space to suck this all in, to maybe understand our own reactions a bit more. But (just like the war itself) there's no rest for the wicked; as we're whipped into Der 1. Weltkrieg (Percussion Version) with all its layers of artistic conceit (each beat in represents a day in the war, the pipes which Hacke, Unruh and Rudolf Moser thump are demarcated into countries) becoming some kind of socio-historical spider's web which we're stuck on. It's a magnificent conceit; the historical overload balanced against a full-on, 'fill in your own description' punk attitude. At this point, we check on the tripping dudes, who are getting zoned out. Unable to keep up with any beat from the stage, they start to jerk out this broken puppet dance, tongues lolling, eyes wide and shining, Boy we haven't got to any really loud bits yet. They're going to be fucked.
Luckily there is some release in checking out the continually changing reactions of the band to the material and their instruments/appliances, which is pretty arresting to watch. On Patrol In No Man's Land is set up like a ragtime stroll, with Hacke doing this pantomime American accent, which seems to involve a special set of facial contorions. It's a grim/funny moment. Then we get things being wheeled out for Achterland; another grumbling meditation that has a strong visual side we can latch onto. Hacke 'plays' the set of crutches he walks on (no, really, the crutches are an instrument here) Moser taps shells and Blixa does the delousing duties with what looks like and an air compressor. I mean…fucking hell chaps, are you sure you covered every angle? And the Lament 'Trypitch' (my description, not the band's I hasten to add), especially the Pater Peccavi track is superb, right after the shocking metal thump of Abwaertsspirale (which does conjure up this feeling of dread acceptance, waiting for a 5.9 shell to fall on your sap and turn you into a steaming pile of porridge) the 17th century devotional completely socks you one in the solar plexus; the chamber orchestra piling on the 'Miserere' feel, wringing every last drop of compassion out of you. 'Shit' is made all the more emotional by the band acting like carriers of memory, literally bringing these old recordings of soldiers to the crowd, presenting these old voices as if being brought from the depths of the cave at Delphi. The fact that for this live gig, the old soldier voices are recorded on these hand-held mini speakers (each one of Neubauten cupping the speaker to their ear before putting them to the mic) is somehow all the more affecting. Let's hold onto that Greek theme I just mentioned; this is theatre that is as old as the hills. In a way, the band are the chorus line, lamenting the actions of the past and presenting it as a sort of memento mori. Fucking hell this is really getting far out, emotionally.
This gig really feels like it's in another dimension. People around us are quietly freaked; there have been 'loud bits' for sure, but nothing that has let anyone settle into a cosy pattern of gig watching; or 'being' a Neubauten fan. You see, there's no standard contract between band and audience going on in this show, though Blixza has been charm itself with the crowd, talking them through each piece to set the scene. But yeah. Some sort of framework is given with How Did I Die; a brilliant, rising noise, a sort of cod-funny/cod-terrible reckoning that has this feel of Bowie's 5 Years. The sound builds up, Hacke throws shapes, Jochen Arbeit quietly deconstructs things on guitar, building up this grating, wiry sound that starts to crack open the room. The pressure mounts; how did we all die? Blixa shouts at the sound guy; waving his hands around like some impressario, imploring the hapless fella to turn it up. But, just at the point when the simmering noise starts to bubble over, the band go off.
There's more to come. Back they come.
The first thing to note on their return is that Blixa's got this MAD cape on. What's Blixa wearing?? Did he nab that feathery white robe thing off George Clinton, or Dusty Springfield? Maybe, and I'm sure there's some historical provenance, though strangely, he keeps quiet about the robe. Maybe it's a visual marker for the nature of Sag Mir Wo Die Blumen Sind, which is a fantastic 50s/60s singalong, an emotional release point that triggers a whole load of reactions in the audience around us. We get whistles, claps, singing, muttering and swaying from the gallery crowd. It's a tad unhinged if I'm honest. The trippers down the front are waving their hands around like it's a Frans Bauer gig. Boy, Neubauten fans, some of them should be sectioned. There's this Persistent Whistling Cunt stood behind me, whose eyes (when I decide to eyeball him) are like that of a landed mackerel. He's nuts, he's got earplugs in and he's whistling at the top of his whistle range. He doesn't do humour. 'Hey I am having fun right?' Yes cock, but you've been whistling for about 20 minutes. At extremely irritating volume. 'Oh' but that's no problem right?' I leave Mr Mackerel alone.
Luckily all hell breaks loose on stage with a rambunctious take on Let's Do It A Dada!, a wholly appropriate addition to the set list. What with Unruh dressed as Tristan Tzara; Hacke indulging himself with a whole set of rock moves (coming on like some Bloodhound pup let off the leash) a clattering of noise from Arbeit and Moser, and Bargeld's shrieking, the room shakes. The tripping twins down the front are now lost in a sea of noise and look happy but dangerously elsewhere. The giddiness is infectious it seems; Blixa tells a dark joke about the fate of The Harlem Hellfighters, and we get the rousing, brilliant swell of All of No Man's Land is Ours which, by dint of its very hugeness, must be the end. It feels like a great place to stop and everyone's knackered but no, we have one more encore, and fuck me if it's not the 'Brechtian cabaret' of Ich Gehe Jezt, which is the highpoint of the entire night; the sight of the band making animal noises (especially Blixa) is pure gold. And the song's end, where Bargeld roars out the word 'Hitler' three times, is stunning. Spine tingling.
OK I know this review is long; and sticking it in the present tense drags it out even more, but I have to convey to you that this set was exhaustive, dig? It was amazing. Amazing. Finally I can legitimately use that word; in context, in confidence. It was amazing. Amazing.
After this Tamikrest are great in Pandora, really laying down what sounds to these battered ears like a Tuareg/Ethiopian/desert vibe (and I'm sure someone will unsmilingly correct me here) but really there wasn't much we can do, as all senses are dried out. Bleached, sunburnt from Neubauten. We come round for Loop, who are in fine form. Last time I saw Loop was 1988. They were ace, loud, messy and angry. That's what my memory place tells me, anyway. I loved their LPs too; Fade Out was always a fave, but with bands that reform, you never really know what to expect. In Pandora Loop are structured, tough and determined, with Robert Hampson running the show like he's a foreman in a factory where they've got to get the orders out for Christmas. And fuck me we get Collision and I have to hold myself in. It sounds amazing, these harsh grating guitar runs, burning rhythm and this far-sighted vibe. The rhythm section's tough as old boots too; later I find out it's The Heads which sort of makes sense given the controlled, but elemental pounding being doled out. There's a new song which sounds boss, and the gig finishes on Arc-Lite, and boy I feel about 19 again. It's great, a really great show. And did Hampson say they were coming back in 2015? Hope so.
After this we go to a disco on another floor where teens paw each other, throw up all around us and improbably, dance to a chunk of Vivaldi's Four Seasons. Are we going mad? This truly is Logan's Run.