On reflection I'd say that the day in Dudok was probably the closest you'd get to feeling the actual spirit that drives the real, workaday Dutch underground.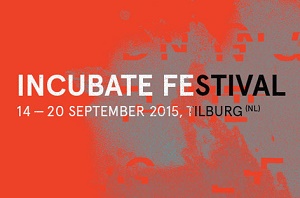 On Saturday we weren't really there. Well, we were a bit. We caught Venus Tropicaux rip up the Sounds record shop; their loose and harpy-like incantations utterly throwing some of the more existential types into a tizzy. This band could be really special if they keep all the scene gobshites at bay. We also managed to squeeze in 10 minutes of Droppings at Extase, who are another angry, scratchy band with something to say and the sort of snarling confidence to say it. Droppings set up a very intense and funny racket; the vocals balancing out the existential, Beefheartian punk clatter. But then it is time for a nightmare journey back to Leiden on the Saturday (to oversee our own night with Rats on Rafts It Dokkumer Lokaaltsje and The Jullie Mittens in the rarefied surrounds of Museum Volkenkunde).
Once back (after another bus transfer journey) into sunny Brabant we immediately take in the end of The Sweet Release of Death at Sounds. SROD sound more and more glorious and expansive as they progress, they really do. It must be all that cleansing Voorhout air. Ears ringing, we ran over to watch a few other things that didn't really capture us, and made our way to Dudok where we were hosting the gigs for our pals The Ex.
As usual with The Ex they'd  invited all their pals, regardless of whether anyone had heard of them or not. On reflection I'd say that the day in Dudok was probably the closest you'd get to feeling the actual spirit that drives the real, workaday Dutch underground*; the gezeligheid and make-do-and-mend elements, and its (necessary) acceptance of all comers. First up were The Outskirts – a duo from Dordrecht (one of whom runs the excellent Dutch Tapes nights). The duo jammed long and hard over a drum machine; at times taking off in a blur of white noise. In a dark, small, and dank club this Tom Verlaine style work-out would have sounded immense. Here it slowly circled upwards, creeping under Dudok's rafters. Still someone has to start things off and they do, with a buzz. Then we get Lean Left, which is drummer Paal Nilssen-Love, clarinetist Ken Vandermark and Terrie and Andy from The Ex. Lean Left's show turns out to be one of the gigs of the day and it's not even tea time! They are an utter revelation; taking drone's comfortable cardigan and picking out holes in the seams using a heavy new-jazz needle. Wow. Nilssen-Love is outstanding, giving the band a sort of trajectory, like some mother duck controlling the direction of her chicks. Terrie and Andy growl and splutter through a set of incomprehensible chord structures, and Vandermark adds sardonic and corrective twists to the whole thing. It's a gravity bending gig.
Slightly wobbly we find time to eat and settle down for Arend B Blauw, a man in his prime accompanied by his guitar, aviator shades, and a huge vat of bravado. The lad sings about his wife, his mum, and Amsterdam. Alone on a stage, his tremulous, cracked vocals pierce the room. So far, so Brel. We get strange stops, silences heavy with suggestion, introductory coughs and blaring sounds (Professor Welch style), lupine howls, and screeches for forgiveness. It's all here. Probably the most crowd-unfriendly gig of the entire festival (as in one that does not set out to be in any way unpleasing) it is nevertheless an absolute triumph. "Straat jonge" aesthetics, gin and street curb soulsearching lost on a supine audience in the middle of the afternoon in sunny Tilburg. It was one of the festival's defining moments but who would guess that?
Following such a meltdown is another proposition entirely. Denmark's Selvhenter. They walk quietly on and pick up a range of instruments associated with the classical or jazz stages; trombone, viola and sax. Whilst reading their introduction I notice just how much pedal Lego there is on the stage. What follows rips open Dudok and casts all assumption to the winds. Someone has mic'd up a volcanic splurt in Iceland, or the stomach of an eagle. I stand with John & Sophie from the Quietus, each of us making slightly mad gestures with our limbs as we try to respond to the music and fathom out just what in fuck's name is so utterly brilliant about their sound. I think it's in the manner of playing. For instance, the drummer has this madly different way of addressing her kit, it looks like she's playing a set next to her. The others commune around their pedals, and watch each other, kicking out their noise. This is not done in a "look at me we are looking at each other playing our stuff therefore we are less conventional than anyone else" way (manchildren Foals, guilty as charged) but feels like we are watching a deadly secret society. Motherfucker this scene is Pre Raphaelite, imagine some of Rossetti's amazing women friends had stepped out of the pictures, formed a band and made jaw droppingly intense music that makes me want to put on armour, and charge down a hill on a horse.
Time for something else, to clear my head. Time for The Homesick, who run through their fabulously sarky scally pop in Cul De Sac. I was disappointed to see them listed as playing here as the sound is notoriously terrible. Anyone remember the utter sonic cotton wool kicked up by the Fat White Family's gig there a few years back? Well, fears are slightly abated as I see Bart from Nouveau Velo take the controls after a couple of tracks. And once the sound settles down things get better and better. They soar and chime at points, the new tracks sounding more expansive and bold, like a mix of their big allies Rats on Rafts, Can, and Josef K. The only thing that will stop this band are other people's opinions and career plans. No rest for the wicked, as it's back to Dudok for Afework Nigussie whose beautiful Azmari folk stuns Dudok into silence. It's a beautiful set and a brilliant idea to have such heartfelt and humane music on after the tremendous (and highly academic) roars and blurts of Selvhenter.
I sit down, have a meat pie** and nearly pass out, only to wake up and run over to take in Noveller playing MIDI, which is a brilliant if transitory sonic bath (and one that has enough rockisms and angles to avoid getting gooey at any point) before getting ready to announce The Ex. The Ex, needless to say, hammer through their gig. Actually they do more than that, they seem as if they want to Make A Statement. Elsewhere, right at this point in the night in fact, the ever-brilliant Wire are playing MIDI (Wire being the only other punk band who have been able to remain as evergreen and inventive as The Ex). And it seems to me that The Ex want to ensure that none of their audience slope off to take in their punk/post-punk contemporaries. So The Ex are up for it. Terrie and Andy also seem refreshed after their Lean Left gig, and goad Arnold and Kat on into making further mischief. In fact Terrie seems very impish, mucking about on stage, rubbing the neck of his guitar on the monitors, trying to catch Arnold out mid-track, and sometimes "insisting" on being the last to finish matters. It's fun. The band clatter through their set, like some old steam engine going at full pelt. Better still they play new songs, like Shut Up which is utterly ace; a true rabble rouser. Kat's Top Of My Lungs is brilliant too, a real oasis of calm and reflection mid-set. Best is saved until last though, with a tremendous take on Maybe I Was the Pilot which grinds everyone down into a pulp.
We run out, needing to find something that reminds us we are in the real world and not some Ex-made Utopia. We stumble into Paradox to catch the end of Circuit des Yeux's Goth-folk-chanteuse drama. This is just as intense as The Ex, though the effect is utterly different. Here we are slowly sinking into a catatonic state, watching spellbound with and gobs open as, face lost behind a long and swaying screen of her hair, Haley Fohr sucks us into one impenetrable drama after another. Shit, we have to go, but I'm unsure if my legs will carry me. We get back to Dudok to introduce uKanDanZ. uKanDanZ, a crunch act extraordinaire, comprise of four Frenchmen who look like they've escaped from a Geology field trip and a compact, perma-grinning Ethiopian singer lad. His shoes aren't as outrageously pointed as they were at the band's RASA gig though. there, I feared for his knees and ankles. (You do, when you're getting on, you know). Anyway, uKanDanZ must have seen what The Ex did, because their gig follows broadly the same pattern. First, a steady build up, which at times sounds like a crunch take on Camembert Electrique. Then utter abandon. The guitarist lad looks like he has been practising a party trick of wobbling his eyes like the Cookie Monster. Something that he feels the need to share with us, right here, right now. The singer kicks  and yelps and whinnies, his melismatic vocals the ultimate counterpoint and compliment to the band's relentless shape throwing. Dudok goes absolutely ape. Everyone dances. Sexual and suggestive acts are (so I am reliably informed) offered out to anyone around. This is the crowning of a magical day. Somehow even the charms of the Pink Flag Orchestra can't top this whirligig.
After the triumph of Dudok it's time for the afterparty, now moved to Extase. And this being Incubate the party is as quirky, funny, inspiring and all-embracing as you can imagine. Au revoir, Incubate!
*(Not the marketed one which is essence an "alternative mainstream" scene, and fairly narrow in personnel and stylistic breadth, tho'- of course – full of great bands)
**(Where did that Magicke objet d'árt appear from? And what was in it??)