Like Prometheus, Rats on Rafts are fire stealers, tricksters, concerned with conjuring up form from fire and brimstone. They are the most elemental of bands and watching them in action is like standing next to a blast furnace.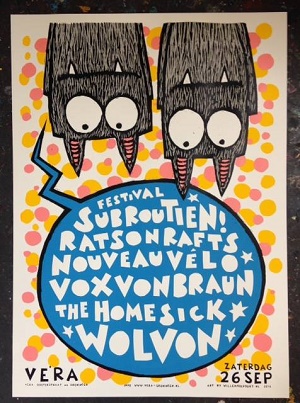 We've spent a lot of time in the company of the (three then two) chaps from Subroutine Records over the past decade. Our first clear memory of them is sitting in the press tent at Haldern in 2005, drinking beer and singing loudly. Over the years the sitting and the beer and the talking has become something of a trope. We also remember them pressing one of their first releases, Next Little Big Things into our hands at Haldern Pop in 2006. We liked it in parts, little knowing how the next decade would pan out for both of our "hobby jobs".
A decade… it feels like five minutes. Some things haven't changed at all. Koen and Niek still fret about getting people through the door at each gig, wondering why the likes of Kane or John Coffey sell out halls while the "real thing" (Rats, Vox, Homesick, Space Siren, WOLVON, patently and obviously the real thing to their British contemporaries) continue to get tagged "underground bands" in The Netherlands. Maybe that's the point in this inwards-looking "provincial-international" land. Still; it's a good marketing handle. Actually, a quick word on the "Dutch underground" thing before we start the review. It has a Subroutine twist. Many moons ago when me & Koen stupidly thought we could do anything we liked, we set up a mini tour of three terribly attended but actually legendary nights out in England with two Subroutine bands, and a couple of close Subroutine allies. I even used the phrase in the tour review the back in 2007 as a joke (and intermittently returned to use it as a quirky handle over the following years in other live reviews) but back then it really did capture a feeling that had yet to find its full expression, or (sadly) its true monetary worth. Back then was when things really did feel like an underground. As in totally, UTTERLY ignored but carrying on regardless. And Subroutine were very much part of that.
Rotown-Roffa 12/9/15
Ach enough; I digress. Incendiary were here to celebrate; first at Rotown and then at Vera. Rotown first. Never my favourite place but always welcoming, we sunk into the scene and waited for first band Naive Set to hit the stage; introduced by the great Gover Meit, singer of great lost Subroutine band, Wooden Constructions. Now, Naive Set are something special. They are intent on forcing their sparkling, heart-felt pop down a mystical path between Kraut's more pastoral moments (Witthuser & Westrupp), Van the Man and Arthur Lee, and we should encourage them for that. However they've often tripped up over their own modesty. And I think they've been a little too laid back and well, polite; looking to fit in and be friends with the scene they find themselves in. Maybe all that is about to change. Their new material is – well – Godlike – and drinking from the same well as Arthur Lee or Jonny Richman. Even Amon Düül II in their Carnival in Babylon phase. I am telling you Dieter Ram's Wife and Let Me Down (their fab Roadrunner rip off and set closer) are the best CVB/Modern Lovers/Count Five tracks never written. And the fact that we've got tracks sung in German too, makes a massive difference. Everything sounds so much more confident. On the night the new material absolutely squashed the old material, even tracks like Like That struggles to come up to scratch. Mikey seemed more relaxed, even mucking about a bit, and Matthias more impish – as if he's dying to tell you what is in his shed.
After this we got AC Berkheimer, who battered out a set of epic, high octane Gothic romances, with one or two new numbers thrown in the mix. It's a rare treat to see ACB on a stage as they are all formidable, seasoned performers. And it's such a shame (tho' totally understandable given their respective commitments) that a great band like this doesn't really go all out and play more. You get the feeling there is something much bigger than the sum of their parts in that clattering, thrillingly atonal sound, if only it was given space and time. And Gwen Douglas's voice sounds better and better, more sure of its own power than I can remember. Here on the cramped stage, Gwen's vox acted as an anchor to the maelstrom whipped up around her. It wasn't all sturm und drang mind; we got a cake presentation for Koen & Niek mid-gig.
More Gover nonsense (at this point he seemed to be channelling the bastard son of Wim de Bie and Eric Morecambe) meant that we were ready for Apneu, whose raggle-taggle pop was yet another refreshing angle thrown at us. They are such a camp band; lots of daft poses and anti-rock stances and seemingly throw away pop that rattles round your mind long after the gig. Given that they've got a collective IQ of Belgium between the four of them it does seem incongruous that they make this girl-boy pop. But therein lies the fizz. New tracks were aired alongside the album tracks singer Moronica Lewinsky preened and ponced, whilst bassist Yuri and guitarist Ruben threw ridiculous rock shapes. A snufje of Amsterdam-Leiden ley lining, right behind Rotterdam's Spartan phalanx. Finally The Homesick, who had just released their single Boys. They had badges and colouring in sheets on the merch table, too. With any other band these kinds of things would have seemed desperate or twee. But this is the Homesick who don't give a shit about anything. The gig was full of new songs, powerful and driven by that Can thump. They have evidently learned a lot from Rats on Rafts as well as displaying a greater confidence, whilst remaining in essence, lads from the provinces. Tonight wasn't really about creating a surge of energy for the crowd to surf along, rather about stretching new material and showing that there is another side to them than the hedonism and abandon that at one stage threatened to colour every gig they played. It was still great, of course, and closer ...Jesus was a stonker, of course.
All in all a great night. But you couldn't help thinking this night was the first course.
Vera-Bromingen 26/9/15
A fair number of Incendiary's silliest, longest, and most triumphant nights have happened in Vera Groningen. I'm really looking forward to coming here as an actual visitor not participant/reviewer as I always worry about having to keep it together to remember to do or write things, normally. I must also say I was on DJ duties at 2am or some Heathen time, but managed (as is my wont) to get myself in a position where wearing a smelly Friesland bobble hat over my sweating, beer-soaked face was perfectly normal behaviour. Yowsa.
Enough of my idiocy. First up on Vera's main stage (introduced by the Mighty Peter Kelly, of O'Ceallaigh's a vital cog in Subroutine's machine) were the mighty Vox Von Braun. It's always a pleasure to write about Vox as they are the great – if silent – moral compass of  the "Dutch underground" (ho ho). They ignore the foibles of keeping up to date with trends, or dressing the part, or "sharing content" and just busy themselves with writing the most open-hearted, truth-bearing rock you can imagine. You can almost see Wymer thinking "what is this shit?" when he plays in front of people. Being in a band is not about being in a band with Vox Von Braun, though. Vox Von Braun IS Vox Von Braun; a silver-plated, dragon-prowed sonic longship (full of the biggest Camberwell Carrots and finest veggie sweetmeats) that will continue to sail serenely through the secret lakes and backwaters of any music scene they find themselves in. And this gig was brilliant. The new songs sounded fabulous, lost sermons from the Mount (or at least from behind the sofa with all the discarded roaches). New drummer Leon gave the band a depth of sound and an aggression they've missed, and Ben's guitar chimed and shimmered. Maike busied herself with steadying the ship, the magnet that the rest of the band ultimately gravitated towards. Wymer looked like he wasn't actually playing, but appearances can be deceptive with him. Knocking out great melodious passages or turning a song with a lick is two-a-penny. A burn out with Pitch Black Heart and they were off. Heroes.
Then a discernible stylistic switch, from supine musings and slow burn outs to an impatient, intense yearning. Time for Peter to introduce Nouveau Vélo, a band whose often painful, hindered progress from brilliant ingénues at that Eindhoven Ultra night in March 2012 to a fully fledged and resourceful band has been thrilling (if sometimes frustrating) to watch. They were quickly out of the traps on the night, laying down their poppy take on Neu!'s beat almost like a marker stone, with bristling takes on tracks like House and Wait For Me. Although Niek's guitar was lower in the mix than I'd have liked, the balance of the sound was brilliant, and they sounded much less top heavy. A heavier bass sound from Bart, Twan's kick-drum thump, and Rolf's 12 string all chimed in unison. It was marvellous, a total sugar rush and possibly their greatest gig. The instrumental (and one of their greatest tracks) Al Green's Dream was a total delight; a pop gem that somehow opens up clouds to let the sun in. Turning Away was as delirious as can be imagined. And the new tracks sounded like the band have realised they really need to squeeze out the essence of what makes them tick, maybe just one more time.
Peter had one more band to introduce on the main stage, one he loves, Rats on Rafts. Peter couldn't wait, and went into a long spiel about them which has both band and crowd slightly restless. But I have to laugh along with Mr K. I mean how can a gentleman in his mature years get like an excited kid about a band? Well this is Rats on Rafts, an act who are about to enter their Imperial phase. They tear down Groningen's famous old club on the night with a series of sonic attacks that have people shuddering at their power. Sleep Little Child is a monumental opener, a mix of Pale Saints ferocity and a deadly Stone Roses walking groove. Rat Poison Face – that most unlikely of crowd favourites – is the howling of Prometheus as his liver is torn out by the eagle. Like Prometheus, Rats are fire stealers, tricksters, concerned with conjuring up form from fire and brimstone. They are the most elemental of bands and watching them in action is like standing next to a blast furnace. Ever since my jaw fell through the floor when I first saw them back in January 2009 in the old Exit club (and when they released Money Man in the old WORM) I've been convinced that this was a band marked for true greatness. Not the sort of bullshit facile "anointing" carried out by scene head fools, the money makers or loudmouth repeaters, but the greatness bestowed by people who have never seen them before and end up wanting to manage them on the spot. That's because people feel their immense creative generosity and want to give something back. Their run with Powder Monkey, Jazz and Last Day on Earth was sublime here and the runaway train that is 1-6-8 Machine was truly terrifying. At the end, the room has been shaken like a pop bottle. This was cataclysmic. And if any band should now seize the day and write and play if their lives depend on it (maybe they do at least for the next five years) it's this bunch.
There is another side to this gig; away from the main stage, the cellar scene is cranking into action. Vera's cellar is already stifling. It soon becomes a sauna. And The Homesick and WOLVON destroy all shreds of respect, memory or even dry underwear with two shattering gigs. The Homesick first. Despite the fact that I couldn't actually hear much of Elias and his guitar, the audience bounced around as if they were celebrating Be Quick Dokkum beating Ajax. It's as if the memory of Elias's melodies and the anticipation of his rock star moves was enough for the crowd to go utterly berserk. Jaap squawked into the mic, and Eric hammered his kit like Iggy bashing his oil drums. Stereo Lisa and Gucci Gucci were great, and the newer, trippier, tougher songs sound better each time I hear them, but closer …Jesus was outstanding, a howling gale of teenage hormone-driven desire. It's a clarion call to all that's good and daft about pop. I saw my pal Gary Williams, 50 summers young, hurled himself into the mosh pit at this point. What elixir do this band possess?
Can we take WOLVON? We can. |Our ears were in pieces , held together by sweat and memory. But WOLVON's growling buzz, (now much tougher and streamlined since the new drummer lad Henk took over) is intact. Ike hurled himself around as much as he could, Ruben and Henk  create a tough, iron-clad GBV groove that is brand new. People were in pieces by the end but the hard core wouldn't let them go. Their old drummer, Bram was throwing himself around in the crowd, a good sign surely, and a true statement of belief. Fair play! But then, WOLVON sounded like Mudhoney at their bouncing bristling best at times. Once nerves and sonic parameters are set I think there is something special lying in wait for them.
After this a delirious party that lasted till stupid o clock and an all day sesh back in O'Ceallaigh's the following day. A suitable ending to ten years of total fun. I just wonder where everyone else was over the years!