"
Hamilton uses this new musical direction to do handstands and some idiot runs around with a plastic bag on his head. It's all too much. Noble decides that the audience needs fruit and starts throwing apples and bananas at the residents of Cologne.
"
"
Hamilton uses this new musical direction to do handstands and some idiot runs around with a plastic bag on his head. It's all too much. Noble decides that the audience needs fruit and starts throwing apples and bananas at the residents of Cologne.
"
A tale of three rivers: On the road with British Sea Power
It's been a long time; almost three years in fact since British Sea Power last trod the boards in the Low Countries. Two gigs were pencilled in; one for Rotterdam's Rotown, the other the seemingly obligatory Paradiso show. Naturally some Incendiary members were beside themselves with excitement. So much so that a trip was made to Cologne to see the band's last night in Europe before their marathon US trip. Now read on…
Rotown, Rotterdam 16/2/07
Rotterdam is sunny, if somewhat nippy. After an afternoon spent sampling various ales (including Brand's excellent Urtyp), Team Incendiary descend on the venue and mingle with a formidable travelling army of Sea Power fans who are ready and willing to worship in a foreign church. This fan stuff is ever so slightly serious I'll have you know… The sound-check sounds fine; No Lucifer blasts through the café bar's walls and the beer flows. Incendiary saunter in and make tracks towards the merchandise table. According to the band's website, saying "Rupreckt" will bring forth special, hand-made goodies, but alas, repeated mentions of that word brings no response apart from utter bewilderment on behalf of the lads behind the table. Embarrassed, Team Incendiary finds a suitable spot near the front and awaits developments.
On the band troop, now bolstered by Abi Fry on viola and Phil 'the Salmon' Summers on cornet and ivories. For once bassist Hamilton looks almost as if he's a member of the human race; a natty vintage double breasted jacket and sober trousers give an almost debonair look. Reassuringly, the redoubtable Wood wears his boiler suit.
The band charge straight into a rumbustuous one-two of Lights Out for Darker Skies and Atom, two of the beefier moments off the new LP. The tempo is set, a statement is made. Following that a surprise; the sublime Childhood Memories, possibly their best early single is aired. As well as the usual live favourites like Fear of Drowning, BSP also run through Larsen B and How Will I Find my Way Home? from the much maligned Open Season with great aplomb and relish. It's nice to see that this new found determination on the band's part to show off their creations has affected old songs so favourably. With this attitude, these tracks flow like quicksilver.
At present BSP have a formidable song canon to choose from, and it seems that maybe this luxury of choice has made them more relaxed in how they want to project their muse. There are none of the time-wasting instrument changes (which had a habit in my opinion of dissipating the energy and mood they'd just built up); rather, the songs are presented in mini cameos. For example, three songs from Hamilton will be followed by a brace from Yan. It also seems British Sea Power have taken a group decision to shrug off any diffidence they might have had at times to performing live and show off their talents to the new, more mainstream audience they are seeking to woo. And far from making things less focused, which might have happened a year or so ago, Abi and Phil have contributed to a noticeable richness to the sound. There is an added a level of power live and what seems to be a deliberate attempt to contrast this added oomfph with a transparency and sensitivity in any song's interpretation.
Of course BSP gigs wouldn't be BSP gigs without the idiocy at the end; After a sublime True Adventures, Noble, who's facial muscles had seemingly turned to marble with the effort of putting on a good show; suddenly begins to gurn like a village madman, and after a few moments inconsequential grappling with Phil Sumner, takes the chance to pick up the cornet player by the midriff and slap his arse like a naughty child. Of course this action knocks everything over, including at one point Yan. Not that he seems to mind. Taking up his cue, Hamilton has cast aside his jacket; and revealing a floral print blowse that must have once belonged to Thora Hird, decides that a version of Dr Feelgood's She Does it Right is in order. Noble then condescends to use this writer's shoulders as a temporary conveyance. Seemingly unpeturbed by the insanity onstage, and lifted like a winning jockey, Noble plays his one chord space-groove to the approval of all. Abi stands aloof from the antics of Yan and Phil, whose goggle-eyed writhings are sound-tracked by the metronomic thunder of Wood's drumming.
All too soon it's over. BSP exit stage right to tumultuous cheers from a normally reserved Rotterdam audience. Top night.
Paradiso, Amsterdam 17/2/07
Slightly deranged, and with a mad idea that BSP's tour to Germany will be spiritually enhanced by a six-part pop-art oil painting of Amon Duul 2's Yeti cover, Team Incendiary set off to Amsterdam to spend some time with UK-based BSP fans. After an afternoon spent sampling various excellent beers, we set off for the venue. The Paradiso is stuffed with cooler than thou dudes, who won't dance, but their loss is our gain kids. Yet again BSP click into gear, with the big songs off the big new LP sounding determined and powerful. And there's the odd surprise; The Land Beyond; amazingly it's only the second time they've played it and sounds utterly sublime. About half way through the band click up a gear, the magnificent Great Skua (surely the greatest instrumental since La Dusseldorf's Silver Cloud) leaves everyone gasping in astonishment and Waving Flags sounds like a Joe Meek collaboration with Rhys Chatham; (and that means "very good indeed" in Incendiary's books). A stomping version of No Lucifer sees frenzied barn-dancing, with no mention of the Easy Easy moshing that has made this sublime song into a version of a football chant in some quarters.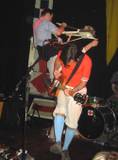 Style watchers will be happy to know that the Hamilton Collection is promoting the wearing of white socks over your walking boots this spring. The amount of photographs of this new trend that were logged on Incendiary's camera seems to hint that this could be a hit amongst the young and impressionable. However even Hamilton's socks couldn't deflect away from the high jinks at the end. Noble's addiction to climbing carried on; seemingly bored on destroying Yan's equipment, and a bit bruised from the belly flop he'd attempted from the top of his singer's amp, the guitarist decided that crowd surfing was in order. Meanwhile Sumner decided to throw around his equipment in a frenzy of energy whilst Yan, Hamilton and Wood kept up an ever-shifting collage of dissonant, driving noise. For some obscure reason, Accrington Stanley scarves were hurled at the crowd and various members of the audience stripped off to the waist and ate set-lists; such was their excitement. Again, all too soon, the gig is over. Next stop Cologne!
Nobby jumping off a viola
Gebaude 9, Cologne 22/02/07
This BSP-watching is a bit addictive I'll have you know. Sitting in a hotel that's hosting a golf conference, and wandering round an area that resembles a giant Lego-land, Incendiary is wondering why are we following this lot around? There is some form of pixie-dust that BSP bestows upon its well wishers that is nigh on addictive. And anyway, it's the last night of their European tour and for all I know I'll be experiencing the male menopause the next time they decide to play this part of the Continent.
Gebaude 9 is Incendiary's kind of venue. It's a dirty, artistic squat full of character and a very nice, big stage. BSP troop on, the redoubtable Noble wearing 3-D glasses and a "Kolsche" drinking sock around his neck. Things look promising. It's pretty much the same set-list as Amsterdam albeit with the odd rotation. And to be honest, BSP look like they've packed their bags for the USA, going through the motions until about half way through a kicking version of The Great Skua sparks them into life. Remember Me was especially memorable, as was a growling Canvey Island. The band is suddenly in great form and the audience lively and bay for more as No Lucifer sets up the encore. And what an encore it is. Carrion, never a favourite of mine, is absolutely brilliant, sounding bouncy and full of mischief and True Adventures is of course it's usual sublime self. As for stab stab kill kill, well; the nearest one can come to describing it is a vast observation balloon of sluggish, Cluster-esque electronic noise. Hamilton uses this new musical direction to do handstands and some idiot runs around with a plastic bag on his head. It's all too much. Noble decides that the audience needs fruit and starts throwing apples and bananas at the residents of Cologne.
Afterwards Team Incendiary is told that their plush toy horse's head (which graced the Haldern stage) is being taken to America for some high jinks, and BSP's first 3-D photos are now available. Lascivious dancing is undertaken by Abi and Team Incendiary's female representative to traditional Turkish grooves. All in all, it's a remarkable end to the evening's entertainment.
Time for a detox.
Words: Richard Foster
Pictures: The Mighty Cath Aubergine, c/o http://www.manchestermusic.co.uk/