A break, more beers then Rats on Rafts. The Great and the Good were out for them; bookers, press, agents, managers, radio presenters.

A break, more beers then Rats on Rafts. The Great and the Good were out for them; bookers, press, agents, managers, radio presenters.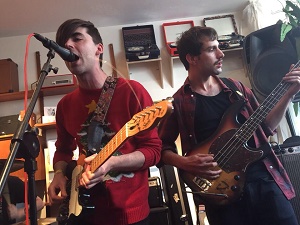 pic courtesy of Atze de Vrieze
Six gigs in a day. Make that seven if you add hanging about outside Swordfish and Friend listening to Pauw whilst unloading gear out of a VW. I suppose that tally's an average for bumming around on Record Store Day, but this perusal of the sonic health of the Dutch underground and indie scenes included two cities; Rotterdam and Utrecht.
Utrecht; well, it's a pretty town but not really our scene. And outside of O'Leary's Irish pub, Le Guess Who? and the odd show at Tivolis old & new and Ekko, we don't often go. DB's is an ace space too, but then it's all about getting home, and the dreaded Utreg-Amsterdam-Leiden-Roffa night train that winds its way, brontosaurus-like, round the Randstad is a killer. Still we'd made the effort this time, safe in the knowledge that mid-afternoon gigs by Rats on Rafts and The Homesick wouldn't mean a late night sprint to the last Leiden train. We arrived at Swordfish (a well-appointed, cosy vinyl and vinyl accessories shop, sitting incongruously in the centre of the "ladies who lunch" part of town) to see Pauw, who had arrived late, blasting out their trippy tunes. Pauw are (or were on this hearing) okay, but their music IS very Floyd. Post-Barrett Floyd at that… you know the score; pastoral, gloopy, vagueness. Dreaming in the dormitory. The sound of Lindsay Anderson 40 years on. The gig went on. It then took them ages to break down what seemed to be a mini studio. The Homesick stood outside and, seemingly wound up from their dash down from Leeuwaarden, grew restless. 'Just how long does it take to break down the drums, FFS?' Finally Pauw tripped out of the shop, barefooted and scarves floating, like Candice Marie's in Nuts in May. The difference between these urban flower children and the provincial urchins from up North couldn't have been greater.
Once set up and running, The Homesick blasted through their numbers, pretty much an all-new set. The Homesick were pissed and seemingly on a mission to wake Utrecht up. Erik hammered the drums so hard that lots of nice things fell off the counters. A bureau lid flew open and whacked Elias (wearing his football shorts) on the back. This was more like it. Anger is an energy after all. Jaap – after asking the grazing Utrechters to come into the shop (they didn't) – sulked his way through the set. Their new tracks are dark and raw, and less gauche than their Twst Yr Wrsts EP. The highlight, Gucci Gucci was superb, a great rock and roll number, a true garage track that has its roots in The Litter, The Count Five and Chuck Berry. Now, I'm NOT saying The Homesick are a garage band (they are closer to an unholy mixture of HMHB's sardonic Play at Home wit, and Josef K's gravelly attack if anything) but Gucci Gucci is "real" garage, built round a hook and a savage guitar sound, made in the middle of nowhere, not looking to be part of anything and only interested in girls, money and having a good time. The real deal. Last track, The Best Part of Being Young Is Falling in Love With Jesus, was hammered out here like a steam press; coming on like Mother Cannot Yell; concentrated green-sapped yelling, free as the air but never leaving the treadmill the bass and drums had set up.
A break, more beers then Rats on Rafts. The Great and the Good were out for them; bookers, press, agents, managers, radio presenters. All the things that David Fagan had feared in the run up to Tape Hiss's release (i.e. people not getting what Rats had done) seem to have been but phantoms of the imagination. Rats are respected, their vision of sound have hit a nerve. And here, despite guitar straps breaking and microphones packing in, they ground out their noise and people dug. Simply put Rats play through all sorts of problems and come up trumps. The well-appointed shop morphed into the shaking epicentre, waiting for the eruption. The band currently seem to be at one remove from everything else around, musically; both in and out of the Dutch music scene, there's an abstraction about their sound that is incredibly exciting; balanced against the tremendous rhythm section and simple "surfer pop" melodies. I know everyone talks about post-punk with them, and yes I know that sound is in their locker, but at times they come on more like Dick Dale than the Bunnies or Fire Engines. Best tracks on the day were a superb takes on Jazz and Powder Monkey (simply brimming over with angsty, focussed determination) and a brilliant cover of Lee & Nancy's Some Velvet Morning, which sounds like Never Understand by the Mary Chain. Arnoud – eyes shut and his whole frame shuddering – screamed through La Sinatra's parts like a banshee.
Then it was time for more beers (courtesy of the very hospitable Swordfish, hats off to them) and off to Roffa to take part in a strange journey that ended up on the 20th floor of some building or other with STUNNING (caps ENTIRELY APPROPRIATE) views of the whole city. We were here to watch The Avonden play as part of a mini festival organised by Roodkapje. Other hot shots on the bill were Dead Neanderthals, whose Endless Voids LP has to be one of the key releases in 2015, but sadly we couldn't stick around too long. We had to get to Vrooom! (more of that in a different review).
Backed by a view down de Meent bathed by the last glowing embers of the day's sun, Marc van der Holst and compadre Jan-Pieter van Weel knocked out a steady stream of Avonden classics, with songs about Flamingos, churches on fire, heavy metal and pool centres in Groningen. Van der Holst is onto something really special here. His wry commentaries on Dutch life have more wit and steel about them than most. The fact that Marc's often tipping his titfer to Mr Reve should give you a clue. Yes, LOTS of troubadours go on about their lives, (God), and the act of cooking up small-but-perfectly-formed vignettes about "everyday life" in NL is a well-worn trope… one that has even managed to penetrate Mordor (3fm) and Voice of Sauron (Giel Beelen) BUT…. Marc van der Holst is a special talent, and his whispered vocals and free form strums add a fair bit to his barbed tales. If you understand Dutch you should check him out, as he's a real poet.
Then it was time to descend 20 floors in the quickest lift ever made, stare wonderingly at the commissioner/security dude at the door and bugger off to Vroom!, where Richard Dawson was playing. Even if we'd have left it at that, and left La Dawson to bawl out his brilliance unseen, it would have been some day out.
Fun eh? Addictive stuff.