Unlike lots of his contemporaries, Hamilton's songs also have something to say, they have depth, emotional content and balance. And you can sing along, think of that…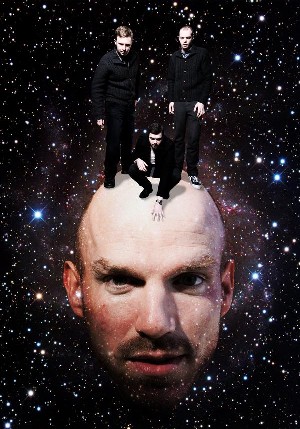 Brakes – Touchdown
http://www.fat-cat.co.uk/ http://www.brakesbrakesbrakes.com/
Ah Brakes! One of the few bands that know how to have fun. This is their third LP, and with it a much talked about progression towards longer, richer sounds and more considered foundations.
What is immediately noticeable is the big space this LP inhabits. Maybe the outer space cover theme, (with the Cosmic Joker overtones) gives it away. Previously Brakes had been content to scratch out a brilliantly off the cuff, tap-room psych-rock. Now there is a noticeable thunder to their approach, and an emphasis on simplicity which allows their song structures to take on the permanence and power they previously lacked. Eamon Hamilton's lyrics still have that knack of sounding like he's telling you (and you alone) a story. They also have depth, emotional content and balance. And you can sing along, think of that…
Brakes still knock out a mean riff, Don't Take Me To Space and single Hey Hey are chunky bruisers of songs: I reckon that Hey Hey is nigh-on the definitive Brakes rocker, so damned catchy is it. Two Shocks is a hell of an opener too, nodding to the band's big heroes, Guided By Voices, whilst Don't Take Me To Space tips it's titfer to Tenpole Tudor and Pete Townshend in equal measure. Short stuff is kept to a minimum (Red Rag is about it); replaced by some brilliant love songs (no longer overly self conscious, wait for the hidden track at the end of the LP) and some truly fantastic social commentaries in the bubbly Worry About it Later and the anthemic tracks, Do You Feel the Same and Leaving England.
In fact, this LP doesn't half remind me of the sort of quirky, rambling, round-the-campfire pop that Teenage Fanclub, the Boo Radleys or indeed the Wonder Stuff knocked out in 92-93. Or Lemonheads, check out Ancient Mysteries… Once or twice things get a tad ponderous (I was forever waiting for the musical payback on Crush on You) but there's always a track like Eternal Return to make you nod along happily.
The LP finishes on a big finale, the blast of Hey Hey is followed by the rabble rousing of Why Tell the Truth (When it's Easier to Lie), and rounded off in dramatic style by the rousing lament of Leaving England.
So there it is. Their most conventional album, but best to date.
Words: Richard Foster