One room. Two microphones. One band. Press record. It's that simple.
One room. Two microphones. One band. Press record. It's that simple.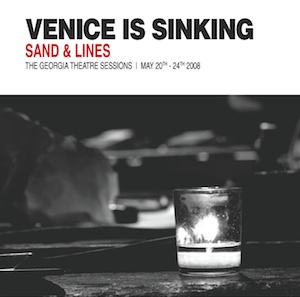 http://veniceissinking.tumblr.com/tagged/welcome
One room. Two microphones. One band. Press record. It's that simple. Four days of fun recorded for posterity. Jump forward Sam Beckett style a couple of years and the room in question, the Georgia Theatre in Athens, Georgia is now defunct. The band in question, Venice Is Sinking, dust off the tapes from those sessions and release them to the world with the words, "proceeds will go to fund reconstruction" on the cover. That's right people, what we have here is a charity album, of sorts, but fear not because what we also have here is a wonderful live album.
Venice Is Sinking have released some cracking releases over the past couple of years. You can read about a couple of them on this site, see the more on this artist block on the left for further details. Sand & Lines is something a bit different than those albums and indeed most live albums in that what you hear is not a band playing a standard live set. They aren't playing to an audience and what you end up with is an album that showcases a band at their most relaxed. They're not messing around, they're not trying to perform, they're just playing to and for each other and enjoying the noise they make together. It's quite fascinating to listen to.
The cover versions of Tugboat and Jolene are decent enough but they really click into gear when they're playing their own material. Fans of the band should lap this up like a thirsty cat whose found a spilt pot of cream and its good enough to make the rest of you fans as well.
Sand & Lines well worth the pennies you'll need to shell out for it. Also, if the Georgia Theatre was good enough of a space to make this little gem, then sending some money that way can't hurt can it? I for one would certainly like to hear more.
This is a great release. Whatever you do, don't dismiss this as just another live album.