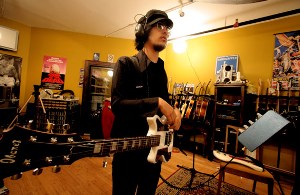 I tend to avoid reviewing this lad's work; not because it's not good, (it invariably is good, or interesting at the very least); but because there's so much of it. I really don't know where he gets the time to knock out so many LPs. I can think of Conny Schnitzler as another one-man musical factory – where listening to everything makes you feel overwhelmed, and makes you realise it's hopeless in gaining a clear or good perspective on what makes him tick as an artist. Faced with such an on-going increase in material, you feel that you can't really see the wood for the trees. So it's a relief to report that these two LPs have a character and presence that mean you can't really class them as just another Lopez release; they're pretty remarkable albums, and as good a place as anywhere to start on his oeuvre.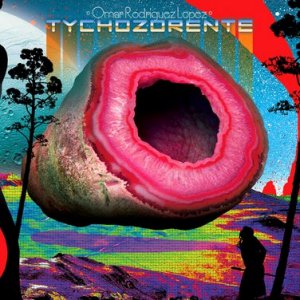 Starting with Tychozorente: Lopez is known primarily as a damn fine guitarist, so it is a bit of a surprise to note that this LP doesn't contain one guitar played. You'd never think it. Lopez – joined by his brother Marcel Rodriguez Lopez and DJ Nobody, a.k.a. Elvin Est – contents himself in creating a bubbling, invigorating stew of noises from a bank of synths and other digital means and appliances.
The result is pretty special when backed up by a strong vocal: on the opening two tracks, Los Siete Sermones a los Muertos and Polaridad. Mexican chanteuse Ximena Sarinana Rivera adds considerably (as she does throughout to the album) with a sensual and direct performance. Her silken tones allow space and give direction to the music overall and help create a work that can, on one level, be listened to as a quirky, very romantic Latin pop LP (In fact both LPs feature great vocal performances, adding a subtlety and flexibility to the music.) It's not just brainy rock.
This is a quiet LP too, more interested in creating a mood through beautiful pop tracks like the opening two numbers and the beautifully lush El Todo, and spoken word pieces, such as La Paradoja Divina and Consecuencias. Only Piedras Y Ansiedad comes close to making a racket, though Ximena Sarinana Rivera's vocal is still predominantly dreamy.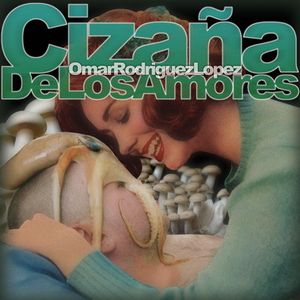 And now for Cizaña De Los Amores which we should say has a hell of a cover… The same formula is applied on this record as on Tychozorente; brooding vocals, poppy structures and a short running time (both records are around half an hour long). Cizaña De Los Amores is a darker, less accessible work though, and it does feel more constrained (I wonder if that's because Lopez gets his guitar out? Just a thought…). However the album has a Gothic melodrama which is enormously appealing. The opening track Soledad y Silencio delivers in spades : a gloomy introspection allied to a soft menacing vocal by the criminally underused Lisa Papineao, is interspersed with guitar splurges and creepy organ effects. Ximena Sarinana Rivera, frsh from her triumphant performance on Tychozorente sings a set of tracks, starting with the funk-athon No Hay Más Respuestas. It's fair to say her dreamy vocal style battles constantly with some monumental guitar work outs.
The driving guitar is immediately noticeable, giving structure and direction, making this track and others, such as Infiel and Hasta La Muerte sound sometimes too much like a work out. Things work better on the highlight of the LP, Victimas Del Cielo where Riviera's very softness tames the guitar to playing a more sedentary role. Nada De Amor is a faboulous piece of Gothy lounge and Corazón works in a messy way too, though you can't help but feel that the magnificent De Piedra (which follows on straight away) should have been Corazón's tail out.
So as an overall "listen", Cizaña De Los Amores is not as enchanting as Tychozorente but it is still bloody great.
I'd just get both without delay.