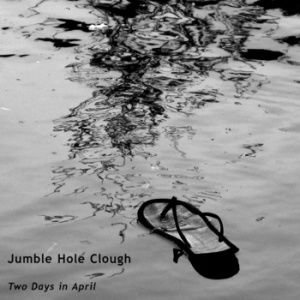 http://jumbleholeclough.bandcamp.com/
Quite what Colin Robinson does apart from recording we may never know. Given the amount of records he knocks out I'm surprised he has time for a sandwich. There must be something in the water in Hebden Bridge, which is the nerve centre for his projects Jumble HoleClough, Big Block 454 and Churn Milk Joan
This release by Jumble Hole Clough is a very different beast from his other work though; it's a collection of ambient and neo-ambient soundscapes with a dark and maybe serious undercurrent. Normally I associate Big Block & Churn Milk Joan with humorous and intelligent pop. Here we have desolate essays in sound, often redolent of stagnation and stasis. A Solitary Sandal, Seen Floating on the Rochdale Canal at Mytholmroyd is a spacey piece that breaks out into a sort of vocoder-propelled phaser-tastic message from outer space (or maybe Todmorden). Why I don't know but I think there are elements of Robert Fripp's Let the Power Fall here, or even a bit of Gong. A Eulogy for M.H.Thatcher On The Occasion of Her Funeral is another strange, otherworldly and shifting piece that again has an undercurrent of melancholia and doubt to it.
Somehow the title really dates this work, the dank and fuggy atmosphere generated by the stew of noises and loops creates a similar atmosphere to one of those 70s sci fi soundtracks, the incidental music to some kids TV show about aliens or a future nuclear war. Now and again the track breaks out into a guitar pattern that you could imagine Mike Oldfield using, only for this brief moment of freedom to be once again curtailed, and dragged under the miasma of murky synth loops. It's a fine piece nevertheless. Last up we have Royal Tiger Worldmaster which is a Studio G offcut in all but name. It's lighter and crisper than the pieces that preceded it; and there are elements of Cluster in there too, that pattering beat is classic Moebius, that's for sure.
An intriguing and at times (if you can shake off the feeling of decay and paranoia) a very beautiful listen.