This is the stuff that's been round the block so many times it doesn't matter anymore whether you think you'll get brownie points for digging it or seeing it as a vital part of the zeitgeist (or some other nonsense.)

This is the stuff that's been round the block so many times it doesn't matter anymore whether you think you'll get brownie points for digging it or seeing it as a vital part of the zeitgeist (or some other nonsense.)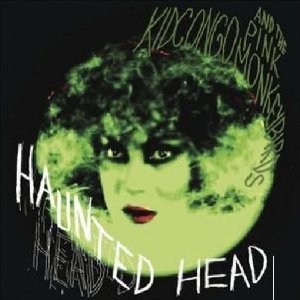 http://www.intheredrecords.com http://www.konkurrent.nl
I like everything the fella's put out, but somehow, without any appreciable difference in the sound or modus operandi that I can notice or comment on, Haunted Head is the one I like the most, probably by a country mile if I'm honest. There's a cool laid back acceptance that hey it's alright to have fun once in a while, and as a consequence it's a relaxed, supine record, and happy to play up to the gallery when it rouses itself.
The opener Lurch is a great demonstration of stoned, bugged-out psychobilly punctuated by Dr John style rumbling and mumbled wisdoms, and a strange electric wibbling; (feck knows what that noise is, it sounds like someone's strangling a Theremin.) Following that, Su Su is a brilliant groovy burn out that just keeps ticking over, the track sleekly gliding along like a coupé slowly driving round the estate. Killer Diller and The Rad Lords are choppy struts, tipping their hats to Lenny Kaye's Nuggets, and doing nothing that could get them thrown out of any bar. I Don't Like is another up-tempo bop, again sticking to tried and trusted methods, methods that are there to give a sort of sated pleasure. Just like Bob Ross's painting classes you know everything will be alright.
My favourite tracks are the slowies, mind: Lady Hawke Blues, The Rad Lords Return and 222 are great, groovy beasts; taking their time in laying down a rocking, very stoned law. And Loud + Proud is great rockaboogie, not often heard these days. This is the stuff that's been round the block so many times it doesn't matter anymore whether you think you'll get brownie points for digging it or seeing it as a vital part of the zeitgeist (or some other nonsense.) It's a tried and trusted sound; it just needs a strong personality to whip it into shape. And that's what happens here with cracking tracks like Dance Me Swamply.
Great fun, you should play it as often as possible.