…John Shuttleworth practising his Casio chops in Johnny Minton's flat, the North Sea ferry act Anthony H Wilson would have booked on the spot, Soft Cell turning up as the new entertainers in Hi de Hi

…John Shuttleworth practising his Casio chops in Johnny Minton's flat, the North Sea ferry act Anthony H Wilson would have booked on the spot, Soft Cell turning up as the new entertainers in Hi de Hi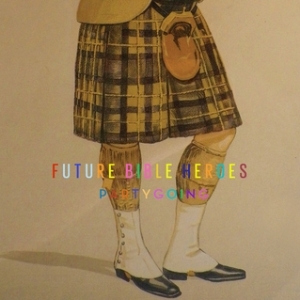 (Merge) http://www.konkurrent.nl
Possibly the wittiest record I've heard in ages; Partygoing boasts a raft of ideas and attitudes, oozes a carefree charm and knocks out some very catchy music. It's the sort of thing that is incredibly hard to pull off, and I'm hoping that I don't tire of it. A whiff of 30's sentiment (they could easily open up for Al Bowley and Ray Noble) mixed with a take on the synth cabaret that Soft Cell mastered, and at times a take on the gloopy, widescreen vistas that the Blue Nile cooked up so effectively (listen into the last track When Everything is Falling on Tinseltown; – and yes I can appreciate that the Blue Nile note is prompted by the title too.)
Thing was, I was expecting this to be shite. I looked at the cover and despite it being the sort of thing I would pick up immediately, there have been so many disappointments when a good looking cover leads to some wishy-washy sub-artsy, loft-dwelling artisan bollocks that just doesn't have the bite and is there because it's just another variant of the zeitgeist. Mergh… Luckily the band are not wet behind the ears. This isn't some gap year project.
"More luckily", (regardless of cover and fashions various), Partygoing is much more than the sum of its parts. And isn't really like anything despite it borrowing more props than a magician at the pier. An urbane, witty and very funny take on nightlife, the lyrics often formulate those half thoughts that you think are so profound at 3am, if only you could remember them the next day. It's dark in places: Let's Go To Sleep is a piss take on the "joys" of smack… Satan and Alistair Crowley are mentioned too. The band digs him up at one point. How very Doctor Trelawney, eh?
And – even better -the lad's syrupy vox sound like Neil Hannon, or even more queasily, Glen from Heaven 17: he's definitely pulling off that cabaret for middle aged ladies schlock: (albeit with a bit more balls.)
Yes. Cabaret, we've mentioned cabaret twice before in this review and we'll say it again: cabaret, albeit with something a bit untoward added to the cocktail shaker. Imagine a smooth, Brylcreemed John Maus entertaining the troops, John Shuttleworth practising his Casio chops in Johnny Minton's flat, the North Sea ferry act Anthony H Wilson would have booked on the spot, Soft Cell turning up as the new entertainers in Hi de Hi. Daft thoughts like that. I'm Digging My Own Grave sounds like a low budget I Feel Love with a dash of Bing Crosby's I'm Dreaming of a White Christmas What else? Well, All I Care About is You is the sort of sonic sludge that Yazoo would have served up round Christmas in 1983, the melody's also got a disgustingly syrupy Spector undercarriage attached and the refrain boasts some gaudy La Düsseldorf chords too. More gaudily, Living, Loving Partygoing is an upbeat, Erasure-lite take on New Order's Your Silent Face. Mental.
All this and a very bad David Bowie impersonation in Drink Nothing But Champagne. Any band that uses lyrics beginning "In my purple cape" has got me anyway. I give up, surrender is imminent.
I need a sit down and a cuppa.