Somewhere the woods, Rock's old spirit sat communing with the lions and giraffes, wondering what its new guise should be.

Somewhere the woods, Rock's old spirit sat communing with the lions and giraffes, wondering what its new guise should be.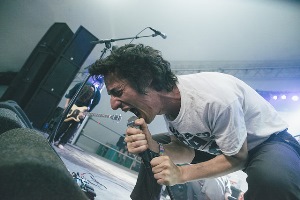 (Photo courtesy of Melanie Marsman)
So. Best Kept Secret.
What to think?
You see, this weekend has set me thinking.
Normally I come away from festivals with an excess of feelings, you know the sort of thing I'm sure; great times, great bands, great people, all the gushy emotions that can't be dammed but rather rush away in a torrent, leaving you dried out the day after; rainbows out of my brow and stars out of my arse stuff. Stuff that can't be analysed.
But Best Kept Secret. Man, this weekend has set me thinking; thinking about the idea of 'the opposite'.
Here's a list of the opponents:
Modernity & Tradition
Reality & Fantasy
Control & Freedom
Marketing & Utopianism
Town & Country.
I won't address the themes in this list openly or in order; that would be an exercise in box ticking but these things are there in spirit in this review, like some Leshy* howling away deep in the woods, waiting to rush out and grab you. Best Kept Secret was fascinating; this was more than a very good time in a safari park in Brabant, this festival was a crossroads, a statement of intent, a sugar coated pill into a new modus operandi; one that happened to be sound-tracked.
Let's pick away at the seams in no apparent order and with no apparent plan. Let's just wander around, like you do at a festival…
You can't plan everything. Stage 3 was wild all weekend; louche and with the open suggestion of dissonance, anti-festival. PINs screeched and cajoled, and played around with the idea of being elemental Banshees in a post-punk movie. It's uneasy to do this so early in the day but fuck that. Fucked Up; three bars in and it was already epic; who cares if their hardcore rockaboogie is one step away from being Suspect Device played at 11, on constant repeat. Go in the LAKE, Pink Eyes, go and stand next to that gentleman dude with his well-appointed wife and scream into their camera. What else… Together Pangea were on a collective trip to BE that longhair dude, Otto Mann, driving the Simpsons' school bus over the cliff. They went for the jugular, (whether security liked it or not); and their pulsating tremolo riffery growled and groaned and shook a few bolts loose. They lobbed the crowd a few exhortations to fuck about, whilst lashing out these high tempo, Ritalin-based charges that looked to antagonize at every turn. Crowd went ape in response; too right. Even throwing in a bit of the Cranberries' dreaded Zombie couldn't fuck this up. Connan Mockasin came on like a dickhead genius with his stupid hat and general air of stoner benevolence. 'Meer kruimels'. Yeah man. His band looked FUCKED immaculate. Guitar splurges, that sounded like a dolphin with trapped wind, further fried the brain. Is that the beginning or the end of a song? Connan's fucking with you but that's fine. And inviting Fat White Family's Saul on to play maracas reminded this old buffer of those Mondays gigs; spirit of 88 and all that. Ah yes, Fat Whites, jesters at the court of timid modern day bullshit. The wrecking ball to anything precocious, despite being THEEE most precocious band on the planet… Bullshit detectors supreme, they sound-tracked the dark side of the festival; Bomb Disneyland was anthemic and wild; Wild American Prairie and Auto Neutron were just playing with us… And Touch the Leather; the biggest piss take going, the joke's on us and yet we don't see it and we sang along. Fat Whites rocked up a howling storm and shook loose like Jerry Lee, their only rival in the ignis fatuus stakes. Sappy, stupid, and brilliant, kicking any bullshit into a can. There is NO plan, and Rock is rediscovered as the multidimensional jewel it really is. Thing is Rock's been curated by egg heads for the last 10 years, fucks who reheat their University essays. Fucks who are in the PACK. 'I say, Jenkins minor, let me crib from you?' Fucks who dress too carefully and shave too well. Fucks who look things up on the 'net. The festival changed the stage for Fat Whites so no-one got any silly ideas. Not that it mattered; Belgium won and the tent was full of braying loons who need to get that urge out somehow. Best show I've seen them do.
'Where is Utrecht aan Zee? Why, it's at 'The Village' at Best Kept Secret, the area where the food is, next to the bloody great lake that dominates the festival view. There's a café called The Village in Utrecht too, on the Voorstraat, where all the Beautiful People are. Taste, choice, ease of purchase, incredible quality, ok prices, the whiff of detachment when money is mentioned… All present and correct at both locations, Sir.' I mean the food all weekend was fucking marvellous. The gilded atmosphere round The Village (and round the stages and stalls in the woods) was akin to fin de siècle Versailles; we just needed a flock of sheep and suitably dressed courtiers. It was the stuff of dreams, and I had the impression that if I blinked it would all be whisked away and I'd be staring at a hotdog van or a currywurst or noodle vendor.
Wild Beasts soaked up this atmosphere and played a brilliant set; full of longing, balancing out their romantic side with those sharp, arch stabs, growls and whinnies of dissonance that make their music so intriguing. It's a tantalizing mix of Depeche Mode beats and camp soul. Things like Hooting and Howling and Sweet Spot kick and groove; and the tent grooved along with them. There were plenty outside too, lolling about in the dappled shade. This is the perfect music to listen to whilst toying with your boyfriend's hair. I Am Oak put on a brilliant show as well; Thijs Kuijken a calm hand on the tiller, letting his band off the leash at the most appropriate moment. His music is all about suggestion, stillness, about looking at things… His bassist Stephan Breuer wanted to rock though and when he got the chance, I Am Oak's set became this maelstrom of noise; fuck me is this Led Zep 3? Not far off. Afterpartees played about with the lotus eaters in the crowd; but in a different way, looking to snap people out of their reveries. Afterpartees' gig was all the fun of the fair. Cheeky, funny, suggestive and gaudy, they hoyed in some quality covers (Undertones, Johnny Thunders) and celebrated all those hoary rock clichés in this flippant, very heart-warming way; Niek doing his Joey Ramone act to perfection. Someone in the audience hoyed their crutches at them too; such devotion. Rats on Rafts, on day release from their metropolitan bolt holes soaked up this atmosphere in a different way, and steamed on Stage 5; steamed. An anti-festival gig that somehow summed up the otherworldliness of Best Kept Secret, they revealed themselves as a band of the elements; there's always a moment in their gigs when they get 'on the one' and transport themselves to another place. Their new material was pulsating, deep and beautiful and dragged from the same place as spaced out records like Heaven up Here, or Faust IV; overdriving in an interstellar manner, they're on the brink of true greatness; thing is will anyone see this? Do they really fit in here?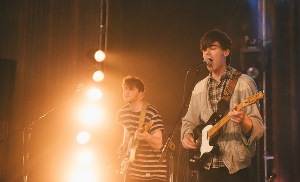 (Photo courtesy of Melanie Marsman)
'Where is your money? Why it is on your wristband. Next to your pulse as it happens. Next to your veins. At once removed and yet in proximity to your lifeblood. More pertinently, where are the queues? I'm sure there were some but boy if I carry on drinking at this rate I'll be glad of a queue to slow me down.' Was it just me or was the service fucking tops and friendly, helpful, efficient…
Sylvan glades doth a festival make. In Stage 2; The Horrors' gig was a supercharged assault, a howling, and bone rattling blitz that showed how good the songs on Luminous actually are. Thing is these new songs couldn't be condensed onto that record, this gig showed that they are too big, too vicious and razor like… Sons and Fascination playing in the background whilst David paints in his studio, that kind of thing. Gigs like this only reaffirm that they are a truly great band who have a considerable creative well to draw on. And what about Slowdive? Jesu H at the time, I couldn't stand them, but then I was a 22 year old git who needed a slap. Here, they pulled off an astonishing show; driven by a sound that was at turns crystalline and massive; defined, detailed and embracing, their take on Syd's Golden Hair was the stuff of wonder.
'What shall we see? Avoid the beautiful people as they are everywhere, bedecked in tees of bands they can't have seen. Past revivalism in a future-past setting. The open air museum of Joy Division it seems, given the preponderance of Unknown Pleasures tees. Given they're selling Unknown Pleasures in Vroom & Dressman, that album title will soon display (literally) a whole new level of unwitting irony… Let's go and piss on that tree, oh wait they've even got that covered.'
Pissing on a tree meant you could keep away from the main stage, and still check what was what. Too much sand, too much Babyshambles and too much 1975 for this Gabriel Ernest. They should both hang out with Fat Whites. Elbow did the decent, they know what to do in these situations; they are palpably happy to do this stuff. The big emotional stuff; the listening to their crowd stuff. Elbow lobbed them a few easy balls to catch, saw people wanted a gentle, affirmative ending. All good, and a perfect bittersweet end to the fun. Nice lads. Belle and Sebastian did their thing decently, owlish glares into the sun and bittersweet songs done at their own pace; their coffee bar take on Postcard perfect for a late afternoon's grazing. War on Drugs did the decent too; they slowly built up their melancholy, made it into a sort of road movie, Don Henley stylings by the lake. It could be 1985, I wonder if that's what they wanted, 1985 but in 2014. But Franz Ferdinand came and conquered. 100 years on, that name…. Is this the new Belle Époque? Does this audience know anything else but pleasure? Franz reflected this, gave out a run of hits in the way that Queen would do; one after the other, there for a crowd who went bananas on this longest day. Whilst Night Beats played a snarling, exclusive set in Stage 2, Franz picked up the audience on the beach and made it dance en masse. A contrast of inclusivity versus exclusivity. Privilege as a communal sport. This Fire was a spectacular end; boy do they know how to lay down a simple beat, mixing up glam and garage and Betty Boo and Bowie in one huge bag of lottery balls. Incredible, a truly great pop band and despite yourselves you should treasure them.
The sand settled, the cleanliness and decency and order of the crowd reasserted itself. Back to your Jungalows! And somewhere the woods, Rock's old spirit sat communing with the lions and giraffes, wondering what its new guise should be. Best Kept Secret has rattled an elaborate cage, that's for sure.
*http://en.wikipedia.org/wiki/Leshy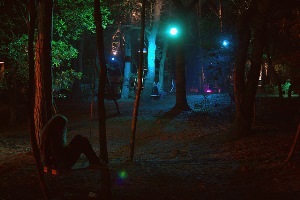 Et in Arcadia ego – (Photo courtesy of Xanne Wijkamp)