Paul comes out to bash some drums out the front, they all play keys during one passage, and Ron Mael indulges in some Basil Fawlty dancing. It's brilliant.

Paul comes out to bash some drums out the front, they all play keys during one passage, and Ron Mael indulges in some Basil Fawlty dancing. It's brilliant.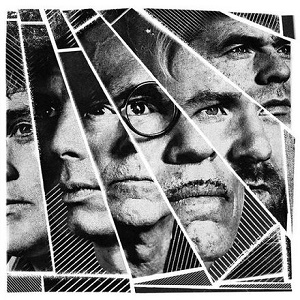 It's baking hot in Amsterdam. I spend the afternoon record shopping with a friend, only to find that my love of searching for strange sounds is tempered by the fact that I may as well be having a bath in my clothes. A while later, inside the Melkweg maxi (as the main hall is now named) and waiting for the F.F.S. show, things are mercifully cooler. But it's packed in here, and steam slowly and steadily rises from the sweaty, sunburned crowd. It's a funny mix of folk; a scattering of older groovers and glam-vets here to see the brothers Mael, and battalions of smart-casual young professionals in their 30s; doubtless Franz's original fan base, now enjoying their first taste of comfortable living. There is a discernable number of well to do nobbers here too; business types whose aim is to thrash out that mysterious glitch in the spread sheet, whilst taking a cursory peek at the show in front of them, seeing the show as an "alternative work setting". I swear one pair of brogued-up Cnuts behind me talk through both F.F.S. and Pollyester shows without a break. WHY do these people come to gigs?
Doing our best to block out the banality of these modern day idiots, we settle down to take in Pollyester's set. Incendiary enjoyed their last record City of O a lot; and their live gig is equally fun-packed. Pollyester are a trio who specialise in laying down punchy, giddy electro pop which somehow manages to flirt with, and escape the clutches of, parody. Yet they are in essence a good time band; not looking to be serious, or original, or cutting edge, and happy to plunder the past with a light-fingered ease. One or two passages come on like Simple Minds (one track nabbing the circular riff and steady, Brian McGee beat from Capital City). Elsewhere they sound like a lot of the urban pop that's coming out of Germany and Austria. But regardless – and as I said – they are fun, and try to get the crowd in the mood. They are a funny band to look at too; with three distinct personalities to match; most notably, the serious-looking synth player who looks like Prince Albert's barber. For her part, singer Polly goes through a series of gangly moves and clumps around the stage like an overexcited kid. A long drawn out, and slightly frayed take on 2328628 (replete with false ending) leaves everyone pretty happy. In man ways they are the perfect warm up for tonight's "super group".
Talking of F.F.S., the first thing to note is the way Franz Ferdinand come across. I've not seen them this loose and – well, daft and up for having a laugh – since they first played in Holland back in 2003. The well-groomed slickness (the showbizz moves played out with a knowing wink, the Freddy M-inspired stagecraft) has been shelved; and the savoir faire is saved for the playing. Now and again they seem to be mentally pinching themselves that they are sharing a stage with Sparks. Alex does some gangly dancing, continually looking over to co-vocalist Russell Mael – only indulging in his scissor kick routine the odd time.
What really comes over on this showing is the strength of the songs, and the brilliant way the set is paced. F.F.S.'s songs are fantastic. Piss Off is a wonderful track and has this air of weary, "grumpy old man" camp about it which is incredibly endearing. Another highlight is the other single, Johnny Delusional. On the night, this track is a magnificent piece of opera, and a perfect mix of both bands' melody driven, chart-bound sounds; with a dash of Brecht and Weill stirred in. Yes, you heard, Brecht and Weill, as in B Brecht and K Weill, of Threepenny Opera and Mahagonny fame. Them. The thought, screamingly pretentious as it is, keeps popping up in my head throughout the gig. Somehow, and without being overt about it, F.F.S. have – through tracks like Police Encounters and the brilliant Collaborations Don't Work – channelled the sarky intelligence of the Weimar duo, and picked up the baton carried by Nina Hagen; fashioning a glitzy, easily digestable, stadium-pop take on cabaret. And the pace… Nothing is bombastic, or overly loud, or rushed. The show seems to go by in a blink of an eye; there don't seem to be any discernable highs or sticking points; the bands' own songs (Franz give us Michael, Take Me Out and Do You Want To? Sparks give us This Town...) whilst undeniably great and well received, don't feel like clumsy aditions, probably because all parties contribute. In fact, there's a gang show feel to it all; drummer Paul comes out to bash some drums out the front, they all play keys during one passage, and Ron Mael indulges in some Basil Fawlty dancing. It's brilliant. The talking nobbers behind me have really missed out. Can't they see they're going to hell in a spreadsheet?
If it were down to me F.F.S. would make at least 2 more LPs, one of them using massed Bulgarian female choirs, the other showcasing a children's opera. They could do it; easily. And tour them round the world under armed guard.
Later I find myself talking too Ron Mael about cheese, and watch Nick McCarthy do some freaky dancing in the street. Good times. Why can't all gigs be like this?